The engineers at the Audi Sport division are a mad bunch. They are wicked, too, but in a good way.
After all, why else would they spend so much time and effort creating monstrous wagons, such as the RS4 and its bigger and even badder sibling, the V8-powered RS6 Avant?
Station wagons or estates are primarily designed to transport families and their belongings. One thinks of them as functional and practical vehicles. Not athletic, and certainly not dramatic.
Ah, but tell the Audi Sport engineers to build an estate and they will essentially overdo it – with wonderful results.
GREEN WITH ENVY
How much power does an estate need to move families and their belongings? For "normal" models, 200hp and 300Nm sounds about right.
But the "mad scientists" have determined that these figures should at least be double.
Beneath the Audi RS4's bonnet resides a "dragon" – a twin-turbocharged 2.9-litre V6. It breathes out a fiery 444hp (450PS) and 600Nm – the latter figure from just 1900rpm.
So, you can cram the 495-litre boot with your shopping, and rocket from a standstill to 100km/h in 4.1 seconds. Essentially, the RS4 can and will leave almost every other car in its wake and fumes.
It even makes the previous-generation RS4 look slow. Mind you, that model has a naturally aspirated 4.2-litre V8 and does the same sprint in 4.7 seconds.
Apart from outright speed, the Audi RS4 also offers plenty of surefootedness with its quattro all-wheel-drive, sport differential and RS sport suspension.
QUICK HAULER
This wagon makes going fast easy – no matter the weather or road conditions. It will stick to the tarmac and refuse to relinquish its grip, even if you're a ham-fisted driver.
That said, the RS4 still rewards the pilot who knows what he or she is doing. Pick the right line as you charge into a corner, nail the brake pedal, and the car ruthlessly eliminates excess velocity.
There is little to no body roll as the car obeys your every input. This estate will allow you to get on the power a bit early as well, so you can feel like you're being slingshot out of bends.
There's a good amount of feel and feedback from the rear end, with the differential sending 60 percent of the torque to the rear axle and the remainder to the front. When needed, up to 70 percent can be directed to the front, and up to 85 percent to the rear.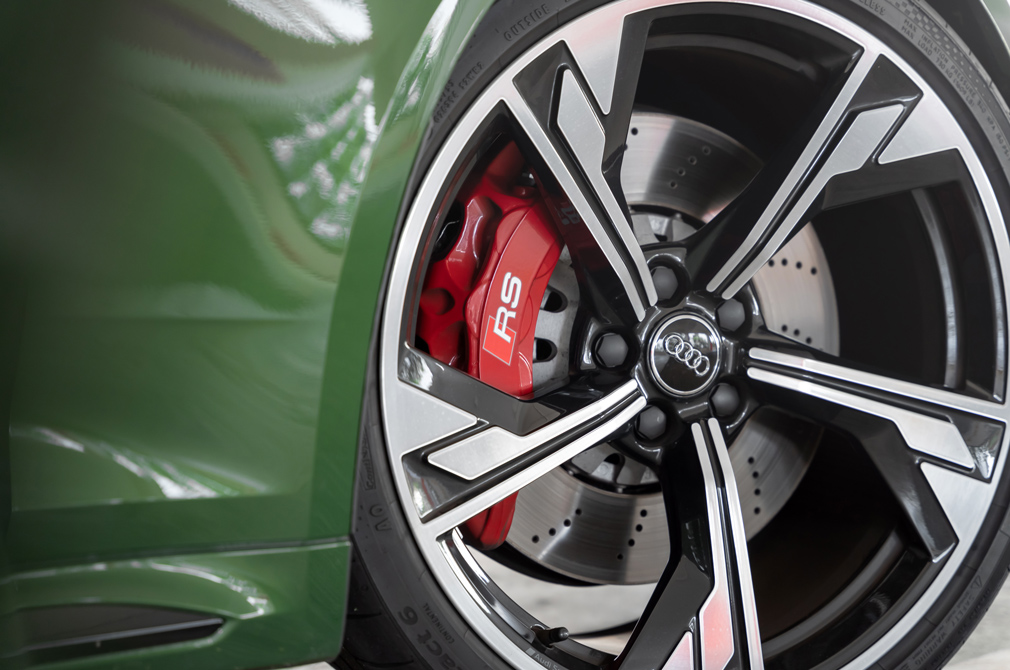 If you're feeling naughty, the Audi RS4 can be made to go sideways. But it does take more coaxing than the more naturally tail-happy RS5 Sportback, which I find more enticing.
All this time, you'll be accompanied by one of the burbliest soundtracks that a turbocharged V6 can muster. Lift off and you'll create a cacophony of cracks and pops, which are downright addictive. Tick the $5.9k sports exhaust option and your ears will really thank you.
AUDI RS4 AVANT REFINEMENTS
The RS4's ride quality is noticeably better than before. While the pre-facelift model is unyielding over surface imperfections, the latest one has more pliant dampers.
This does not mean the ride is soft. It just means that the car can deal with undulations while retaining its handling abilities.
Several upgrades have been made to the interior as well. Virtual cockpit plus is now standard, along with a new RS display for both the panel and head-up display.
There's a new 10.1-inch MMI touch display as well. It no longer requires an extra control knob on the centre console, so the space is now an additional storage point.
Audi decided that drivers needed to be able to save their preferred settings. So, the RS4 now has RS1 and RS2 modes. These work just like the M1 and M2 modes on BMW M models.
Being able to recall all your saved settings at a press of a button is cool. However, though useful for say, saving a "rain mode", I think it is unnecessary. A car this good can be made even better by simplifying, not complicating proceedings.
One of the coolest upgrades is the new pair of aluminium paddle shifters, which replace the plastic ones on the previous model. They are not major components, but they are frequent touch points. Improving the quality means raising the feel-good factor, too.
It may have been given a slew of improvements, but don't even think for a moment that the Audi RS4 has gone soft. This is still a bonkers estate with monstrous performance and an unquenchable thirst for high-octane fuel.
But if you want a wicked wagon with a flair for drama, it's either this or an RS6. Either way, your friends will conclude that you've gone mad. And they'll be right.
---
Audi RS4 Avant 2.9 (A)
ENGINE     2984cc, 24-valves, V6, twin-turbocharged
MAX POWER     444hp (331kW, 450PS) at 5700-6700rpm
MAX TORQUE     600Nm at 1900-5000rpm
POWER TO WEIGHT     254.4hp per tonne
GEARBOX     8-speed automatic with manual select
0-100KM/H     4.1 seconds
TOP SPEED     250km/h (governed)
CONSUMPTION     10.5km/L (combined)
PRICE INCL. COE     From $357,623 (after $20k VES surcharge)
AGENT     Premium Automobiles
---
Find out more about the Audi RS4 Avant here
The Audi RS6 Avant lines up alongside the R8 in this Group Test