The new Lexus IS has been launched in Singapore.
The sedan, which has been extensively updated, is available in three variants: IS300, IS300h (coming in 2021) and IS350 F Sport. Prices (including COE) start from $198,800.
LEXUS IS: SHARPER DESIGN
The latest IS looks even more aggressive than before thanks to its redesigned Spindle Grille, which features a three-dimensional and polyhedral structure.
Two new exterior colours – Sonic Iridium and Sonic Chrome – are now available. The headlamps are also slimmer and lighter than before.
Adding to the Lexus IS' more aggressive look are the lowered character lines, muscular fenders and three-dimensional bumper garnishes. The tail-lights, which are linked by a strip, look like they form a long "L" shape.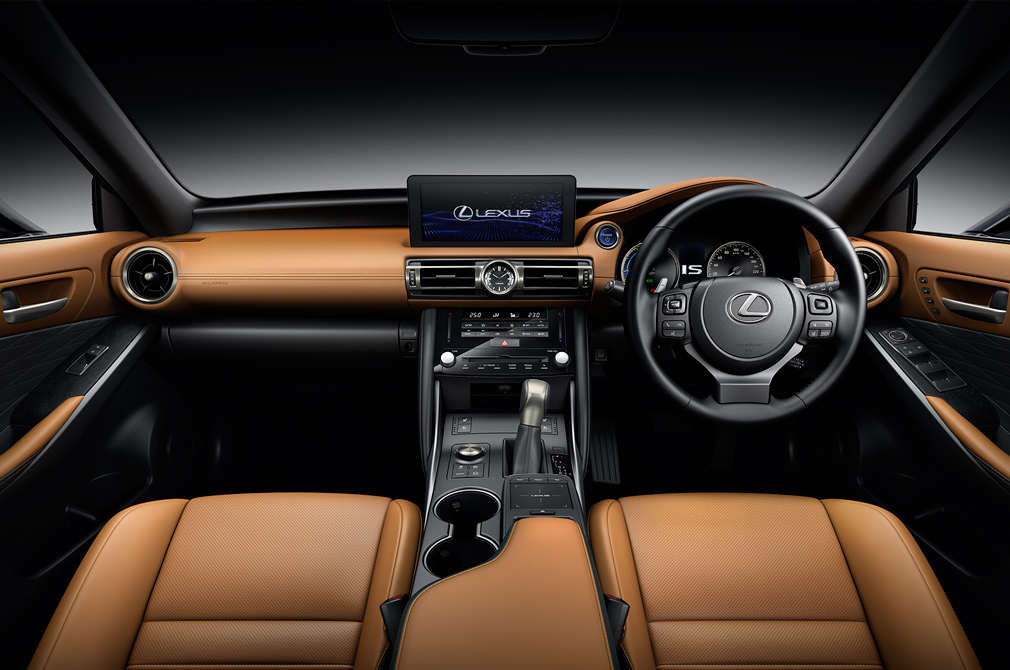 INTERIOR EVOLUTION
Apart from the new colour schemes, the biggest change to the interior is the new infotainment system.
The previous Remote Touch Interface in the Lexus IS has given way to a 10.3-inch Integrated Display Touch Screen with navigation. Compared to the previous screen, this one is 5.9 inches closer to the driver. SmartDeviceLink, Apple CarPlay and Android Auto are standard.
Meanwhile, the touch controls for temperature adjustment on the climate control panel have been improved, offering a more optimal shape and better tactility.
LEXUS IS: SAFETY UPGRADES
The Lexus Safety System+ in the Lexus IS has been updated to provide more driving assistance functions. Its single-lens camera and millimetre-wave radar also have an increased response range.
The Pre-Collision System, for instance, now has Intersection Turning Assist and Emergency Steering Assist. Dynamic Radar Cruise Control (adaptive cruise control) can now bring the car to a complete halt, thereby giving the driver a traffic jam assist function.
Dynamic Radar Cruise Control also includes a Curve Speed Reduction feature to slow the IS down in corners.
Parking Support Brake (PKSB), which is comprised of Rear Cross Traffic Brake (RCTB) and the Clearance Sonar, is also standard on the Lexus IS. This helps the driver avoid and mitigate damage from collisions when reversing out of parking spaces.
DRIVETRAINS & PERFORMANCE
The rear-wheel-drive Lexus IS is available in three variants, with each one having a different drivetrain.
Powering the IS300 is a turbocharged 2-litre inline-4 that produces 241hp and 350Nm. Paired to an 8-speed automatic, it does zero to 100km/h time in seven seconds.
The "green" variant is the IS300h, a petrol-electric hybrid. Set to arrive next year, it delivers 178hp and 221Nm, and a century sprint time of 8.5 seconds. Mated to a CVT, Lexus claims a combined consumption figure of 18.5km/L for this model.
Aimed at keen drivers is the range-topping IS350 F Sport. Beneath its bonnet is a naturally aspirated 3.5-litre V6 with 311hp and 380Nm. It is also paired to an 8-speed automatic and does 0-100km/h in 5.9 seconds.
Lexus has improved the IS' handling characteristics by honing its dynamics at the brand's new technical centre in Shimoyama, Japan.
Engineered paid specific attention to the car's steering and pedal responsiveness, along with the suppression of unnecessary movement in sprung mass.
To complement this, new swing-valves dampers are now used. The ultra-low velocity valves in their pistons that manage oil flow result in a more even and consistent ride quality.
Also improved is the body rigidity. The new Lexus IS has more front-side-member weld points, and the radiator side supports have been reinforced. In addition, engineers have optimised the structures from the C-pillars to the sides of the roof.
PRICES AND AVAILABILITY
The Lexus IS300 currently starts from $198,800 with COE. Meanwhile, the indicative price (based on the current COE) for the IS350 F Sport is $243,800.
The petrol-electric hybrid IS300h is expected to arrive next year.
---
Find out more about the Lexus IS here
Click here for our review of the IS300's predecessor, the IS200t