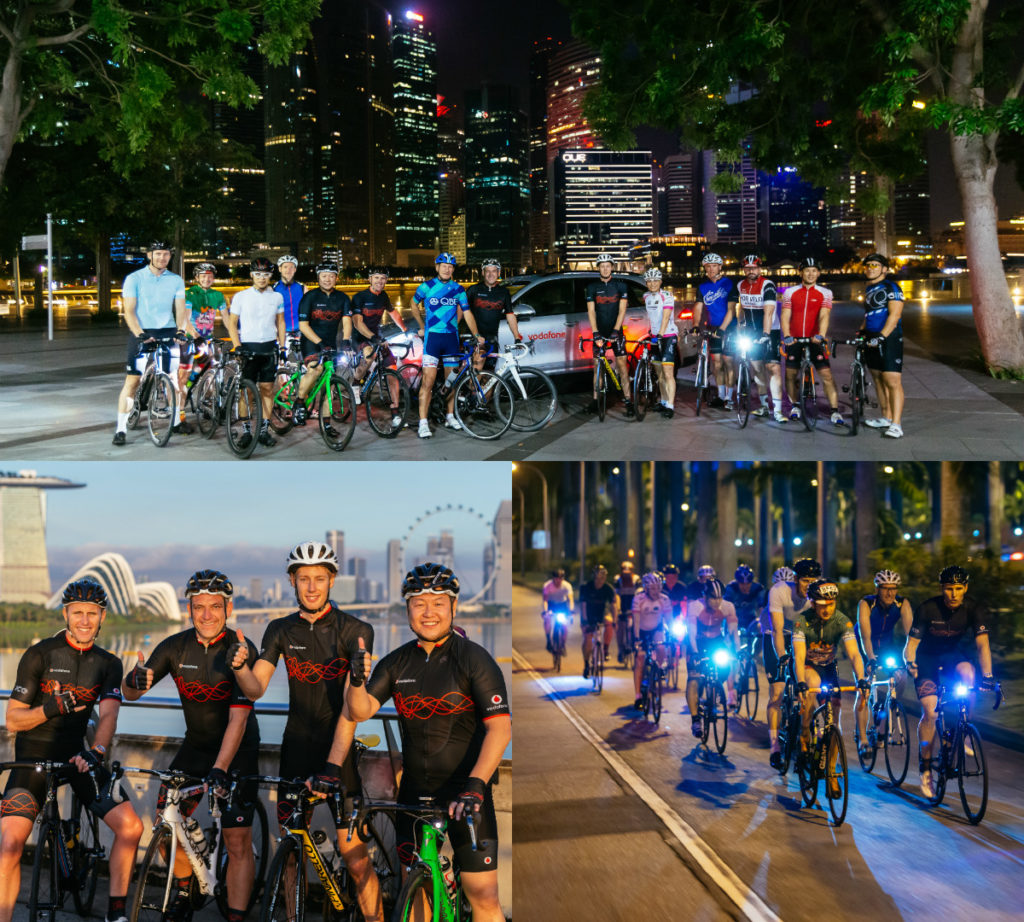 Fresh from his victory in the No. 1 Porsche 919 Hybrid racecar, which Brendon Hartley shared with teammates Mark Webber and Timo Bernhard at the 6 Hours of Shanghai endurance race, he joined Vodafone staff and customers for an early morning bike ride on November 8.
The Vodafone ride, in conjunction with International Cycling Executives (ICE), started and ended at Bread Street Kitchen in The Shoppes at Marina Bay Sands and took the participants along a scenic route, bypassing iconic landmarks like Gardens By The Bay and Marina Barrage.
Covering a total distance of around 38 kilometres, which comprised a mixture of cycling paths and roads, everyone relished the opportunity to stretch their legs, and lungs, with Hartley, who is an avid cyclist.
Providing safety and support for the riders, whenever they were on the roads, was a Porsche Cayenne. With 262bhp and 580Nm mated to an 8-speed Tiptronic S automatic gearbox, the powerful luxury SUV was equally adept in covering ground at speed and cruising at a leisurely pace behind the pack of cyclists. The commanding seating position also enabled the driver to see each and every rider in the pack, thus increasing the level of safety afforded throughout the event.
"As the official communication partner for the Porsche LMP1 motorsports team, Vodafone has been a valuable ally of Porsche. The ride is an excellent initiative and I am sure the participants enjoyed having Porsche LMP1 race driver, Brendon Hartley, join them as well as having a Porsche Cayenne accompany them as a safety car. In fact, I won't be surprised if they felt like pro cyclists competing in the Tour De France with a Porsche Cayenne providing an impressive presence between cyclists and traffic coming from the rear," said Martin Limpert, managing director, Porsche Asia Pacific.
"We had a great ride this morning for Vodafone's social spin. As the official communication partner for the Porsche LMP1 motorsports team, I was delighted to welcome Brendon to Singapore to join Vodafone and our customers for the event. Fresh from his win at the 6 Hours of Shanghai, Brendon still had a competitive edge to him, even on two wheels, and everyone enjoyed riding with the world endurance racing champion," said Ben Elms, president Asia Pacific, Vodafone Global Enterprise. 

Find out how the Porsche 919 Hybrid LMP racecar works.
Relive Porsche's victory in the 2016 Le Mans endurance race.