The Rolls-Royce Black Badge Ghost, which represents the "dark side" of the brand's "Post Opulent" design, has arrived in Singapore.
Its introduction here also marks its debut in Southeast Asia.
Rolls-Royce says that the Black Badge models are aimed at disruptors, which it defines as "outliers, visionaries and subversives who shape the world by doing things in ways no one else ever dreams – or dares – to try."
The Black Badge Ghost caters to a new generation of clients who want something agile, discreet, highly connected and free of any superfluous design.
The Black Badge lineup began with the Wraith and Ghost models in 2016, the Dawn in 2017, and the Cullinan in 2019.
Prices for the Black Badge Ghost start from $1,468,888 without COE.
THE DARKER SIDE
Although Rolls-Royce is known for developing new colour palettes, black has long been associated with power, strength and authority. It also reflects elegance and confidence.
Another symbol of the Black Badge models is the Lemniscate, which is based on the mathematical symbol that represents potential infinity. Reflecting the unrelenting pursuit of power, it appears in the interior.
Though clients can choose from any of the brand's 44,000 available paint colours or create their own Bespoke hue, the majority of Black Badge Ghost owners have chosen the signature Black colour.
Rolls-Royce claims that this colour is the automotive industry's darkest black. It takes 45kg of atomised paint to coat the vehicle, before another two layers of clear coat are applied. Afterwards, a team of four hand-polishes the surface.
The entire painting process takes between three and five hours.
Meanwhile, the high-polished Spirit of Ecstasy and Pantheon Grille are darkened. Instead of being painted, a specific chrome electrolyte is introduced to the chrome-plating process that is co-deposited on the stainless-steel substrate.
Each of these components is then also hand-polished before it is fitted to the Ghost.
Also unique to the Black Badge Ghost are Bespoke, 21-inch composite wheels.
The barrel of each wheel consists of 22 layers of carbon fibre laid on three axes, before being folded back on themselves at the edges of the rim to strengthen them.
A 3D-forged aluminium hub is bonded to the rim with aerospace-grade titanium fasteners and finished with the iconic Floating Hubcap.
STEP INTO THE DARK
Though advanced luxury materials are used for the interior, Rolls-Royce says they fulfil the Post Opulent design philosophy of authenticity and material substance rather than overt statement.
Examples include a complex weave that incorporates a deep diamond pattern in carbon and metallic fibres, and multiple wood layers pressed into the interior component substrates.
To secure this veneer, each component is cured for an hour under pressure at 100°C. It is then sand-blasted to create a keyed surface to accept six layers of lacquer, which is hand-sanded and polished.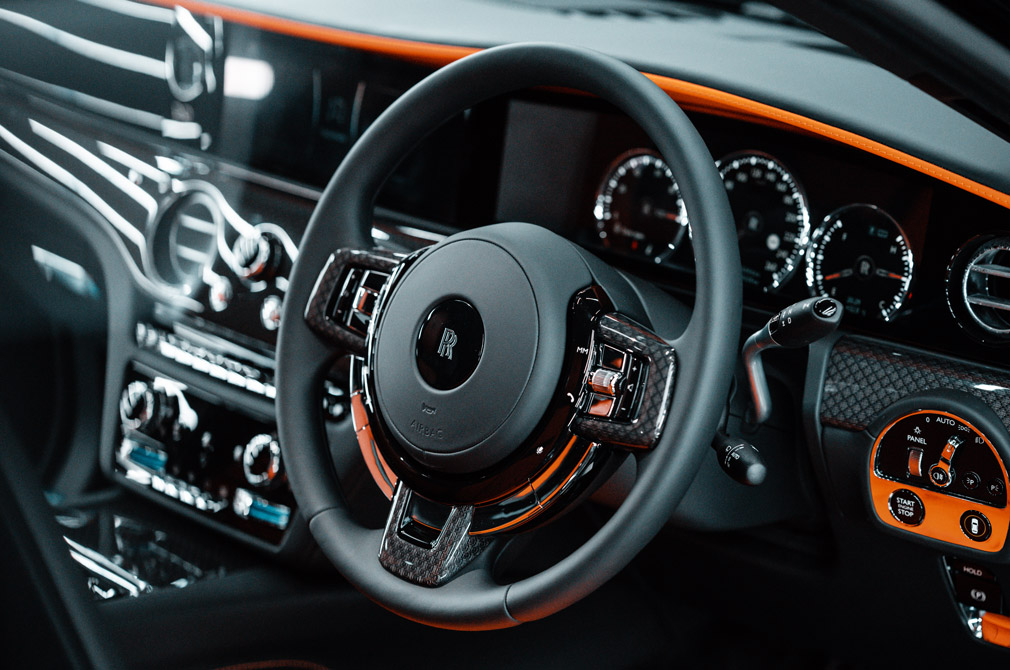 Meanwhile, the air vent surrounds are darkened using physical vapour deposition, to ensure that they do not discolour or tarnish over time.
As standard for the Black Badge Ghost's timepiece, only the tips of the hands and the 12, 3, 6 and nine o'clock markers are marked with a subdued chrome finish.
GREATER POWER AND RESPONSE
Aesthetics aside, Rolls-Royce says that the Black Badge Ghost's driving personality matches its visual intent, but does not compromising the brand's ride proclivities and acoustic tuning.
The car's twin-turbocharged 6.75-litre V12 has had its outputs raised. It now produces an additional 29hp and 50Nm of torque. A total of 592hp and 900Nm are now on tap. A new exhaust system provides a more amplified soundtrack.
Like other Black Badge models, the Black Badge Ghost features a "Low" mode, which is activated on the gear selection stalk. When selected, gearshift speeds are 50 percent quicker when the accelerator is depressed to 90 percent.
To further enhance handling, the Black Badge Ghost gets more voluminous air springs to help mitigate body roll under hard cornering. More robust brake components have also been fitted. The braking bite point is raised and the pedal travel is shorter.
Prices for the Black Badge Ghost start from $1,468,888 without COE.
---
Rolls-Royce Black Badge Ghost 6.75 (A)
ENGINE     6749cc, 48-valves, V12, twin-turbocharged
MAX POWER     592hp (600PS, 441kW) at 5250-5750rpm
MAX TORQUE     900Nm at 1700-4250rpm
POWER TO WEIGHT     237.8hp per tonne
GEARBOX     8-speed automatic
0-100KM/H     4.7 seconds
TOP SPEED     250km/h (governed)
CONSUMPTION     6.3km/L (combined)
PRICE EXCL. COE     $1,468,888 (after $25k VES surcharge)
AGENT      Rolls-Royce Motor Cars Singapore
---
Click here for our Rolls-Royce Ghost Extended review
Rolls-Royce Motor Cars wafts into the electric age