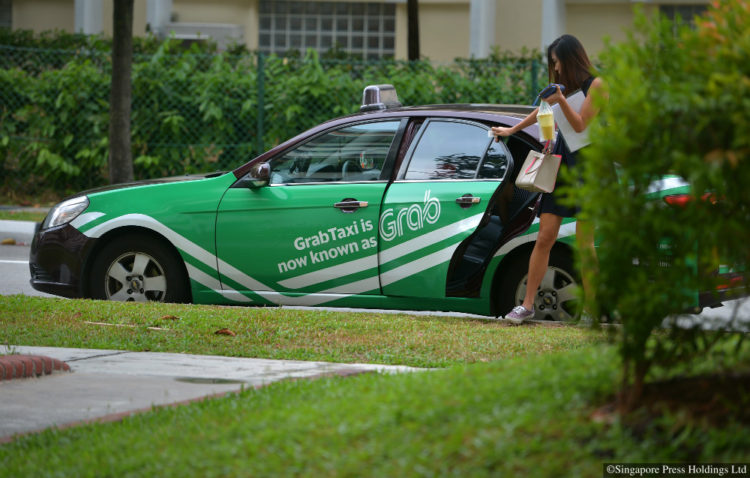 SMRT is in talks to sell off its taxi business to ride-hailing start-up Grab, and experts say other operators may also exit the industry
Facing stiff competition from Grab and rival Uber, incumbent cab operators which are unwilling to innovate may now be considering other options, including acquisitions or mergers, they reckon.
Citing sources, Chinese daily Lianhe Zaobao reported yesterday that SMRT has "intentions" to relinquish its taxi operator's licence or transfer it to Grab, along with a sale of its 3400 cabs – the island's third-largest fleet.
It would mean SMRT exiting the business it has been in for 27 years.
Besides the sale, the proposal with Grab is also for SMRT to have a stake in the Malaysia-founded start-up, and at least one seat on its board of directors.
The Sunday Times understands the proposed deal has hit a bump over the jobs of SMRT Taxis' workers. When asked, SMRT declined to say how many staff were employed in that division.
SMRT, fully owned by Temasek Holdings, wants the buyer to ensure all affected workers retain their jobs. But Grab is apparently not keen to take on more headcount as it has its own staff. "Because of this, the sale is nowhere close to a deal," a source familiar with the talks said.
When asked, both SMRT and Grab said that they do not comment on market speculation. The Land Transport Authority (LTA) also declined comment regarding SMRT's taxi licence.
Experts said they are not surprised by the news.
Besides ComfortDelGro, which accounts for 60 percent of the market with over 16,300 taxis, the other five operators – TransCab, SMRT, Premier, Prime and HDT Singapore Taxi – have fleets ranging in size from 50 to 4550.
"Both Uber and Grab have been 'burning money' in recent years, hoping they would outlast other competitors. So finally this is happening," said Dr Yang Nan of the National University of Singapore (NUS) Business School.
Economist Walter Theseira from the Singapore University of Social Sciences said cab firms have not been able to keep up with the "aggressive pricing" of ride-hailing apps – which are willing to incur losses for now by charging passengers lower fares and their drivers, lower rentals for cars.
Reports said Uber registered an adjusted net loss of US$2.8 billion (S$3.9 billion) last year, while Grab's financials are not known. Dr Theseira said Grab may have figured it can "unlock the value of the (taxi) assets", because it has invested in technology to match drivers and passengers. This could allow the firm to charge cabbies lower rentals and recover the costs through ride commissions.
Through the deal, industry watchers have also said, SMRT may be shedding its less profitable businesses. Its taxi operating profit fell by 17.9 percent to $4.5 million in the first quarter of this year.
As to why it was looking to sell to Grab, observers said both firms have a relationship through SMRT's subsidiary Strides Transportation. Under a partnership, Strides private-hire cars can be booked via the Grab app. One of Grab's investors is also Vertex Venture Holdings, a wholly owned subsidiary of Temasek.
NUS transport researcher Lee Der-Horng said: "SMRT may be looking to focus more on its MRT business… MRT trains are very well utilised and really clocking in real revenue, while the taxi business is uncertain."
Since Temasek became its sole owner and delisted it last November, SMRT has been reviewing its businesses.
It is understood the investment giant wants SMRT to redouble its focus on the rail business, with a view to making the MRT and LRT lines it operates far more reliable than they have been in recent years.
The taxi sale, if successful, could signal SMRT's disposal of other less substantial businesses with low margins – such as buses.
---
Related story: Taxi operators must outdo disruptors
Related story: Passengers happier with Uber, Grab than cabs