Infiniti is to Nissan what Lexus is to Toyota. These are nameplates created to take on established luxury brands such as Mercedes-Benz, Audi, Jaguar and BMW (Infiniti's primary target). In so doing, Nissan and Toyota – Japan's top automakers – hope for stronger profits and a positive ripple effect on their corporate image.
After conquering the US market, Lexus shifted its focus to Europe and Asia. Nissan's Infiniti, however, has been less successful than Lexus in "overseas" markets, despite being established just a year after the Toyota offshoot was launched in 1989. Most Infinitis in the past were oversized, had equally big engines and were only suitable for Americans.
The sales charts speak for themselves. Infiniti sold a total of 150,000 vehicles last year, less than a third of the half-million Lexus cars made. This state of affairs may soon change, though, with Infiniti now engaged in an aggressive global marketing push (that includes a tie-up with Red Bull Racing in F1) and offering a sellable range of world-class models.
The Infiniti G37 Convertible reviewed here is a sensibly sized "coupe cabriolet". And it looks fantastic, with balanced proportions made possible by a clever three-piece "clamshell" retractable hard-top that allows both a short rear overhang and a low boot line.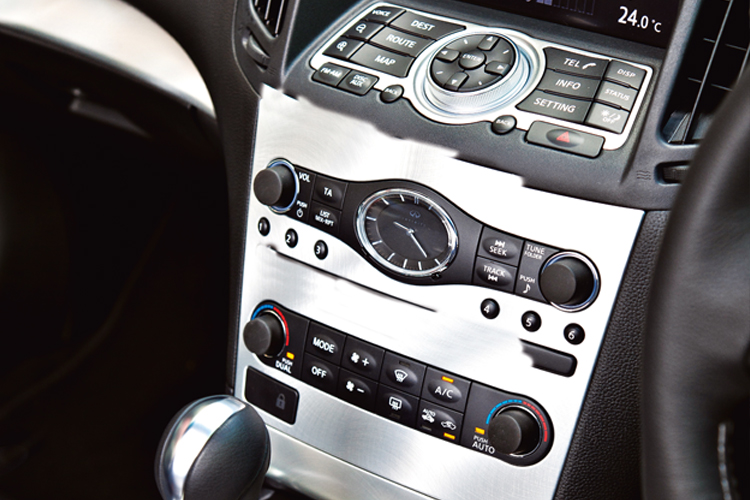 The Infiniti G37 Convertible therefore avoids the "ungainly butt" syndrome that afflicts some of its rivals. The convertible-specific engineering extends to the minimisation of water dripping into the cabin when the roof is opened right after a heavy shower.
Its snout has a cheerful countenance with its double-arch grille (an Infiniti design signature), wave-style bonnet and L-shaped xenon headlamps. The flowing fender curves, both front and rear, are graceful and purposeful, while the rear lamp clusters feature a so-called "inner circle of light".
The Infiniti G37 Convertible's cabin is luxurious, its ambience sporty and cool rather than warm and cosy. The driver-oriented cockpit features an instrument binnacle attached to the steering column, thereby moving with the wheel when it is adjusted for tilt or reach! This guarantees an unobstructed view of the instruments for the driver. A lovely touch is the aluminium interior trim, which has a special "Silk-Obi" finish with fine swirls.
The front leather-bound seats are both comfortable and supportive. But with little stretching space for the two occupants of the rear chairs, any journey of more than 10 minutes' duration will be a challenge for them. Dropping the top will improve the situation by liberating infinite headroom, but the rear legroom will still be very limited.
Standard in the Infiniti G37 Convertible is a 13-speaker Bose "open air" premium sound system optimised for this application. Neat "personal speakers" that flank the front headrests ensure superior audio quality, even with the wind blowing on a topless drive. The hi-fi's sound dispersion and definition cannot be faulted, with my only grouse being the volume control – the steps between different volume settings are too marked, making it difficult to set the exact level desired.
The AM/FM/DVD system has a USB connection port for iPods and other compatible gadgets. Also standard are a 7-inch multi-information monitor and an attractive Infiniti analogue clock (it looks even better when illuminated at night).
All current Infiniti cars are based on Nissan's FM (Front Midship) platform, which provides well-balanced front-rear weight distribution. The Infiniti G37 Convertible feels impressively rigid with the roof in place, but still suffers from some scuttle shake when the roof is stowed.
Handling is impressive, with a neutral feel and excellent control of body roll, while grip is tenacious, with tyre squeal only when severely provoked. The steering is nicely weighted, with feel and response both very decent for a four-seat convertible. In a nutshell, the G37 handles more like a sports car than a boulevard cruiser.
Its engine is the proven 3.7-litre V6 that powers a number of Nissan-Infiniti models, including the FX SUV, M37 saloon and the 370Z sports car. This V6 is smooth and free-revving, but lacks the growl that would give the G37 greater "ear candy" appeal among enthusiasts. This lack of aural drama is most apparent when the car is driven hard with the roof down. A bit of "acoustic engineering" by the development team wouldn't go amiss.
Performance is brisk, with the yardstick 0-100km/h sprint achieved in just 6.4 seconds. The 7-speed auto transmission features both Adaptive Shift Control (ASC) and Downshift Rev Matching (DRM). The result is a drive that is extremely responsive, without any shift shocks.
Unfortunately, keen driving will prove detrimental to fuel consumption. Infiniti claims a combined average consumption of 8.8 kilometres per litre for the G37. When I took delivery of the demo car, the indicated figure was just 4.5km per litre. After zeroing the trip meter and doing a test run that included both highway cruising and some fast driving, the G37 returned 5.4km per litre – better, but hardly impressive.
To be fair to Infiniti, very few new cars return anywhere near their manufacturers' claimed consumption figures, even petrol-sipping hybrids. The NEA (National Environment Agency) should insist on urban fuel consumption being displayed instead, as this offers a more accurate approximation of what most owners will achieve in our motoring conditions.
But I digress. The Infiniti G37 Convertible is definitely a good move in Infiniti's local product strategy. It is a stylish, well-equipped, great-handling and speedy convertible that is also priced competitively. It will help Infiniti build its bridgehead in Singapore – along Leng Kee Road, to be exact.
---
2012 Infiniti G37 Convertible 3.7 (A)
DRIVETRAIN
Type     V6, 24-valves
Capacity     3696cc
Bore x stroke     95.5mm x 86mm
Compression ratio     11:1
Max power     320bhp at 7000rpm
Max torque     360Nm at 5200rpm
Power to weight     169.3bhp per tonne
Gearbox     7-speed automatic 
 with manual select
Driven wheels     Rear
PERFORMANCE
0-100km/h     6.4 seconds
Top speed     250km/h (governed)
Consumption     8.8km/L (combined)
SUSPENSION
Front     Double wishbones, coil springs, anti-roll bar
Rear     Multi-link, coil springs, anti-roll bar
BRAKES
Front / Rear     Ventilated discs
TYRES
Type     Bridgestone Potenza RE050A
Size     225/45 R19 (front), 245/40 R19 (rear)
SAFETY
Airbags     6
Traction Control     ABS with VDC
MEASUREMENTS
Length     4660mm
Width     1852mm
Height     1400mm
Wheelbase     2850mm
Kerb Weight     1890kg
Turning Circle     11.2m
BUYING IT
Price     $298,000 incl. COE
Warranty     3 years/100,000km
WE SAY
+ Glamorous looks both top-up and top-down, sporty dynamics, luxury fittings, much rarer than a Lexus
– Heavy fuel usage, audio and air-con need fine-tuning, engine capacity attracts $3,474 in annual road tax
---
The Infiniti G37 has been succeeded by the 2018 Infiniti Q60 Coupe