Old school. The good old days. Way back when. Retro.
If you are in your 20s, these are phrases that you'll probably only hear from folks older than you. Yes, we older folks like to reminisce – a lot.
And if you're in your 30s (and beyond), you know exactly what I mean.
So, why is the past so important to us and what does it even have to do with the BMW iX?
My theory is that as we get older and technology advances, the world around us changes too quickly for our liking. Handwritten letters became e-mails. Phone calls became text messages. Text messages became emojis and stickers.
And as technology reshapes and redesigns our environment – at an ever-quickening pace – it becomes harder to catch up. Fall behind and you aren't just out of touch. You're out of your groove.
That's uncomfortable, so we naturally yearn for what is familiar: the past. But we also know that living in the past is impractical because time waits for no-one.
A BIG STEP FORWARD
That is the mindset one must have when approaching the BMW iX for the first time. Its silhouette may seem familiar. But when the light fully illuminates it, you're in for a shock.
Perhaps as a reflection of the digital age and A.I., the iX has a robot-like mien, with its slim headlights and dominating grille. Some would even say it has a Bane-like expression.
Housed within the grille area is a surround view camera and a radar with a 300m range. And since the grille is blanked-off, it will be prone to scratches. BMW gave it a polyurethane coating that grants it self-healing properties.
Provided the damage isn't too deep, the application of heat (using a heat gun) to the grille will close up the scratches, thus helping the surface remain like new.
Also unique to the iX are its door handles. Technically, they aren't handles for you don't pull or lift them – you push a release and they pop open.
The iX's flanks look clean at first, but on closer inspection they are "portions" for the wheel arches and C-pillar trimmings with the "iX" word on them.
The slim tail-lamps make the wraparound tailgate look even wider than it is. Meanwhile, the chunky diffuser elements which sit at the bottom of the bumper add sportiness to the rear.
Design is subjective, and in the iX's style is polarising. But, one thing everyone will agree on is that it won't be mistaken for any other car on the road.
NEW OS, NEW LEARNING CURVE
Get into the driver's seat and you'll conclude that this is the most futuristic and neatest BMW you've ever been in.
The hexagonal steering wheel (can it still be called a wheel?) is mostly angular and will take some getting used to, especially with the drastically reduced number of controls.
What you will immediately be accustomed to, though, is the brand's dazzling Curved Display, a single screen housing the 12.3-inch instrument panel and 14.9-inch infotainment system. The graphics are the boldest ever seen in an iDrive system.
Powering it is BMW's all-new Operating System (OS) 8, which is claimed to be even more intuitive than previous systems.
Of course, it will take time to get the hang of the new system. There are three layouts to choose from and for a start, three different settings under My Modes: Efficient, Sport and Personal.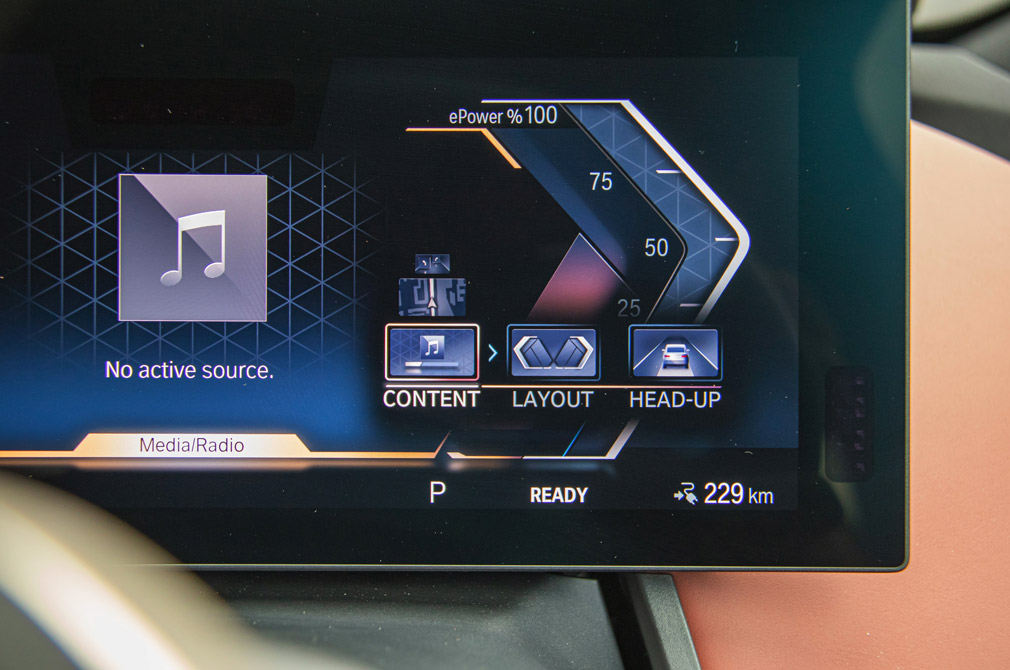 Personal is my favourite for it allows the most customisation, especially with regard to the lighting options.
Navigating through the system and various menus is made easier by the touchscreen – the most responsive one in any BMW today. But you might be more tempted to use the swanky glass dial on the centre console, which reinforces the cabin's luxe feel.
Said dial is part of the Crafted Clarity Package, which is standard on the iX Sport Launch Edition.
Once you're comfy, all your preferred settings, which include climate, seat and mirror adjustment, and display layouts, can be stored in your BMW ID. This makes it easier to keep the car "yours" if it's shared between drivers.
The coolest addition to OS 8 is the augmented view for the BMW Maps navigation system. As you approach turns you need to make, virtual arrows appear on screen to guide you. However, it would've been even better if the arrows also appeared on the head-up display, so that you remain focussed on the road.
The absence of physical controls makes for a much cleaner cabin, but I still think having real buttons for the climate control, and lumbar and lateral support, would make these functions much easier to tweak.
TIME TO STRETCH
If the amount of tech is too much for you, then the backseat will be a welcome respite.
At nearly 5000mm long (4953mm to be exact) and with a wheelbase measuring 3000mm, the iX offers plenty of room for occupants.
And there are no screens to touch or menus to figure out. Just soft upholstery, a flat floor to further improve foot space, and a pair of USB-C ports behind each front seat for keeping your devices juiced-up.
The panoramic sunroof adds to the airy feel. In keeping with the iX's character, electrochromic glass is used here. If the sun becomes too harsh, a single touch will make it opaque to help reduce glare.
Given the iX's sizable dimensions, boot capacity is relatively generous, with 500 litres available with the rear seat backs upright and 1750 litres when they're folded.
A QUIET RIOT
The only iX variant officially available at the moment is the xDrive40, which is powered by two electric motors (one in front and one at the rear).
Like the iX3, the iX is equipped with BMW's fifth-generation eDrive. Each motor/drive unit integrates the motor, power electronics and transmission into a single housing, making it more compact and efficient compared to previous iterations.
The fifth-gen eDrive also eschews the use of rare earth magnets, which boosts its sustainability factor.
The front motor is capable of up to 190kW, while the rear can deliver up to 200kW. However, since both motors provide peak output at different speeds, their total system output is 322hp (326PS, 240kW) and 630Nm.
Now, why must all these figures be mentioned? That's because LTA's road tax formula takes into account the total power of 390kW, not what is actually available (240kW). Accordingly, the annual road tax of around $4k is as hefty as the 2.4-tonne iX.
The iX's instantaneous 630Nm, however, makes it feel as if it were 500kg lighter. It takes off from a standstill with little hesitation, and piles on the speed as urgently as your right foot dictates. Zero to 100km/h in 6.1 seconds makes it accelerate more like a hot hatch than a hulking SUV.
Punchiness aside, what really strikes you is how silent the cabin is, especially if you switch off the IconicSoundsElectric soundtrack. There's little road noise and barely any wind noise. Coupled with the vibration-free drivetrains, the atmosphere is refined, to say the least.
Once you've experienced this, it'll be difficult – if not impossible – to still want a luxury car with an internal combustion engine (ICE).
Considering its size, the iX handles relatively well, with lean and body roll kept in check. The battery pack helps in this regard. It's the heaviest component and it's placed at the lowest possible point in the body, so it helps keep things on an even keel.
BMW's driver-centric character is still present. The iX responds well and feels natural to pilot – these are things that take time to get right. Just don't expect razor-sharp handling, for that would be ridiculous and unrealistic.
Stopping is another iX talent. Considering its mass, both the regenerative braking and mechanical brakes do a good job in shedding speed.
MOVING FORWARD
The iX has introduced many cool things to us. These include a new interface and OS, and much more attractive displays compared to existing BMW models.
Augmented views, a unique steering wheel and BMW ID are just some of the numerous elements that improve usability and the user experience.
But if there's one thing that the iX has made very clear, it's that once you've experienced all this technology, there's no going back to how things were.
Logically, nobody wants fewer features, lesser functions and lower usability. Nobody wants smaller displays with uglier graphics either. That's like insisting on watching a CRT TV. Good luck with that.
Of course, the downside is the learning curve. It will be uncomfortable and we will yearn for the past because it is more familiar.
But that is the price of progress. The iX is a reflection of the need to move forward, because living in the past is impractical. Time, after all, waits for no-one.
---
BMW iX xDrive40 (A)
MOTOR     Front and rear electrically excited synchronous
MAX POWER     322hp (326PS, 240kW)
MAX TORQUE     630Nm
BATTERY CAPACITY     76.6kWh gross, 71kWh net
POWER TO WEIGHT     132hp per tonne
GEARBOX     Single-speed automatic
0-100KM/H     6.1 seconds
TOP SPEED     200km/h (governed)
CONSUMPTION     24.5kWh/100km (combined)
MAX RANGE     390km
PRICE INCL. COE     From $404,888
AGENT     Performance Motors
---
Click here for our BMW iX3 review