What would a car model be without a mid-life facelift?
It might look old, for one. But more significantly, it wouldn't be as well-equipped as its more modern competitors.
Most mid-life updates are minor. The so-called "nip-and-tuck" to refresh the design and some new features in the cabin.
Engineers might boost the engine's performance. But drivetrains are usually left alone.
Major updates are less common. These involve big changes to the bodywork and overall design. New drivetrains may be offered.
Sometimes, carmakers will perform a major update to an existing model instead of launching an all-new one.
A good example of this is the Mk 6 Volkswagen Golf, which is a heavily updated version of the Mk 5 model.
BMW X1 UPDATE – MAJOR OR MINOR?
The BMW X1 has been given a minor update. I say "minor" because to consumers, the SUV's design hasn't radically changed since it debuted in 2015.
The overall design is the same. However, the front grilles and air intakes have grown larger. The diameters of the tailpipes are also wider. They're now 90mm instead of 70mm.
Fortunately, the designers didn't go overboard in enlarging the BMW X1's components. A grille as large as the one on the 7 Series or X7 could really ruin the X1's styling.
INTERIOR IMPROVEMENTS
The changes to the interior make the BMW X1 more advanced than before.
It's been given the latest iDrive system, which has a larger 8.8-inch Touch Control Display. Specify the optional navigation function and you get a 10.25-inch screen instead.
Also optional are the voice assistant (Hey BMW!) and full colour heads-up display. BMW claims that the latter is a first in this segment. The steering wheel is also new. But more importantly, it offers a positive grip.
The rest of the BMW X1's cabin is unchanged. Backseat space remains decent but awkward for the centre occupant, who must deal with a floor protrusion.
And the boot capacity remains 505 litres with the backrests up and 1550 litres when they're folded.
THERE'S SOMETHING ABOUT…
I was hoping for a boost in power, but the BMW X1's drivetrains remain unchanged for now.
The BMW X1 sDrive20i has a turbocharged 2-litre inline-4 that produces 189hp and 280Nm of torque. The century sprint time of 7.7 seconds is also identical to before.
Well, 7.7 seconds is pretty respectable. The motor is also very tractable and enjoys being stretched. Power delivery is nice and linear.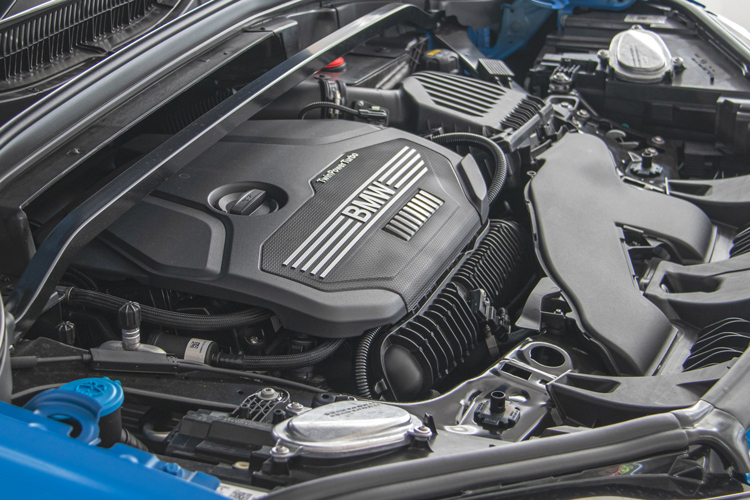 But under hard acceleration, there's a bit of torque steer. Unlikely to worry most drivers, but that slight twitch is there. And it reminds me of the MINI Cooper S Countryman.
In case you're wondering why the Countryman is being mentioned, that's because both it and BMW X1 share the same platforms and drivetrains. It's the reason why we once put them together for a Sibling Rivalry story.
DOES THAT MAKE IT MORE FUN?
Having a bit of torque steer can be fun. It feels like the car is squirming when power is applied. Besides, you needn't worry about losing control. The electronic nannies have your back.
But when you drive a BMW, you expect it to feel like a BMW. So, solid driving dynamics, sporty handling and a refined ride must all be present.
Thing is, having a bit of naughtiness in the form of torque steer isn't very BMW. It's something you'd expect from MINI.
That characteristic highlighted the link between the two brands. To me, it's unexpected but all right. But a picky consumer might not like it.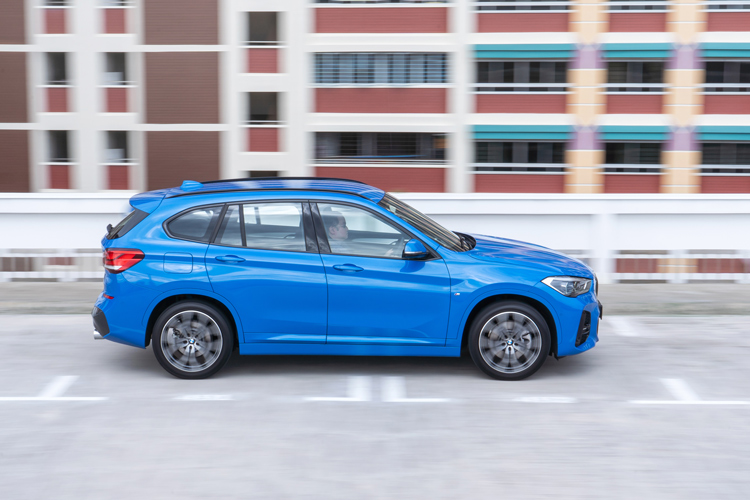 NITPICKING
The updated BMW X1 is a tidy package. But there are two things that I'm not cool with.
One, the 7-speed dual-clutch gearbox. While the shifts are rapid, I dislike the slow take-up when accelerating off the line. It feels like the gearbox has been caught napping.
Also, unless the BMW X1 is in Sport mode and the gearbox in "S", the programme is entirely too conservative. That means it constantly shifts up to help improve fuel efficiency.
Speaking of which, the latest BMW X1's fuel economy is actually slightly worse. The older model's combined consumption figure is 16.9km/L, while the latest one is 15.4km/L.
So, I prefer the 8-speed automatic in the older BMW X1. It's not as quick as the dual-clutch unit, but it's smoother and more responsive from a standstill. And its programming isn't as conservative.
Second, the firm ride quality. I suspect this has to do with the run-flat tyres, which have firmer sidewalls than regular tyres.
The firmer ride isn't exactly bothersome. But it's a trait I expect in MINIs, not BMWs. Again, while that familiarity is okay with me, it could be a deal-breaker for a picky buyer.
WHO IS THE BMW X1 FOR?
If you're in the market for a premium compact SUV, the BMW X1 should be on your "To check out" list.
The BMW X1 caters to keener drivers with its linear responses and keen handling. In sDrive20i form, it's reasonably quick as well. And if you appreciate technology, the new features should also please.
If you do decide to go for it, just make sure you're cool with those traits it shares with the MINI Countryman.
---
BMW X1 sDrive20i M Sport 2.0 (A)
ENGINE     1998cc, 16-valves, inline-4, turbocharged
MAX POWER     189hp at 5000-6000rpm
MAX TORQUE     280Nm at 1350-4600rpm
GEARBOX     7-speed dual-clutch with manual select
0-100KM/H     7.7 seconds
TOP SPEED     226km/h
CONSUMPTION     15.4km/L (combined)
PRICE INCL. COE     $179,888 (no VES rebate/surcharge)
AGENT     Performance Motors
---