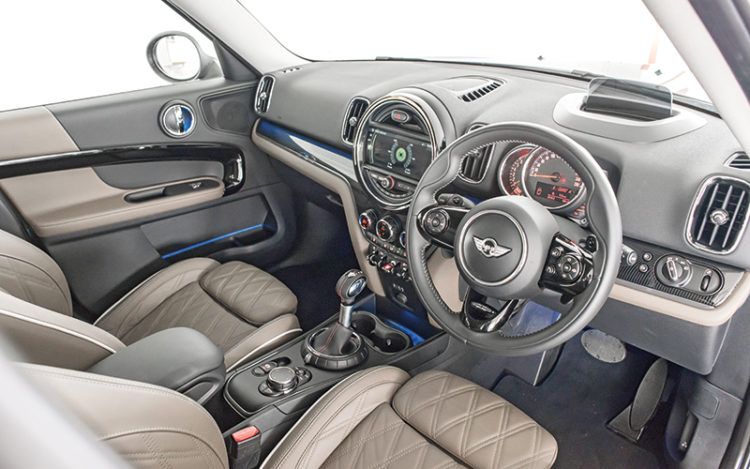 With so much vivacity to draw the eye, the hunt for hollowness with the fingers is a harder task.
It is hard not to draw the conclusion that this is an environment well deserving of the price.
Sensibly, the large circular centre console now houses an 8.8-inch infotainment system rather than a speedometer, and it is an infotainment system loaded with the eminently usable software from parent company BMW's iDrive. Only it is skinned with funkier graphics in keeping with the brand's colourful identity.
The icons on the uprated system of the Cooper S are also an attractive, minimalist 2D style which hipsters the world over would approve of, curiously differing from the still decent but less attractive design of the base Cooper's 6.5-inch system.
The same 6.5-inch system, in original iDrive format and with navigation functionality, is the one that perches atop the BMW X1's dashboard. Caressing the BMW's steering wheel also reveals the lack of paddle shifters and cruise control, though it comes with a speed limiter.
None of these is an egregious omission, and the X1 interior's basic goodness still shines through – the asymmetrical, leather-lined bracket cradling the centre console is a particularly nice touch.
Still I cannot help but notice, sitting on the seat which is well-sculpted but lacking in adjustable thigh support, that the MINI is effectively top of the line, whereas this particular X1 is, except for the engine, in entry-level specification. How much for the cachet of a BMW badge?
If you find the insides of a modern MINI a little too riotous, especially with that neon light show shooting around the centre display's diameter, the BMW's suitably buttoned-down ambience has the other end of the spectrum beautifully covered.
On the road, given the two cars' mechanical similarity, it is absolutely no surprise that driven flat-out, they will cover ground at a pace indistinguishable from each other. The turbocharged 4-cylinder they share has never been short of flexibility or outright strength, and so it proves here with sporting but not searing pace.
Being a bit taller, though, and tuned so the springs have room to breathe on lower-quality tarmac, the X1 allows more roll in really enthusiastic driving. Enough to have me thinking that if it were a conventional hatchback and not on stilts, it would handle even better still.
Yet, the X1 is in sufficient charge of its faculties that it handles challenging roads and challenging attitudes with enough confidence and competence, letting go at the front end gently when grip is exhausted. This is still a BMW after all, SUV or not.
The Cooper S Countryman is equipped with adjustable suspension, and in either of its damping modes, the car dives for corners with a sprinkling more directness than its BMW counterpart. Inevitably, then, it jolts around slightly more, though never in the spine-shattering way a first-generation Cooper S hatchback used to.
Accompanying this eager, predictably MINI attitude is an exhaust fettled to be full of childish snorts and burbles.
However, with 1535kg to haul around and a well-padded, solid feel all round, it comes closer to the 1560kg X1 in dynamic character than its smaller, more terrier-like stablemates.
MINI had a dilemma here – needing to retain enough of its famous hyperactive "go-kart" handling, but without alienating the average buyer. I think it has judged the compromise expertly well with the Cooper S Countryman.
For a type of vehicle well-represented by competent if unmemorable volume-brand entrants, the BMW X1 does enough to justify its atas badge and the price premium it entails.
My regard for the design and engineering quality of the little BMW SUV remains unsullied. It is an excellent small utility vehicle that will serve your family and pamper you with distinction.
The issue, however, with the rational approach is that something else can come along and make even more sense, such as the 2-litre Volkswagen Tiguan R-Line.
If you can look past the badge and think about your car purchase as purely a box-ticking exercise, as buyers could in the compact SUV segment, the BMW X1 has a problem – it is now too expensive.
The Cooper S Countryman may be mechanically closely related to the BMW X1 and equally pricey, but it also speaks to a part of your brain that is entirely irrational. Here is a car with a greater sense of humour than any other contemporary SUV.
If Apple Inc. has proven anything, it is that if you get that intangible quality right, people will pay. My foolish heart just might for the Countryman.
---
MINI Cooper S Countryman 2.0 (A)
ENGINE     1998cc, 16-valves, inline-4, turbocharged
MAX POWER     192bhp at 5000-6000rpm
MAX TORQUE     280Nm at 1350-4600rpm
POWER TO WEIGHT     125.1bhp per tonne
GEARBOX     8-speed automatic with manual select
0-100KM/H     7.4 seconds
TOP SPEED     225km/h
CONSUMPTION     15.4km/L (combined)
CO2 EMISSION     149g/km
PRICE INCL. COE     $192,000 (no CEVS rebate/surcharge)
---
BMW X1 sDrive20i 2.0 (A)
ENGINE     1998cc, 16-valves, inline-4, turbocharged
MAX POWER     192bhp at 5000-6000rpm
MAX TORQUE     280Nm at 1250-4600rpm
POWER TO WEIGHT     123.1bhp per tonne
GEARBOX     8-speed automatic with manual select
0-100KM/H     7.7 seconds
TOP SPEED     225km/h
CONSUMPTION     16.9km/L (combined)
CO2 EMISSION     136g/km
PRICE INCL. COE     On application
---
Related story: Group Test: Kia Niro 1.6 vs Honda Vezel Hybrid 1.5
Related story: Group Test: Toyota Harrier Turbo vs Mazda CX-5