We all knew that a hardcore version of the Ferrari 812 Superfast, launched in 2017, was in the pipeline. Nevertheless, it has been a rather long four-year wait for the arrival of the 812 Competizione.
And flying halfway around the globe just to drive it around Ferrari's hallowed Fiorano track – for a few laps – sounds crazy. But it was worth it.
Visually, the 812 Competizione sets itself apart from its "tamer" sibling with its more aggressive styling.
Of course, you won't see anything as crass as a huge wing spoiler. That is not allowed. Under the watchful eye of Ferrari design maestro Flavio Manzoni, the 812 Competizione maintains an air of elegance.
Aerodynamics plays a key role in performance, and the 812 Competizione has an additional 80kg of downforce over the Superfast. But since Ferrari refuses to resort to huge wings and such, it had to go about this subtlety.
There's a huge rear diffuser under the car and new airflow strategies have been employed to increase downforce without impacting drag.
On closer inspection, you'll notice scoops and ducts integrated in the front spoiler and bumper. They help cool the engine, while also directing airflow through paths under the skin, so that it emerges at strategic points on the body.
This is like the transverse blade feature – ducted air merges seamlessly into the airstream, thereby maintaining laminar flow over the front bodywork.
MORE AERO INNOVATIONS
The rear windscreen has been eliminated. In its place is a solid, body-coloured carbon fibre panel that features three pairs of vortex generators.
These deflect airflow over the entire width of the Kamm tail spoiler, improving downforce by 10 percent. In place of a rear view mirror, there's a high-definition camera and display to provide rearward visibility.
The trio of visually striking slats just behind the rear wheel arches generates downforce. It also relieves excess pressure within the wheel arches that would otherwise cause a few kilograms of lift at high speeds.
A similar duct reduces high pressure from the front wheel arches and discharges it to a low-pressure area along the doors.
The 812 Competizione Aperta, the open-top version of the model, has been given a very different styling treatment. It now has a detachable carbon fibre roof, which has its own storage space in the boot.
When attached, it has a central trough that directs air through what resembles a wing, but it is so well integrated with the bodywork that it does away with the coupe's rear windscreen "solution".
A SPECIAL HEART
Ferrari has put a lot of work into the 812 Competizione to ensure its status as the pinnacle model in the lineup. Of course, the car's loudest, most important feature is the naturally aspirated 6.5-litre V12.
This high-revving motor is not merely a tweaked version of the 800CV motor of the 812 Superfast.
To deliver 818hp (830CV) reliably, it has been significantly re-engineered to be able to spin to 9500rpm. Ferrari could have given it a 10,000rpm redline, but reliability and longevity won out. After all, 9500rpm still makes it the fastest-spinning production V12.
This motor gets a pair of new cylinder heads with DLC (diamond-like coating) and finger-slider actuators derived from Ferrari's F1 technology.
Said actuators can deliver deeper and more rapid valve actuation than direct-acting tappets. The four camshafts, which also feature DLC, actuate 48 lighter valves using a different cam profile to enhance airflow at high revs.
DLC-coated pistons and titanium conrods are both lighter and stronger, helping them endure the stresses of living with a 9500rpm redline. Most importantly, the new ultra-high strength, forged steel flat-plane crankshaft is finely balanced and three percent lighter than usual.
PULSE-RAISING, SOUL-STIRRING
Only one journalist at a time was allowed on the Fiorano circuit. After a long wait, it is finally my turn. I had four laps to familiarise myself while following a pace car driven by one of Ferrari's test drivers, followed by four hot laps.
But the weather had other plans. It began to rain.
I was disappointed at first, but as it turned out, there was a silver lining. In the dry, the grip from the Pirelli Corsa tyres is so immense that it is hard to see where your skill ends and where the machine and its electronics take over.
Driving an 818hp rear-wheel-drive supercar at full tilt around a racetrack is no joke, but the 812 Competizione is so sublime that it flatters the driver.
Without hardware such as the new independent rear-wheel-steer system and governing electronics from the SSC 7.0 stability system, 400hp is all a purely mechanical rear-wheel-drive car can safely handle.
To be able to handle over 800hp and live to tell the tale is nothing short of amazing.
Ferrari wants its clients to utilise as much of the 812 Competizione's potential as possible. Of course, the car is still a beast that commands respect. Fortunately, it is not as spiky as the F12tdf that came before it.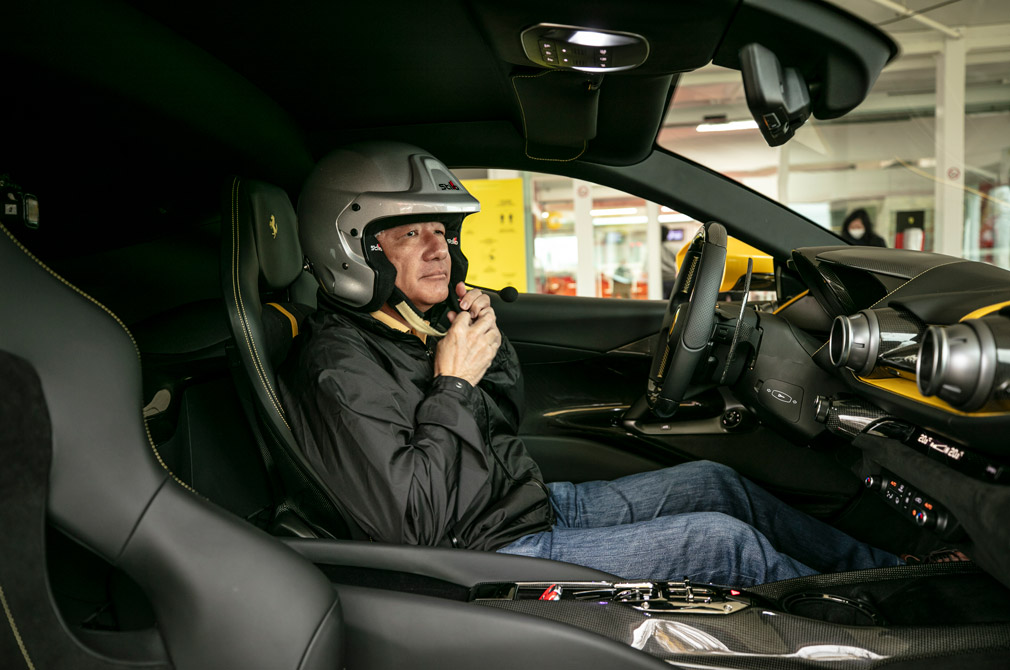 The initial rain was the worst. In Race mode, I could barely hear what the pace car driver was saying, for the screaming V12 is as loud inside as it is outside.
As I tried my hardest to keep pace, I realised that this was probably a walk in the park for Ferrari's test driver, who in another 812 Competizione, gradually pulled away from me.
SWIFT DIRECTIONAL CHANGES
Now, I can appreciate the difference between being the audience of an orchestra and being a musician in one. Both experiences are intoxicating.
A shockwave emanates from the rear as the 812 Competizione tears up the track. It is hard to appreciate the nuances of the music while trying to keep pace with the lead car and trying not to stuff it at the same time.
On the wet track, I got a better sense of how the clever electronics curate the driving experience. In Race mode, I felt the car's brutal power and how it easily breaks traction at a mere prod of the throttle. Containing this fury takes immense effort.
Many times, the 812 Competizione is sideways, but not because I am taking a corner. Under these circumstances, you can feel the stability system trying to maintain control.
SSC 7.0 (Side Slip Control) has many layers. Apart from traction control, brake actuation, magna-ride suspension and e-differential, there is a rear-wheel-steering system that for the first time, can steer the left and right wheels independently.
The best situation for this, it seems, is when you're tackling two high-speed corners linked together without a straight portion in between.
The rapid change in direction is unsettling because the rear wheels loaded for one corner and have quickly switch to the other direction. The system shifts the lightly loaded wheel to toe-in as the load transfers to the other side when the car changes direction.
This gives the driver more confidence as the transition is more stable.
The rear-wheel-steering system also provides counter-steering below 5km/h to help with parking. It can also provide toe-in during braking and toe-out for acceleration to counter these deflecting forces.
THE "RIGHT" MODE
We were given three extra hot laps following the end of the official sessions. This time, I was determined to use the 812 Competizione's Wet and Sport modes.
Wet mode is the most effective in curtailing untoward handling behaviour from overexuberant drivers. It is best used on regular roads because on track, it intervenes too readily – even before unexpected reactions become evident.
Sport mode is more fun as it allows the occasional slip and slide. Despite the rain, this mode enabled me to spend more time on the racing line, instead of scaring myself and correcting skids. In this setting, I could keep up with the pace car quite easily.
Ferrari says that on a cool and dry day, the 812 Competizione laps Fiorano in 1 minute and 20 seconds, or 1.5 seconds quicker than the 812 Superfast. That timing is also a second faster than what the F12tdf manages.
Achieving those figures in the 812 Superfast and F12tdf may seem easy, but in reality, you have to find each car's peak performance, which is only accessible through a narrow window. And that's if you're a professional test driver.
The 812 Competizione is far more user-friendly and engaging, allowing the driver to enjoy more of its potential.
LAST 12-CYLINDER HURRAH?
It is hard to say how long or in what form the fabulous V12 will take on in the future. But in all likelihood, it will probably not be a standalone, naturally aspirated engine.
Looking at what happened to Ferrari's V8, we know that the iconic Ferrari "wail" will disappear if the V12 is turbocharged. But who knows? A hybrid solution may yet keep the motor naturally aspirated.
But the Prancing Horse faithful are not taking any chances. Despite the pandemic, the entire allocation of 1,598 812 Competizione models, (999 coupes and 599 roadsters) has been snapped up.
We may have just witnessed the closing chapter of a golden era in motoring. Long live the V12!
---
Ferrari 812 Competizione 6.5 (A)
ENGINE     6496cc, 48-valves, V12
MAX POWER     818hp (830CV, 610kW) at 9250rpm
MAX TORQUE     692Nm at 7000rpm
POWER TO WEIGHT     550.1hp per tonne
GEARBOX     7-speed dual-clutch with manual select
0-100KM/H     2.85 seconds
TOP SPEED     Over 340km/h
CONSUMPTION     To be announced
PRICE INCL. COE     On application
AGENT     Ital Auto
---
Click here for our Ferrari Roma review
Or head here for our Ferrari F8 Spider review