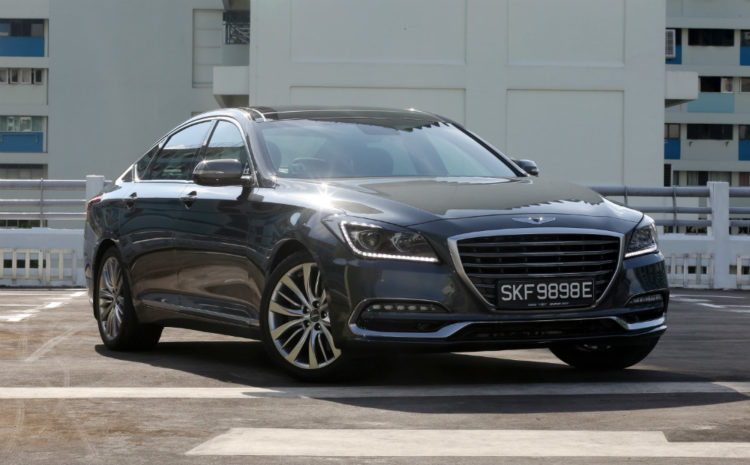 Hyundai has ambitious plans to position its Genesis sub-brand as an equivalent of Toyota's Lexus.
Genesis, who? Well, you are excused for not having heard of the name, even though it has been in South Korea since 2008.
The second version was introduced here in 2014. But to date, fewer than a handful have been sold.
Pity. Because it is quite a competent car and priced more competitively than a Lexus equivalent.
So, Hyundai has decided to pull out all stops to relaunch the brand here. By the second half of next year, Genesis will have its own showroom, separate from the Hyundai facility.
It is likely to be away from the traditional "motor belts" of Leng Kee and Kampong Ubi too. And it will be run by an individual team, like Lexus. After all, to build a new luxury nameplate, there is no getting away from heavy investments.
Of course, the products themselves must live up to the aura. The good news for Hyundai is that it looks like it has a good shot with the G80.
The car is essentially a refined version of the 2014 Genesis. Tweaks have been made to the chassis to improve ride and handling.
And they are obvious. The G80 moves with the poise and confidence of a proper German sedan. At the helm, it steers with no surprises – sharply and quickly – with minimal input. In the cabin, you do not detect any unwanted movement and tarmac imperfections are kept well at bay.
It is a big car, at almost the size of a standard wheelbase BMW 7 Series (and looking quite similar design-wise too). Yet, it has the dynamism of a smaller car – a trait it shares with the 7 Series.
Its ride quality is on a par with something equipped with air suspension, which it does not have. It merely sits on a well-tuned multi-link system – proof that you do not always need sophisticated technology to raise the bar. Just skills.
The G80 handles exceptionally well too. Cornering competence aside, it is more fun and engaging than any Infiniti (Nissan's luxury sub-brand) model out there.
In this department, it matches the GS, arguably Lexus' best performing sedan. The car packs plenty of gusto, accelerating with the linearity and punchiness of a turbo. This is amazing, since it does not have the benefit of turbocharging.
Behind its oversized shield-like grille sits an old-school naturally aspirated 3.8-litre V6, which surprisingly behaves like a forced induction unit.
Hyundai does not say so, but it would appear tweaks have been made to its engine mapping as well.
It is a lively power plant, betraying none of the low-end void that typically afflicts non-turbo engines. The 8-speed autobox it is attached to may not be the quickest in town, but it will match the best there is in terms of smoothness.
In terms of luxury, the G80 is also fairly impressive. Certain bits may look dated when compared with the highly digital cockpits drivers see today. But as far as refinement goes, it again surpasses some of its more established rivals.
Cubby holes, for instance, are rubber-lined to prevent unwanted noises within. This is a good thing, since hardly any noise intrudes from outside.
There will be one other model next year – the G70, which is based on the sporty Kia Stinger grand tourer. This will be followed by an SUV later on.
---
Genesis G80 3.8 (A)
ENGINE     3778cc, 24-valves, V6
MAX POWER     315bhp at 6000rpm
MAX TORQUE     397Nm at 5000rpm
GEARBOX     8-speed automatic with manual select
0-100KM/H     6.5 seconds
TOP SPEED     240km/h
CONSUMPTION     9.3km/L (combined)
PRICE INCL. COE     $238,888
---
Related story: ST-Torque Awards 2014 Best 6-cylinder Luxury Saloon: Hyundai Genesis
Related story: Genesis G70 joins the G80 and G90 in Hyundai's premium range