The Singapore Motorshow has finally returned after a two-year hiatus, and everyone from petrolheads to regular consumers is eager to see what the brands will be presenting to the public.
However, rather than just listing 10 automobiles that we found cool, we considered cars that most people might be looking for, such as SUVs, mass market models and high-performance machines.
We have not reviewed any of these cars, but nevertheless, they gave us such strong first impressions that they merited a second-look. So, if you're heading down to the Motorshow, which is on from 12-15 January, here are the cars we feel you should be checking out!
SUVS TO VIEW
Nissan X-Trail e-POWER e-4ORCE
The all-new X-Trail looks bolder and more rugged than before, with elements such as the large V-motion grille and 'floating' roof giving the SUV greater presence.
Inside, the X-Trail features a neater and more upmarket cabin, with standard equipment that includes a digital instrument panel with selectable layouts, and ambient lighting. Just like its predecessor, the X-Trail has a seven-seater layout.
Motivating the X-Trail is Nissan's e-POWER powertrain with two electric motors (one on each axle). However, unlike a regular electric car, the batteries are charged by a three-cylinder engine acting as a generator. Therefore, drivers don't have to charge the car – they only need to pump petrol.
Subaru Solterra
The Solterra is Subaru's first-ever electric model, and if it looks familiar, it's because the SUV is actually based on the Toyota bZ4x. Subaru, together with Toyota, developed the e-Subaru Global Platform, which underpins the Solterra.
Hop onto the driver's seat and you'll find a futuristic-looking cockpit with a 7-inch cluster and 12.3-inch infotainment display, a swivel knob gear selector, and a wireless charging tray hidden by a translucent cover. Thanks to the 2,850mm wheelbase, even passengers over 1.8m tall will find the backseat to be relatively roomy.
Zipping the Solterra about are a pair of electric motors that can put out a total of 214bhp. Fitted with a 71.4kWh lithium-ion battery, the Solterra has a claimed range of 460km. A single-motor variant, with the same battery capacity, can supposedly cover up to 530km.
MASS MARKET PICKS
Skoda Octavia 1.0
The Octavia is one of the most practical runabouts one can consider. Though it resembles a saloon, the model actually has a fastback body style, with 600 litres of boot space. Fold down the rear seats and this expands to 1,555 litres, making it a useful load-hauler.
Utility aside, the Octavia is also well-equipped. Standard kit includes Virtual Cockpit, a 10-inch infotainment display with Apple CarPlay and Android Auto, plus a raft of safety features that include Front Assist with City Emergency Brake, and Lane Assist.
Making the Octavia even more appealing is its COE Cat A banding, courtesy of the turbocharged 1.0-litre three-cylinder engine. Capable of 109bhp and 200Nm of torque, the Octavia does the century sprint in a respectable 10.5 seconds, while averaging up to 23.3km/L.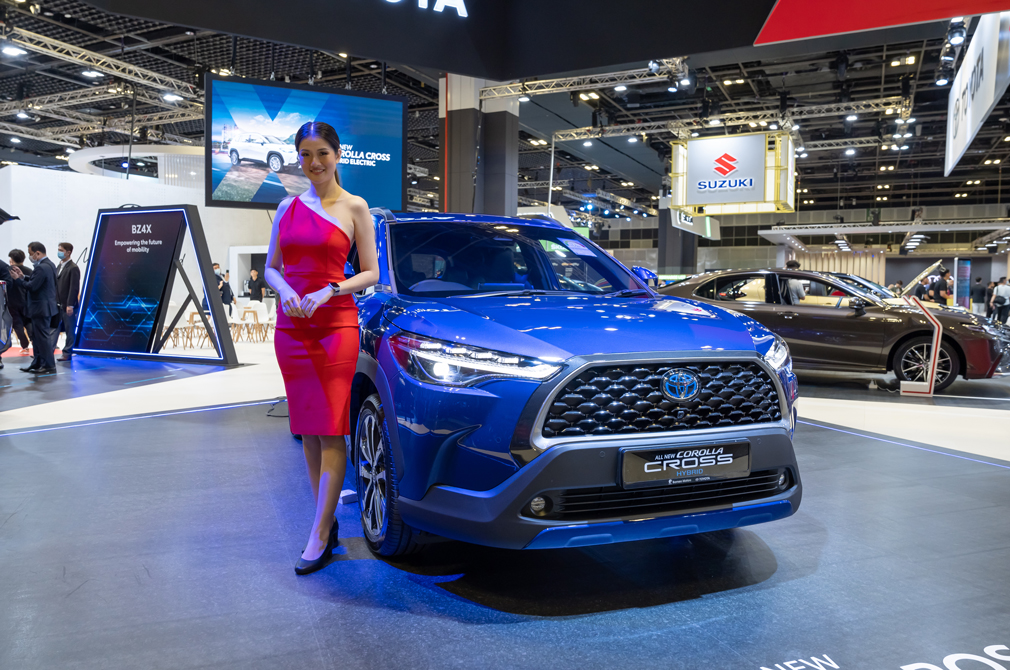 Toyota Corolla Cross Hybrid
Given the Corolla's solid reputation and enduring popularity, along with buyers' love for SUVs and crossovers, it's surprising that Toyota didn't launch this model sooner. Nevertheless, the Corolla Cross is here, and it's likely to be well-received.
What'll undoubtedly make this car even more attractive is its 196bhp 2.0-litre petrol-electric powertrain. Given the Japanese carmaker's expertise in hybrids, the Corolla Cross averages 18.9km/L. Oh, and there's a 425-litre boot (rear seats up) for luggage.
The crossover's interior is spacious and functional, and those who've owned Toyotas will find the control layout comfortingly familiar. Speaking of comfort, the Corolla Cross has strategically located sound-deadening materials that reduce engine noise and road chatter.
PERFORMANCE MACHINES
BMW M3 Touring Competition with M xDrive
BMW's first high-performance estate, a car that many enthusiasts have been eagerly anticipating, is finally here. And the official model we're getting is the most powerful Competition variant with M xDrive.
Beneath its bonnet is a twin-turbocharged 3.0-litre straight-six that kicks out 503bhp and 650Nm of torque. Mated to an eight-speed automatic, the M3 Touring demolishes the 0-100km/h sprint in just 3.6 seconds, thanks to the traction from the M xDrive all-wheel drive system.
In the cockpit, the driver gets BMW's Curved Display, which is powered by the brand's latest Operating System 8, and sports seats to hug the front passengers during bouts of spirited driving.
Volkswagen Golf R
VW's ultimate hot hatch is back and it's hotter than ever. The famed EA888 unit, a turbocharged 2.0-litre four-cylinder, now pumps out 316bhp and 420Nm, or 30bhp and 40Nm more than its predecessor. Paired to a seven-speed dual-clutch gearbox, the Golf R goes from zero to 100km/h in just 4.7 seconds.
Speed aside, the Golf R sounds right, too, especially when it's specified with the optional Akrapovic titanium exhaust system to give it rortier vocals. And if sportier looks and increased athleticism are desired, there's another option just for you.
Tick the box for the R-Performance package and the Golf R will come with 19-inch wheels, a larger rear spoiler that provides more downforce on the rear axle, plus two extra driving modes: Special, and Drift.
ELECTRIC VEHICLES
Hyundai IONIQ 5 "First 100"
This electric vehicle (EV) is arguably the star of this year's Motorshow, as it has the distinction of being the first EV that's made in Singapore. Produced at the Hyundai Motor Group Innovation Centre in Singapore (HMGICS), the IONIQ 5 is also the first car in over 30 decades to be produced here.
The IONIQ 5 is a mid-size CUV (crossover utility vehicle) that is available in three versions: Exclusive, Prestige, and Inspiration. The former two are available with either a 58kWh or 77kWh battery, while the latter variant can only be had with the 77kWh battery.
To celebrate this milestone, the first 100 IONIQ 5 units will come with unique badges, Gravity Matte Gold paintwork and Dark Pebble Grey interiors, "First 100" badges and seat emblems, and commemorative number plates from EVS 1L to EVS 100L. EVS stands for 'EV made in SG'.
The First 100 IONIQ 5 units are only available through a charity auction, in conjunction with the President's Challenge. The bidding, which began at 2.30pm on 12 January, ends on 19 January at 6pm.
Nissan Ariya
Nissan's new flagship is the brand's first all-electric crossover that boasts a design philosophy called "Timeless Japanese Futurism". Sleek lines feature all around, and the interior is both classy and minimalist in nature. It's punctuated by a large display panel, few physical buttons, and a two-spoke steering wheel.
Built on an all-new electric vehicle platform, the Ariya features a flat rear floor that improves both occupant space and comfort. For safety, the Ariya is equipped with Nissan's ProPILOT 2.0, a suite of driver assistance systems that include Intelligent Emergency Braking, e-Pedal, and Remote Park. Firmware updates are available over-the-air.
The Ariya comes in two-wheel drive (2WD) and four-wheel drive (4WD) models, and can be specified with either a 65kWh or 90kWh battery pack. With the larger capacity battery, the Ariya 2WD can cover up to 610km, while the 4WD version has a maximum range of 580km.
Volkswagen ID. Buzz
The Singapore-made IONIQ 5 is making waves, but Volkswagen's all-electric MPV, the ID. Buzz, is well, literally making huge buzz. Considered the modern and spiritual successor to the Kombi, the ID. Buzz offers spaciousness and practicality in a very stylish package, that never fails to put a smile on peoples' faces.
Currently available as a five-seater, the ID. Buzz features a 2,988mm wheelbase and a commodious interior built with a high percentage of recycled materials that accommodates both passengers and their belongings, thanks to the 1,121-litre boot. A seven-seater version will be available at a later date.
Aimed at corporate buyers and business owners, on the other hand, is the ID. Buzz Cargo, the commercial version of this electric van. Both models are fitted with a 201bhp electric motor, which is powered by a 77kWh battery.
DREAM MACHINE
Mercedes-AMG SL 55 4Matic+
The SL is a car that fantasies are made of. One glance at Mercedes' all-new flagship fills your mind with images of blue skies, cool breezes, and stress-free days. The office doesn't exist in this world.
Indeed, work is the last thing on your mind when you picture yourself driving this topless machine. Its key design elements include a long bonnet, short overhangs and a soft-top, which is lighter and has a lower centre of gravity compared to a folding hard-top.
With the roof open, you are exposed to the elements and closer to the twin-turbocharged 4.0-litre V8 engine that pumps out 469bhp and 700Nm of torque. Mated to a 9-speed automatic gearbox, the SL 55 hits the century mark in 3.9 seconds and has a top speed of 295km/h.
One can only imagine what it would be like to drive this car along a coastal road with an ocean view, or on a twisty mountain pass framed by snow-capped peaks. With prices currently starting from $860,000, the SL 55 is truly a dream machine beyond the reach of many. But that's also what makes yearning for it so achingly pleasurable.
This story was first published on Sgcarmart.
---