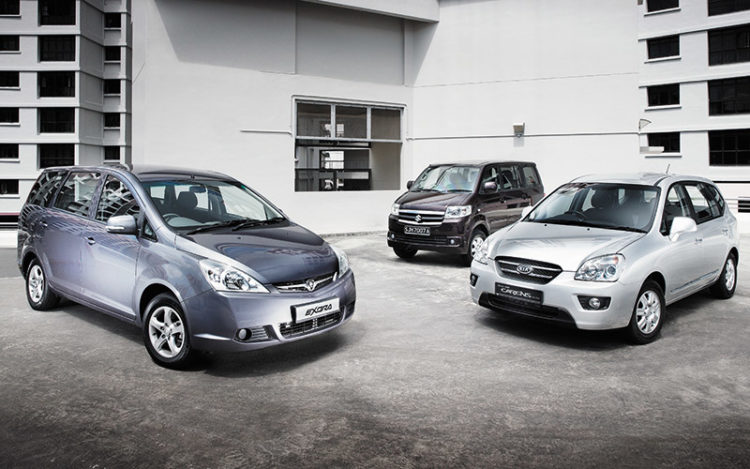 Singapore is an island full of Streams, and her housing blocks are chock-a-block with warm Wishes for the family. But if the said household has to do its motoring on a shoestring, especially these days when a new Stream or Wish costs over $80,000 (even as a cheaper parallel import), its choices are limited.
After discounting oddities like the Daihatsu Terios 7 and the Fiat Panorama, the cost-conscious clan is left with the three cars you see here. Although these vehicles are about as desirable as Tupperware, they are practical to a fault and very affordable, both to buy and to run.
The newest kid on the HDB block is the Proton Exora. The company's first people carrier, the Exora targets the Toyota Innova and Nissan Grand Livina (both not sold in Singapore), which are also designed and built for developing Asian nations. As always, Proton touts a Lotus connection in the form of suspension tuning, but this time it also includes name-dropping (probably accidental), with "Exora" sounding a lot like "Evora", Proton-owned Lotus' latest sports car.
The Kia Carens is the second-newest contestant here. Introduced in early 2007 and upgraded late last year, complete with an "Elite" tag, this Korean cross utility vehicle has had an uphill task convincing local family men that it's a worthy alternative to Japanese multi-purpose vehicles.
Even though the Carens commands a premium in this company, it's still well priced and undoubtedly a capable car for the humble household.
The Suzuki APV is an unabashed Asian special like the Proton. Made in Indonesia – properly, I might add – Suzuki's all-purpose vehicle (that's what the moniker means) is tall, slab-sided and so van-like in its styling that it makes the Exora look like some exoticar. But this modern Volkswagen Kombi wannabe has a few tricks up its sleeve that deliver true "people power" to the common folk, who might also appreciate the Suzuki's quirkiness.
So which of our three cars is the most, uh, people powerful?
---
---
---
---