One wonders how carmakers come up with names for their models.
Some cars, like the Hyundai Santa Fe, are obviously named for places. Other cars like the Maserati Quattroporte are named for what they are or have – four doors in this case.
So, when the Kia Seltos was announced, the only thing that came to mind was that it sounded Greek and slightly futuristic.
But after spending time with this crossover, I think it was inspired by a Greek island whose residents love to party.
UNIQUE FACE
In Singapore, the Kia Seltos has replaced the Sportage as the brand's mid-size offering.
The last Sportage model sold here had a naturally aspirated 2-litre petrol engine. Meanwhile, the Seltos has a turbocharged 1.4-litre powerplant – which attracts lower annual road tax.
The Seltos stands out because it doesn't have a strong resemblance to any of its siblings. It is not, for instance, a smaller version of the newly launched seven-seater Sorento SUV.
However, the trademark "tiger nose" grille indicates that it's a Kia.
This, along with the sleek wraparound headlights make the crossover's front end look quite distinctive.
The rest of the vehicle has a clean design, devoid of any "unique" lines or curves that might otherwise polarise opinions. That said, I did not like the "exhaust finishers" because they have no functional purpose.
Size-wise, the Seltos should be easy to manoeuvre. At just over 4.3m long, 1.62m tall and 1.8m wide (including mirrors), it won't give drivers a hard time.
The Seltos' wheelbase length of 2.61m is shorter than that of the Cerato compact saloon. However, as we shall soon see, it doesn't seem to have negatively affected passenger space.
PARTY UP IN HERE
Get into the driver's seat and you're met by a functional and intuitive dashboard layout. It's easy to get to grips with the buttons and controls, even if this is your first time in a Kia.
Although the Kia Seltos does not have a digital instrument cluster, its analogue gauges are highly legible. The large secondary display also makes it easy to see and scroll through pertinent information at a glance.
Now, there are two cool things in this cockpit: ventilated seats, and those funky speakers with flashing lights. Both features are only standard on the SX and GT Line variants.
Those funky speakers have a unique geometric shape and are equipped with what Kia refers to as sound mood lighting. The speakers glow and flash your chosen hue to the beat of your songs.
The previous Kia Soul had a simpler version of this feature – its speakers were ringed with LEDs.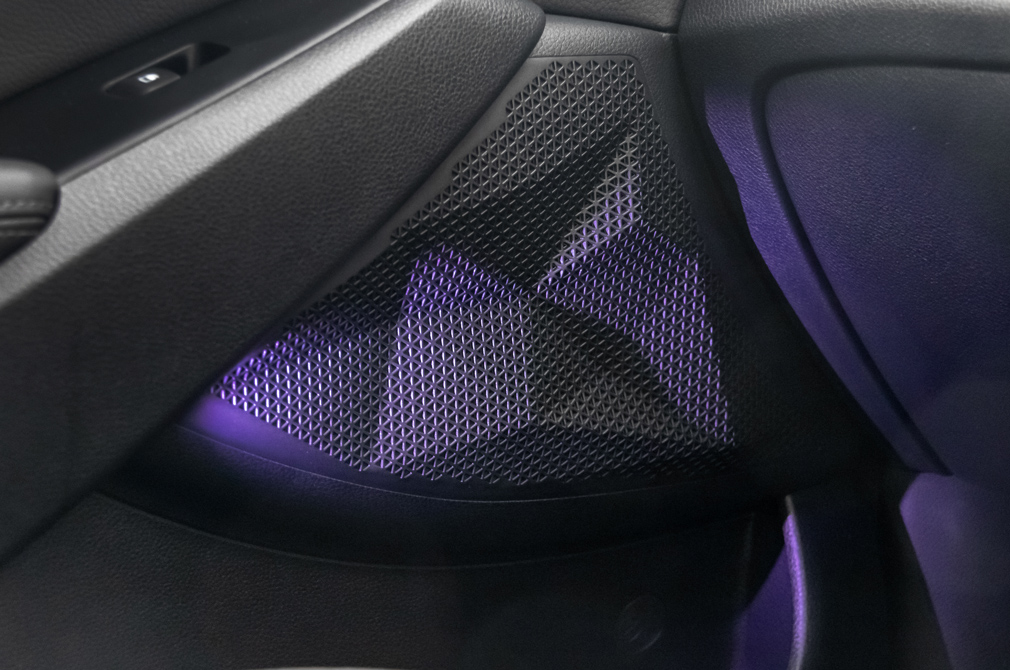 Choose a thumping soundtrack for your night drives – perhaps something from K-pop group Blackpink – and the cabin takes on a club-like atmosphere. Now, all you need are three or four friends and a portable smoke machine and it'll feel like a party on wheels.
Speaking of which, your buddies should have no space issues in the backseat. Despite the shorter than expected wheelbase, legroom is not a problem. And thanks to the relatively wide bench, three average-size adults will fit nicely. The middle occupant even gets a full-size headrest.
In terms of storage, the Kia Seltos offers a 433-litre boot and 60:40 split-folding rear seats for added capacity and flexibility. The cargo hold would be even more useful if not for the sizeable intrusion from the left wheel arch.
KIA SELTOS IS EAGER TO PUNCH
The Seltos' turbocharged 1.4-litre produces 138hp and a useful 242Nm of torque. These outputs are sent to the front wheels through a 7-speed dual-clutch gearbox.
The engine is a willing worker and does not sound strained when revved, while the gearbox is smooth and unobtrusive – most of the time.
I can only guess that it's down to the programming, but the Kia Seltos tended to lurch when ascending ramps at low speeds.
To prevent this, you need to use the manual override function to ensure that first gear is selected before you drive up a ramp. The lurching is probably caused when the gearbox, in D, suddenly downshifts from second to first as the vehicle slows down while cresting ramps.
Although the Kia Seltos does not have all-wheel-drive, it does offer different traction settings to tackle a variety of surfaces. You do this via a small knob beside the gearshift lever, which also lets you swop between driving modes.
On the go, the Kia Seltos is relatively hushed, allowing you to hear your music. The steering feels accurate and overall handling is progressive. It won't scare you if this is your first time driving a turbocharged crossover.
WHO IS THE KIA SELTOS FOR?
The Kia Seltos is aimed at relatively younger buyers looking for an inexpensive mid-size crossover with a turbocharged powertrain.
There is plenty to like about the Seltos. It's roomy, practical and functional. The turbocharged powertrain caters to demands for performance, and not having all-wheel-drive will help with fuel consumption, too.
And if you're a younger driver or just young-at-heart, you might just appreciate the Seltos' "party-hosting" abilities, which are unique in this segment.
---
Kia Seltos SX 1.4 (A)
ENGINE     1353cc, 16-valves, inline-4, turbocharged
MAX POWER     138hp (103kW, 140PS) at 6000rpm
MAX TORQUE     242Nm at 3200rpm
POWER TO WEIGHT     hp per tonne
GEARBOX     7-speed dual-clutch with manual select
0-100KM/H     9.8 seconds
TOP SPEED     185km/h
CONSUMPTION     15.9km/litre (combined)
PRICE INCL. COE     $109,999 (no VES rebate/surcharge)
AGENT     Cycle & Carriage
---
Find out more about the Kia Seltos here
Looking for another Kia crossover? We review the Niro Hybrid here