The most special dial is the AMG Drive Unit, a knob that lets the driver tailor the drivetrain and dynamics by selecting one of five settings: Comfort, Sport, Sport Plus, Manual or Race Start (RS). Along with a dedicated ESP button that lets you select Sport Handling mode with its less intrusive electronic intervention (things can get hairy in a hurry with a car like this), there's also a separate button for choosing between two damper settings.
The CLS63's default driving mode, however, is "freakishly fast", thanks to its 5.5-litre twin-turbo V8 that can unleash 525bhp and a mountain-flattening 700Nm of torque. The motor growls ominously when fired up and emits a guttural roar as the revs climb. But the powertrain's delivery is always velvety and measured. As mentioned earlier, this is a mature machine that doesn't need histrionics.
In contrast, the CLA45 does "dramatic and theatrical" from the get-go. Its fiendishly quick performance is accompanied by pure aural drama – almost as if it was insecure about having "only" a turbocharged 4-cylinder engine. It starts up with a nasty bark and its attention-seeking repertoire includes thunderous "cracks" that would delight Thor himself when you manually shift up above 4000rpm.
So while the CLS63 parts traffic effortlessly using a combination of its confident presence, sheer pace and "classier" vocals, the CLA45 forces its way past slower cars in an angry, aggressive manner.
But the CLA45 shouldn't have a chip on its shoulder, for its 2-litre powerplant packs a terrifying 360bhp and 450Nm. With the help of its 7-speed dual-clutch gearbox (the CLS63 has a more relaxed 7-speed torque-converter automatic) and 4Matic all-wheel-drive system, it demolishes the century sprint in 4.6 seconds – just 0.2 of a second behind the CLS63.
That's a really small performance gap considering the massive $300k premium commanded by the CLS.
These two siblings have vastly different dispositions, but they both have the ability to use their monstrous characteristics to delight petrolheads and terrify unsuspecting drivers.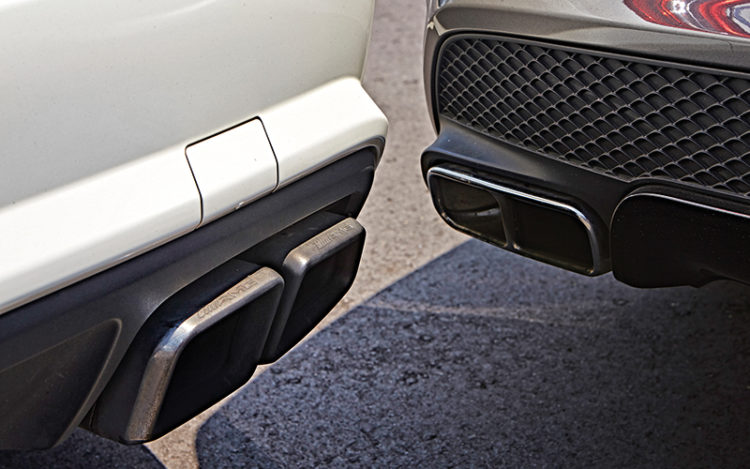 ---
2014 Mercedes-AMG CLA45 4Matic 2.0 (A)
ENGINE     1991cc, 16-valves, inline-4, turbocharged
MAX POWER      360bhp at 6000rpm
MAX TORQUE     450Nm at 2250-5000rpm
GEARBOX     7-speed dual-clutch with manual select
0-100KM/H     4.6 seconds
TOP SPEED     250km/h
CONSUMPTION      14.1km/L (combined)
CO2 EMISSION     165g/km
---
2014 Mercedes-AMG CLS63 5.5 (A)
ENGINE     5461cc, 32-valves, V8, turbocharged
MAX POWER      525bhp at 5250-5750rpm
MAX TORQUE     700Nm at 1700-5000rpm
GEARBOX     7-speed automatic with manual select
0-100KM/H     4.4 seconds
TOP SPEED     250km/h (governed)
CONSUMPTION      10.1km/L (combined)
CO2 EMISSION     231g/km
---
Click here to read how Mercedes-AMG's Project ONE brings Formula 1 technology to the road.
Read about the Mercedes-AMG C63 S Coupe here!