Gadgets are increasingly multi-purpose in their design.
For example, there are digital cameras that take high-definition videos and mobile phones that shoot high-resolution photos good enough for a glossy magazine.
Multi-purpose vehicles, better known as MPVs, have also been expanding their capabilities beyond their usual people-moving role.
This phenomenon is particularly powerful in Japan, where palatial MPV motherships packed with multimedia systems, aristocratic armchairs and electric curtains cruise the streets alongside Corollas and kei-cars.
Big businessmen and yakuza bigwigs alike appreciate the interior space and incredible comfort of these fringe flagships.
The subject of this story is the most impressive interpretation yet of the Tokyo mega-van concept.
It's based on the new Nissan Elgrand, the first full-sized Japanese MPV to officially go on sale in Singapore, and it's called the Mobile Business Edition.
(The Elgrand's equivalents, the Toyota Alphard and Honda Elysion, exist as parallel imports.)
The idea here is to enable the busy businessman and his corporate cohorts to remain plugged-in and productive while on the road between appointments.
So the "Whirl Wide Web" Elgrand is equipped with three well-specified personal computers, touchscreen monitors, a digital television set and Wi-Fi mobile broadband.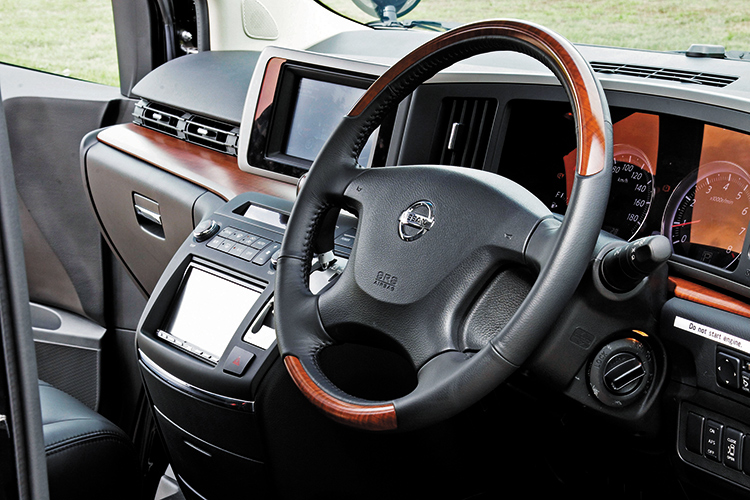 The hi-fi stereo sounds good, so that self-help audiobook (maybe "MLM From The Back Seat Of Your BM") can be heard in all its glory.
Completing the package is an on-board projector system for movies on the move (perhaps Seven Samurai) or a full-blown Powerpoint presentation.
Meetings are indeed possible inside the Elgrand, where versatile seating can be readily rearranged to create a makeshift mini-boardroom.
However, there are only enough seats for the boss, his personal assistant and two office minions, so the conference has to be short.
But the Elgrand will be comfortable for sure, thanks to the large sliding doors, generous headroom, shady window blinds (shady business, anyone?) and strong air-con (with a second, separate compressor for the rear of the cavernous cabin).
Massage chairs and additional soundproofing are available as options.
Of course, the boss cannot possibly use all of the Elgrand's executive amenities and still find the time and energy to drive the thing.
So on top of the $28,000 premium Nissan charges for the Elgrand Mobile Business Edition, he also has to fork out extra every month to employ a chauffeur.
The Elgrand drives like a luxurious V6 van from Japan should, which means a pillow-soft ride and minibus-like handling, so the boss isn't missing much behind the wheel.
Anyway, he will have his hands full managing the infotainment explosion back there that will make his business mobile like never before.
---
2009 Nissan Elgrand Mobile Business Edition 2.5 (A)
ENGINE     2495cc, 24-valves, V6
MAX POWER     186bhp at 6000rpm
MAX TORQUE     232Nm at 3200rpm
GEARBOX     5-speed automatic
0-100KM/H     14.6 seconds
TOP SPEED     180km/h
CONSUMPTION     8.5km/L
PRICE INCL. COE     $145,500
---