As much as I get excited whenever a new electric car is introduced here, there is always the disappointment in being reminded at the first drive that all EV "engines" behave in the same way.
The few things I will really miss are the sounds from an engine and exhaust, accelerating through the gears and feeling the g's change with every shift.
Most of all, I miss the distinct differences between any two internal combustion engines whether petrol, diesel, turbo or naturally aspirated.
In contrast, the typical EV characteristics are seamless, silent progress and spontaneous acceleration, especially from a standstill.
But there is no way you can re-flash the ECU to extract more power.
Take this Nissan Leaf for instance.
It has an unremarkable specific power of 100hp per tonne, which is about that of a 1.6-litre Nissan Sylphy (95 hp/tonne).
Ahh, but the Leaf's electric motor will give you 320Nm of torque anytime you want it!
That is more than twice what the Sylphy's internal combustion engine (ICE) can manage.
Enough to make the Sylphy seem staider than it already is.
Taking off from a traffic light junction, the Leaf can give a rude shock to more powerful cars of the fossil fuel variety.
It is quite hilarious really, especially if the car next to you is something like a turbocharged, 3-litre premium saloon.
The official century sprint time of of 7.9 seconds from zero to 100km/h says nothing about the Leaf's fascinating urge to reach the next traffic light.
And on city streets, that is way before you even hit 80km/h.
In one encounter, my "opponent" finally gave up trying to keep up with me after three attempts.
By the standards of the current generation of EVs, the Leaf is essentially quite conventional.
And as strange as it may sound, the Leaf is rather simple in its chassis and powertrain.
MacPherson struts in front, a torsion beam at the rear, telescopic hydraulic dampers, coil springs and electrically assisted rack and pinion steering is probably as neat and simple a chassis as you can get.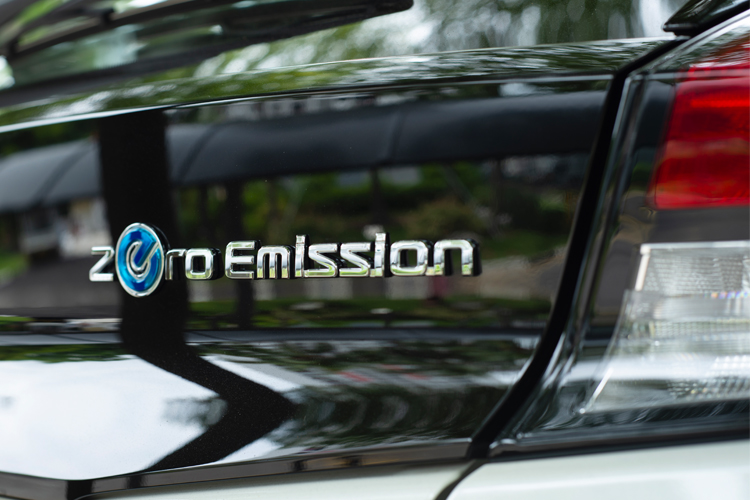 A single AC synchronous motor sits in front, driving the front wheels through a fixed, single-reduction gearset.
You will not find anything familiar under the bonnet, except a regular 12-volt lead-acid battery.
This is needed to provide power to the lighting and accessories.
What looks like an engine block is the motor housing and the power-control module.
In every EV, this controller is the central brain that regulates energy flow from the battery to motor.
This controller also regulates the energy flow from the wheels back to battery during regenerative braking and power input during re-charging.
The Leaf's battery, a multi-cell lithium-ion pack that totals 40kWh, is spread across the underfloor between the front and rear axle lines.
There are two types of standard charging ports on the Leaf, but here in Singapore, only the Type 2 AC is useable.
The other facility, known as CHAdeMO, is a DC charging receptacle that is currently not a standard used in Singapore's EV charging network.
When I picked up the Leaf, its battery was filled to 99%.
After 1-1/2 days of driving over 210km, there was still another 20% charge available.
Nonetheless, I drove to the Tan Chong service centre and had the Leaf charged using the single-phase 6.6kW adaptor supplied with the car.
I plugged it into an industrial 3-pin 20 Amp power point.
Five hours later, the Leaf was good for another 165km, with battery gauge showing 64%.
This would be the type of facility you would be able to install at home.
Eight hours is what you need to fully charge the Leaf, which is fine because that is less than the time most people spend at home after work every day.
Public charging stations around Singapore such as those installed by SP Utilities and Greenlots, offer the 3-phase, 43kW charger.
For the Leaf, this means no more than 1 hour for a 10% to 100% battery fill up.
These services include mobile apps to locate nearest charging stations and even monitor charging status and electricity cost once you have plugged in.
You really don't need the CHAdeMO DC charger for your Leaf.
---
NISSAN LEAF
DRIVETRAIN
BATTERY     40kWh lithium-ion
MOTOR     Single front-mounted synchronous electric
MAX POWER    148hp at 3283-9795rpm
MAX TORQUE      320Nm at 0-3283rpm
POWER TO WEIGHT      72.4kW per tonne
GEARBOX     Single-speed constant ratio
DRIVEN WHEELS     Front
PERFORMANCE
0-100KM/H     7.9 seconds
TOP SPEED     140km/h
CONSUMPTION     Estimated 5.8km/kWh (combined)
RANGE     311km
SUSPENSION
FRONT     MacPherson struts, coil springs
REAR     Torsion beam, coil springs
BRAKES
FRONT / REAR     Ventilated discs / Discs
TYRES
TYPE     Dunlop Enasave EC300
SIZE     215/50 R17
SAFETY
AIRBAGS 6
TRACTION AIDS     ABS, VSC
MEASUREMENTS
LENGTH     4480mm
WIDTH     1790mm
HEIGHT     1540mm
WHEELBASE     2690mm
KERB WEIGHT     1490kg
TURNING CIRCLE     11m
BUYING IT
PRICE     $160,300 with COE
WARRANTY     5 years/unlimited km (vehicle); 8 years/160,000km (battery)
+ Easy driving with the e-Pedal, spacious boot, sleek styling
– Pricey, comparatively smaller range, cheap interior
---
Charging electric cars in Singapore: What buyers must consider