If proponents of raw food had their way, we'd all be eating fruits and vegetables that were just plucked from our own little gardens. Advocates of such a diet claim that uncooked grub is simply better for our bodies.
The enthusiastic engineers at OPC (Opel Performance Centre), the division tasked with creating beastlier versions of ordinary Opel models, possibly went on a long retreat together with these alternative-diet exponents, judging by the Nurburgring Edition of the Corsa OPC. This hot hatch is not only more potent than the original, its character is also rawer.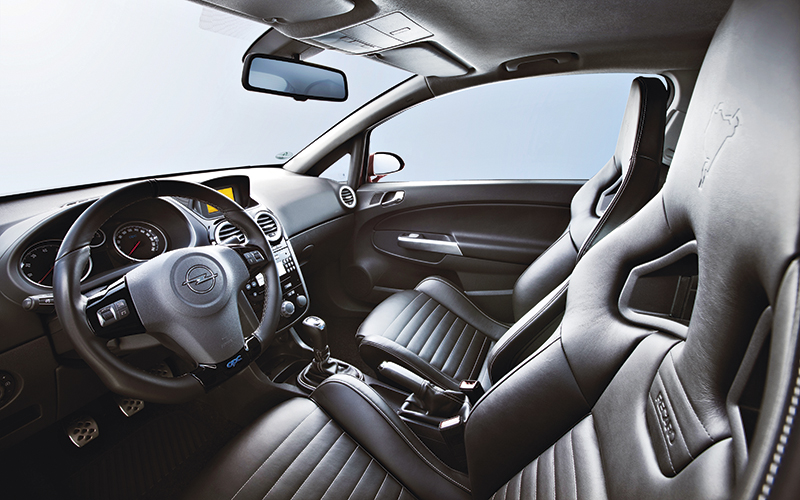 Giving this car added zest is its tuned-up turbo 1.6-litre, whose 210bhp and 250Nm (280Nm on overboost) are even "tastier" than the 192bhp and 230Nm of the regular Corsa OPC. Its "digestion" is quicker, too, with the century sprint dispatched in 6.8 seconds – nearly half a second faster than its close sibling. On the flip side, this is merely 0.1 of a second ahead of the VW Polo GTI.
The Corsa OPC NE also boasts a tougher "texture" that contributes to its earthier quality vis-a-vis the standard edition. Stiffer Bilstein damping, a lowered ride height (by 15mm in front and 20mm behind) and a mechanical LSD (limited slip differential) are able to give it greater agility, proven around Opel's Dudenhofen circuit in this case. This is even more of a track-day machine than the Corsa OPC, but it's not any more difficult to pilot. Thanks to the engine's relatively wide power band, you can pull out of slow corners in third gear instead of second.
While the Opel rides well on a smoothly paved circuit, it'll crash and jiggle on "outside" roads. This can be especially torturous when you have a full bladder and 60km to go before the next rest stop, as yours truly discovered.
Like raw food, the Corsa OPC Nurburgring Edition will only appeal to a very small segment of enthusiasts willing to forego refinement for the sake of a purer driving experience. This pocket rocket's robust, organic flavour might prove unpalatable to the general petrolhead population, but there won't be a local taste test for them anyway, because none of the 500 units built is coming to Singapore.
This story was first published in the October 2012 issue of Torque.
---
Opel Corsa OPC Nurburgring Edition 1.6
ENGINE     1598cc, 16-valves, inline-4, turbocharged
MAX POWER     210hp at 5850rpm
MAX TORQUE     250Nm 2250-5850rpm
GEARBOX     6-speed manual
0-100KM/H     6.8 seconds
TOP SPEED     230km/h
CONSUMPTION     13.2km/L (combined)
---