Now, if Volkswagen is the people's car, then Skoda, which comes under the Volkswagen Group, should be the people's VW.
Coming from the ex-Communist Czech Republic, Skoda is tasked to be the most accessible brand under the group, representing such egalitarian virtues as honesty and value.
With Volkswagen nudging itself upmarket, Skoda's positioning seems perfectly sound and appealing.
The proposition is perhaps best illustrated by the Octavia vRS.
First launched in early 2008, the car's underpinnings can be traced to the Volkswagen Golf.
Its 2-litre engine is turbocharged like the Golf GTI's.
For 2009, the vRS picked up one other GTI-esque ingredient: the dual-clutch transmission.
It replaces the 6-speed manual.
Cosmetics-wise, the 2009 facelift revolves around the front, where the Octavia trades its boxy bumper and lights for some curves.
The vRS also features trendy LED day running lights that the regular Octavia does without.
But the same stoic stance and glitzy front grille apply.
The test car's bright yellow hue, the aggressive intakes on the bumper, and sporty 18-inch alloys and red brake calipers bring about a sporty impression that is cool by sheer irony.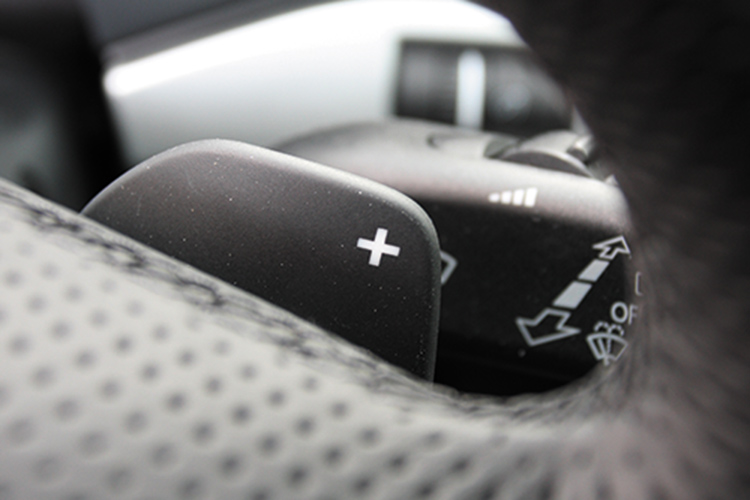 The equipment level is generous. From HID to full-colour touch screen audio system and supportive sports seats, the vRS is packed to its chunky wing mirrors with kit, pretty much in tandem with the GTI.
Build quality isn't too far off from the Volkswagen, too.
Then again, most of the bits, like the column stalks and shift paddles behind the wheel, have VW origins.
While some of the plastics will probably be nicer if they were a bit more yielding to the touch, they do feel solidly put together.
Even when driven quickly over bad roads, there's nary a rattle.
Where the Skoda trumps the Volkswagen hatchback is its enormous boot.
The estate version (called Combi) is expectedly generously endowed.
But even the hatchback – which Skoda stubbornly calls a saloon – is voluminous enough to give would-be human traffickers ideas.
Despite appearing to match the GTI on almost all counts sans the cachet, Skoda is being respectful at the cashier.
At press time, nearly $20,000 separates the vRS from the German hot hatch.
Of course, that's not to say the vRS is a perfect substitute for the GTI buyer looking for a bargain.
Doing without the GTI's pseudo-limited slip differential, suspension setting and probably some other secret ingredient that Volkswagen has kept for itself, the Skoda sets its own course in terms of handling characteristics – one that's mellow and matured; more GT than GTI.
---
2009 Skoda Octavia vRS 2.0 (A)
ENGINE     1984cc, 16-valves, inline-4, turbocharged
MAX POWER     200bhp at 5000rpm
MAX TORQUE     280Nm at 1700-5000rpm
GEARBOX     6-speed dual-clutch with manual select
0-100km/h    7.3 seconds
TOP SPEED     237km/h
CONSUMPTION     13km/L (combined)
PRICE INCL. COE     $112,800
---
Volkswagen Golf GTI and Golf R are Wolfsburg in sheep's clothing
Skoda Octavia RS 245 available in Singapore, if you can wait