Let's talk about the Volkswagen Golf. Not the gonzo ones you see on these pages; just the regular, run-of-the-mill one that seems to have slipped unnoticed but indispensably into everyone's life, regardless of their station.
The VW Golf is an easy car to describe. It has four wheels, and an engine tucked neatly away in front so the unapologetically box-shaped body, which is only slightly handsome, can accommodate you, your family and your dog. It is box-shaped, so much so that its door apertures are sensibly large and you'll never hit your head getting in or out.
Its steering wheel is the perfect distance away, the glass areas are generous, while the gadgets fall instinctively to hands and fingers.
Everything about it is just right. Feels just right. When the skies are grey, the traffic is oppressive and your day had been one of ceaseless harassment, you will be glad to see that this German box is the one that takes you home. Such is the Golf's unthinkingly effortless ease of use.
Buy one of these in your fledgling career, and you could make it all the way to CEO and conceivably not be gripped by the temptation to immediately jettison it for something flashier, like you would with any one of its less confident peers. You would still go to the shops in one, feeling nothing more than benign satisfaction that you bought a good car in good taste.
In short, the Golf is a tool of conveyance perfected over generations to its logical extreme.
So, does ramming 290 horsepower under the bonnet, painting it a celestial shade of blue, squaring off its jaws and powering up the rear axle make it even better? Absolutely!
Aesthetically declaring this turning up of the wick is a subtle but effective affair. By way of a new front bumper, larger intakes, uniquely cut wheels and the addition of multiple tailpipes, the Golf R flexes its newfound muscle without anything approaching the vulgarity of the Civic Type R.
As with its GTI sibling, at the end of the day the R still looks like a box. I like that. There is something seductively against the grain and rebelliously anti-fashion about a squat hatch with so much malevolent potency. Like your chemistry teacher who just happens to be a meth-cooking drug lord.
Nor does its inside advertise hooliganism. Naturally, being at the top of the pecking order, the R gets the full-fat Discover Pro infotainment treatment, which includes a 12.3-inch digital display in the instrument binnacle and a 9.2-inch touchscreen with software so intuitively laid out that the learning curve is a straight line. Otherwise, it is the same high-quality but sombre environment you get in any modern Golf.
If merely sitting in the R provides little clue to the car's dynamic talents, starting it up and moving off certainly will.
While Comfort mode on the Dynamic Chassis Control still makes for a perfectly liveable ride that doesn't punish your spine even after driving 300 kilometres in a single day, the hot hatch greets the road starting with a firm handshake – a relationship that only gets keener from there as you move up the drive modes.
There is an eagerness to bite into and chew up the tarmac absent in cooking Golfs all the way up to even the GTI, steered by a rack that is unerringly accurate and quick but just forgiving enough to never be twitchy. Steering comfort and stability will never be allowed to be problems in Golf-land.
Genuine, vibrant graininess of feedback like you get in a Porsche is inevitably lost in this compromise, but the levels of resistance are well-judged and match grip levels sufficiently well to inspire confidence.
The engine sure sounds meaty enough, but it does make use of a "resonator" at the base of the windshield to artificially manicure and amplify its singing voice. But if you were never told, you would never know, and the smoothly manufactured rortiness is matched nicely to generous forward thrust that makes illegal speeds dangerously effortless to achieve.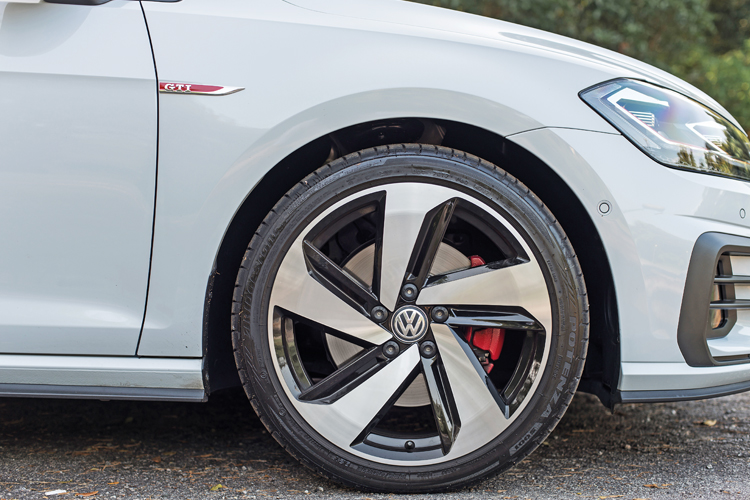 290 horsepower may not sound like a lot, but it's the 380Nm of torque that most impressively gives the R an omnipresent alertness.
There is enough oomph in the engine and enough intelligence in the 7-speed dual-clutch gearbox for the car to never feel off the boil, regardless of your starting speed or gear. Opportunities to stretch the motor to its redline will be very scarce, nor is it often necessary.
Now it bears mentioning that the R's 4Motion four-wheel-drive system is not programmed to be a hooning thug in the way that, say, a Focus RS's hardware is, which by default sends 70% of power to the back. While capable of routing 100% of torque rearwards, the Golf's computers will only bring the rear tyres into play when the fronts have had enough. In extremis, in other words, and that engineering decision tells you that stability is the dynamic priority.
How will that affect your enjoyment of a spirited drive? Very effectively. Unlike the obviously front-led GTI, the R pivots around a point just adjacent to your hip, neatly banishing the feeling of either being dragged by the head or pushed from the bum. It is neutrality incarnate, shuffling torque around at the speed of thought.
Out of everything the R does well though, it's the grip that gets you. The R can rearrange your lungs to one side of your body, exhaust all your reserves of courage, and not even come close to chirping its tyres.
On a tight, knotted road, the hatchback's unflappability means you can keep your foot on the throttle, let the chassis hunker down with steely resolve, and never once be made to feel like you have pushed the car beyond its ability to nonchalantly respond. This is one of those cars whose dynamic limits you are unlikely to approach, let alone broach on a public road.
Where this unflinching surefootedness is most happily exploited, however, is on the everyday, regular roads you drive to work and back on.
Approach a tightening radius coming out of the carpark? Give the throttle a little squirt and scythe around it with a grin. Spot a gap in traffic? Lunge forward, then stop on a dime.
Soon you will find yourself taking expressway ramps and lasering your way around the CBD at speeds technically still legal, but unapproachable in many more skittish or less well-resolved cars.
My personal Mazda MX-5, while more playful and interactive, would get lost in the dust chasing the Golf R.
Would chopping off the rear driveshaft, softening everything a smidgen and dialling the power down to 230hp make a lesser Golf? Absolutely not! But it took a while for me to figure out how and why.
There is significantly and perceptibly less power than in the R. Where the R just about qualifies for the term "explosive", the GTI is more comfortably described as satisfyingly quick.
In the 6-speed transmission's gentler programmes, the drivetrain falls below the threshold of being able to provide an instantaneous and generous response to throttle prods. Below 50km/h in 4th gear, a downshift is often necessary to wake the engine up to pull off the dart into space the R would have consumed immediately.
Without the Performance Pack, the Golf GTI we have here is armed only with an open differential. Massive, sudden throttle inputs can still make the yellow traction-control light blink and the steering wheel squirm. Nor will the GTI hold on quite as hard for as long as the R, leaning gently into the corner and finally pushing wide where the R would have rotated voraciously and bombed away.
Quite fun? Not fun? Depends on how you look at it. For what all this does is create a commute that is less breathtakingly quick but more involved.
When you buy a Golf GTI, you are buying a reputation, an icon. And with every sublime manoeuvre, you enjoy the significant pleasure of discovering just how deserved that reputation is.
If the typical runabout is a supreme technical demonstration of front-wheel-drive engineering, Volkswagen has taken a maligned layout and finessed the evil from it.
Instead of frustrating understeer, joy-killing wheel hop and one-dimensional reticence, you play at the steering and throttle while the beautifully sorted suspension dovetails with the road and its imperfections. The Golf GTI is nothing if not beautifully fluent.
There is a tight right-hander where Lorong Chuan becomes Serangoon Garden Way that best ekes out the difference in dynamic identity between these two hot Golfs. It arcs suddenly, and is at once cambered and crested in the middle.
The GTI glides over the surface, able to pull itself through with its front paws if you titrate the controls well. The R follows the contour and simply refuses to let go. Neither vehicle floats or crashes into its suspension, where lesser hatchbacks would either go disconcertingly light or patter alarmingly across the surface.
There is no argument that the R is the faster Golf. Volkswagen would not have the gall to charge you almost $40k more if it weren't. The R goes harder, grips harder and is altogether more serious.
Despite this, the GTI is in no way disgraced. It is plenty fast enough for dicing with traffic, for one. Also, in its lack of a powered rear axle is an added dimension of interactivity. You have to manage your inputs in this hot hatch, and in a way that is so rewarding it makes an emphatic case that front-wheel-drive is not wrong-wheel-drive.
Both these Golfs are designed for pleasure without the punishment. The truly amazing thing is how little these ostensibly contradictory engineering objectives compromise each other. If your car is not just your toy but your everyday means of transport, few others have such breadth of ability. Jekyll and Hyde really can be one (German) person.
If flashier performance machines are one-night stands with supermodels, the Golf GTI and Golf R are like marrying Natalie Portman. Who, bee tee dubs, is an alum of Harvard University.
---
Volkswagen Golf R 2.0 (A)
ENGINE     1984cc, 16-valves, inline-4, turbocharged
MAX POWER     290hp at 5400-6500rpm
MAX TORQUE     380Nm at 1850-5300rpm
POWER TO WEIGHT     199.9hp per tonne
GEARBOX     7-speed dual-clutch with manual select
0-100km/h     4.6 seconds
TOP SPEED     250km/h
CONSUMPTION     14.1km/L (combined)
CO2 EMISSION     163g/km
PRICE INCL. COE     $213,400 (after $20k VES surcharge)
---
Volkswagen Golf GTI 2.0 (A)
ENGINE     1984cc, 16-valves, inline-4, turbocharged
MAX POWER     230hp at 4700-6200rpm
MAX TORQUE     350Nm at 1500-4600rpm
POWER TO WEIGHT     175.4hp per tonne
GEARBOX     6-speed dual-clutch with manual select
0-100km/h     6.4 seconds
TOP SPEED     248km/h
CONSUMPTION     15.4km/L (combined)
CO2 EMISSION     151g/km
PRICE INCL. COE     $177,400 (no VES rebate/surcharge)
---
Check out the 2018 Volkswagen Golf, Golf GTI and Golf R