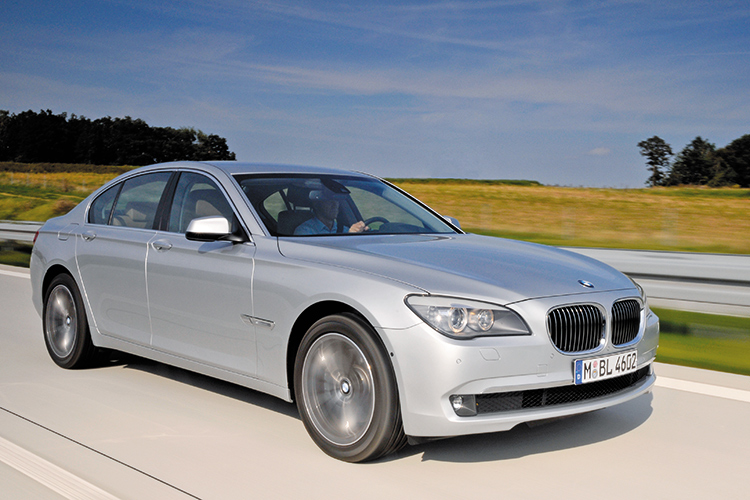 The new BMW 750Li is widely acclaimed as the standard bearer among the current crop of luxury cars.
It's a worthy flagship model for the new 7 Series and the benchmark the competitors' new models have to aim for.
Anyone half expecting the same sort of driving experience from the 740i will be in for a surprise.
It may seem ludicrous to compare the 740i with the 750Li (which costs a cool $110,000 more), yet we subconsciously remember the best and perhaps expect the same from a lesser variant.
With 3 litres and two turbochargers, the 740i delivers an impressive 326bhp, enough to move the 1935kg car briskly.
However, it is this eager nature of the engine that gives the 740i something of a split personality.
The 326bhp engine and enthusiastic 6-speed automatic would be absolutely perfect for a 335i or even a 535i.
But in the 7 Series, it may be just a bit over the top. It's OTT in the way it eagerly changes down to accelerate.
But is it OTT in the vocal intake and exhaust growl – sporty and invigorating but perhaps rather too brazen for a luxury car?
BMW 7 Series Edition 40 Jahre marks 40th anniversary of the flagship saloon
Or OTT in over-sacrificing ultimate refinement for performance?
Optional for the 740i is Dynamic Drive. This $8880 extra allows a choice of "Comfort" or "Sport" settings for the transmission and suspension.
With the car in the default mode for both transmission and suspension, keen drivers may find the suspension a little too soft.
My choice would be "Sports" for the suspension but "Normal" for the transmission.
Select the "Sports" setting for the transmission and the gearbox downshifts far too eagerly for a limo.
Over-intrusive engine noise notwithstanding, the BMW 740i is a joy to drive.
It is quick and responsive, with just the right weighting for the steering and major controls.
It handles so well that the car seems to shrink around the driver. It's too easy to forget that it's actually a huge limo!
With a 60mm shorter wheelbase, the "normal" 740i is noticeably more agile than the 740Li.
More people will probably still choose the 740Li despite the fact that the owners will drive the car themselves instead of being chauffeured, and that space in the rear is perfectly adequate.
I suppose for an extra $20,000, the Li version is better.
So for the majority of local buyers, the variant with the biggest demand is the 740Li.
My advice for the average owner would be to drive it gently, even though the engine is tempting you all the time to rev it like a sports car.
Keeping a cool head may just be good for both your wallet and ears!
---
2009 BMW 740i 3.0 (A)
ENGINE     2979cc, inline-6, turbocharged
MAX POWER     326bhp at 5800rpm
MAX TORQUE     450Nm at 1500rpm
GEARBOX     6-speed automatic with manual select
0-100KM/H     5.9 seconds
TOP SPEED     250km/h (governed)
CONSUMPTION     7.2km/L
PRICE INCL. COE     $318,800
---