Changing your car's tyres is something that every motorist will eventually have to do. As the only constant link between your car and the road, tyres are responsible for grip, handling, acceleration and stopping power.
Their importance can never be overstated.
Naturally, tyres will wear out. So, when your tread depth is less than 2mm, it's time to seriously consider changing them in the interest of safety. After all, the LTA requires car tyres to have a tread depth of at least 1.6mm.
When you consider which tyres to get, Bridgestone should be at the top of your list. The brand is renowned worldwide for making great tyres that cater to various needs.
For enthusiasts who prioritise performance, there's the Bridgestone POTENZA™ range. Offering maximum grip and handling levels in all conditions, they're a must for keen drivers like you.

On the other hand, if you're a car owner who wants a smooth, comfortable and quiet ride, that's where the Bridgestone TURANZA™ range comes in. These tyres are great all-rounders.

Aimed at drivers who want to lower their running costs is the Bridgestone ECOPIA™ lineup. These tyres are engineered to have low rolling resistance and a long service life. With a set of ECOPIA™ tyres on your car, you'll save money at the pump by increasing your vehicle's range per tankful.

Many motorists today own or aspire to own SUVs (sports utility vehicles) and CUVs (crossover utility vehicles). That's why Bridgestone engineered the ALENZA™.
The Bridgestone ALENZA™ is a tyre specifically designed to suit SUVs and CUVs. Fitting ALENZA™ tyres on your SUV or CUV will maximise its handling potential in both wet and dry conditions.

Are you one of the many drivers who frequently drive up north, where recovery services aren't always so accessible – especially in more remote areas?

Then fit your vehicle with a set of Bridgestone's DriveGuard™ Run-Flat Technology tyres! Should a puncture or loss of inflation occur, DriveGuard™ Run-Flat tyres would enable you to continue driving for up to 80km, at up to 80km/h.
Whichever Bridgestone tyre you choose, you're in for a treat.
From 1 Nov 2019 to 31 January 2020, every 4 Bridgestone passenger car tyres from the same product model that you purchase* entitles you to a $20 discount. What's more, redeem a Scratch & Sure-Win card with every purchase and stand a chance to multiply that $20 cash discount at up to 5 times!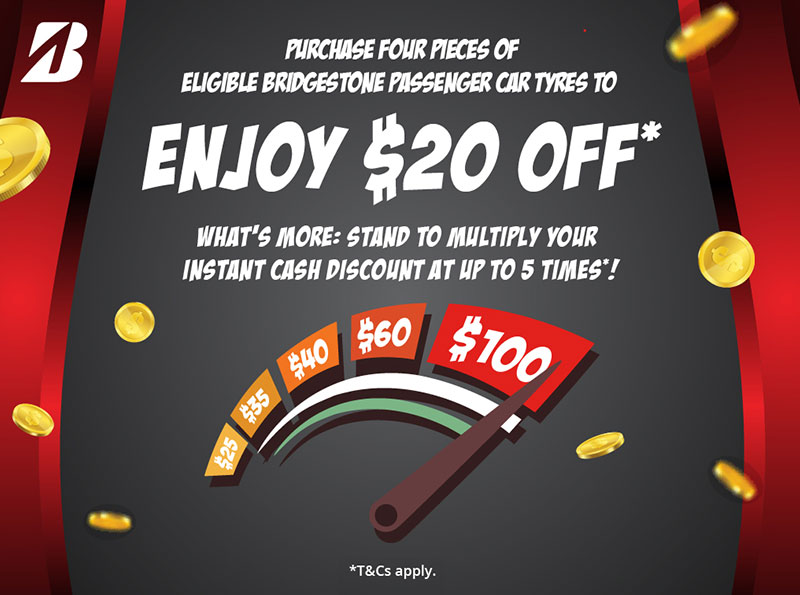 For more details, check out www.bridgestone.com.sg/en/year-end-tyre-sales-promotion-2019
— Brought to you by Bridgestone —