If you are the sort of person who eschews dainty dress watches and instead prefers street-cool, chunky timepieces, Casio might have something for you.
 In the past few months, the Japanese watchmaking giant – which also manufactures calculators, cameras, and music instruments – has launched a slew of attractive watches in every price and product category.
Among their new watches are a tie-up with Formula 1 team Scuderia AlphaTauri, an all-new titanium alloy G-Shock and Casio's very first G-Shock smartwatch running Google's Wear OS smartwatch operating system.
Got that timepiece itch going on, or need a gift? Here are the top five Casio watches you should keep your eye on.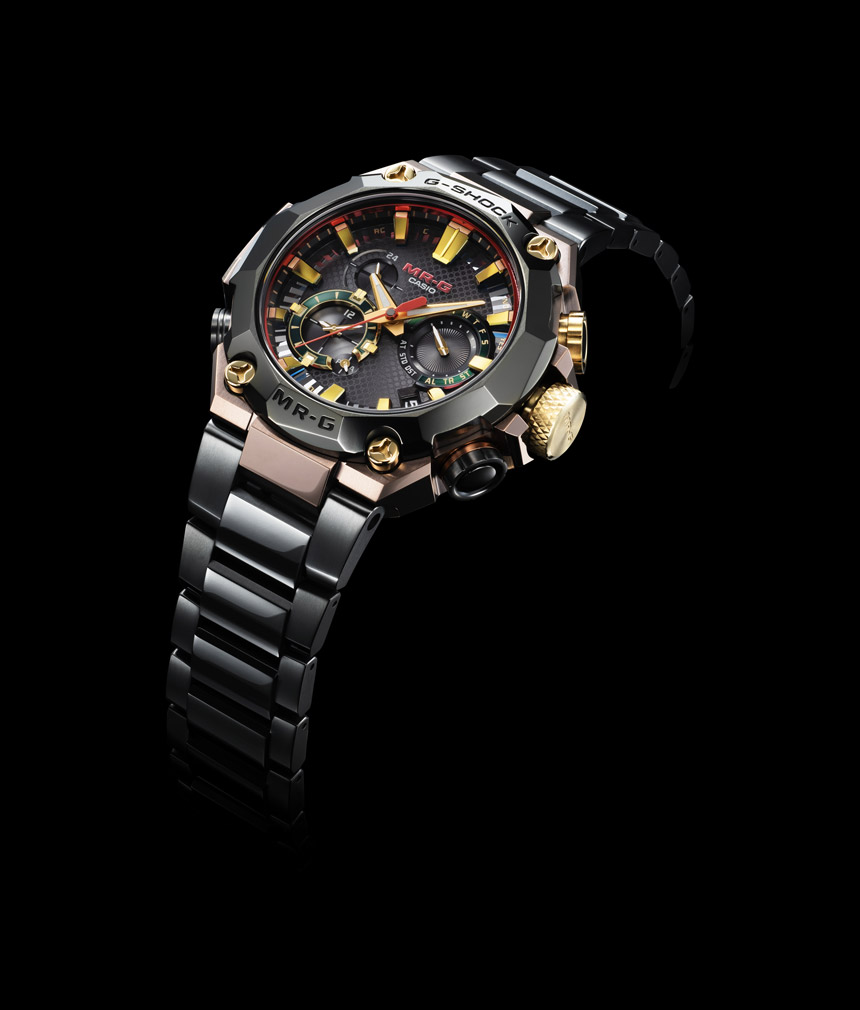 MRG-B2000BS Hanabasara
This limited-edition, samurai-esque watch from Casio's top-shelf MR-G collection is designed based on the concept of Hana-Basara.
Basara was a term of respect used for samurai commanders who shattered conventions with a rebellious style that combined strength and a bold, lavish aesthetic.
And the watch has the chops to back that robust story up: it is crafted out of ultra-hard Cobarion – a material that shines like platinum but less allergy-causing – and DAT55G alloys developed in Japan for the bezel and bands.
It is cut and polished by a skilled metalwork artisan to achieve the mirror-surface facet cuts in metal.
We got a sneak peek at the watch at a private Casio viewing earlier this year:
The dial incorporates a Kusari Katabira (chain mail) inspired woven pattern and mirror-finished components with a folding fan pattern.
Meanwhile, the curved indices are achieved through nano processing to resemble the curvature of a Japanese sword, and it looks good among the Hana-Basara armour blend of green, red, gold and black hues.
If you are looking to stand out from the crowd with a one-off timepiece, keep your eyes peeled for this and register your interest here.
GMW-B5000TR
This colourful number is part of the square full-metal 5000-series of G-Shocks but made with a new titanium alloy specifically developed for G-Shock.
It is called TranTixxii, and it was developed with Nippon Steel Corporation over six years. Casio claims the alloy is twice the hardness of pure titanium, but still boasts the same lightweight, anticorrosive and hypoallergenic properties.
Not one to waste advanced technology in the name of fashion, Casio has used ion plating to create its first full-metal multicolour watch.
Beneath the good looks are big brains, too: the GMW-B5000TR gets Bluetooth Smartphone Link for automatic time adjustment and world time (once we can fly again).
There is also no need for a battery change with the Tough Solar power system, and no need to reset it thanks to Multiband 6 radio wave reception. And yes, it gets full-auto LED backlight.
MTG-B2000PH
Part of the MT-G line of watches, the new MTG-B2000PH features a design motif inspired by the Blue Phoenix of mythical lore, and it has rainbow ion plating on the bezel and case.
How do they achieve that oil-slick look? Layers of yellow-to-red gradation are applied — crosswise on the bezel, lengthwise on the case — over light-blue ion plating to achieve a "mystical colouration", Casio says.
Notably, the technique that produces the subtle colour variations in the rainbow ion plating mean that every single watch is unique — no two look the same.
Of course, this being a high-end Casio, it features radio wave time-calibration and also automatic time adjustment when paired with a smartphone using the dedicated Casio app.
Using a Bluetooth low-energy connection, the watch automatically adjusts to local time when crossing time zones, without requiring any input from the user.
EQB-1000AT
Now we come to what could be one of the thinnest chronographs on the market, which also happens to look rather handsome.
From Casio's high-tech Edifice line of watches comes the Scuderia AlphaTauri chronograph, borne out of the punishing demands of motorsports.
Being the top-spec version, the EQB-1000AT gets all the trimmings. The dial and bezel are made of 6K carbon, which is the same stuff used in racing car wings and floors. The team's navy-blue colour dominates the handsome design, and the team logo is engraved on the dials, case backs, and band loops.
When paired with a smartphone app, the watch automatically calibrates the time, delivering the precision busy team members or executives need. The app also allows users to set world time quickly from a preset selection of about 300 cities.
Battery changes? No need for that with Casio's Tough Solar power system. If you charge the watch fully and leave it in a drawer, it can go an incredible 19 months with the power-saving function on.
GSW-H1000
For the sportier folks, this is the GSW-H1000, a G-Squad Pro smartwatch powered by Google's Wear OS. This is the first G-Shock to be powered by Google's smartwatch operating system.
It borrows from Casio's earlier line of Pro-Trek watches powered by Wear OS, incorporating a soft and comfortable urethane band, and a clever dual display that layers a power-sipping monochrome display over the colour one.
As with all G-Shocks, this is a tough cookie, with shock resistance and 200-metre water resistance.
As the flagship product of the sports-focused G-Squad line, the GSW-H1000 can be used to track activities like running, indoor workouts, road biking, and swimming, to more extreme pursuits like surfing and snowboarding.
It has an optical sensor to measure heart rate, compass, altitude/air pressure sensor, accelerometer, gyrometer, and of course, GPS.
According to Casio, the watch can go one and a half days between charges, and if you exclusively use the power-sipping display, a whopping one month.
---
Edifice ECB-20CL-1A is a racer's timepiece
Rado Captain Cook Bronze Automatic
IWC Pilot's Watch Chronograph TOP GUN Edition "SFTI"