Who do you notice first when you walk into a party?
The persons who are likely to make the biggest impressions are the extroverts. They're the ones playing drinking games, cracking jokes and laughing boisterously. They enliven the atmosphere with their presence.
If you applied this scenario to the SUV segment, the extroverts would be popular models like the Mazda CX-5, Nissan Qashqai and Honda HR-V/Vezel, while the two introverts nursing their drinks in a corner would be the Mitsubishi Outlander and Outlander PHEV.
If people tried getting to know these two low-key partygoers better, they'd be impressed by each model's claim to fame.
The Outlander is one of the most affordable seven-seater SUVs that's made in Japan. Meanwhile, the eco-friendly Outlander PHEV is the world's first plug-in petrol-electric hybrid SUV.
Yes, you read that right. Before more well-known carmakers such as Porsche and BMW introduced PHEV SUVs, Mitsubishi had beaten them to the punch.
Now, one might hastily conclude that few people notice the Outlander because it's not as attractive as its rivals.
But design is subjective. I wouldn't call the Outlander outstandingly attractive, but it does have a unique design, which lends it a measure of road presence. When you see one on the road, you won't mistake it for a different model.
However, it is difficult to tell the Outlander apart from the Outlander PHEV because, stripped of their badges, they look exactly alike. Only when you climb aboard do you discover that their cockpits are as different as night and day.
The Outlander is the more driver-friendly of the two SUVs. There's no bewildering array of menus, and the controls are both intuitive and ergonomic. Most drivers will be able to get in, start the vehicle, and drive off without delay.
But if it's your first time behind the wheel of the Outlander PHEV, you would be forgiven for thinking you might need a PHD to drive it.
The tachometer has been replaced by an energy usage gauge, and an arcade-like joystick sits where a regular gearshift lever should be. Delve into the infotainment system and you'll find three screens that display pertinent driving information: Energy Monitor, Energy Flow and Eco Info.
But, ironically, for all this advanced kit, the Outlander PHEV still has a conventional handbrake instead of an electronic one, which is standard in its less advanced sibling.
I say that the Outlander is "less advanced" mainly because it has one drivetrain, as opposed to two in the Outlander PHEV.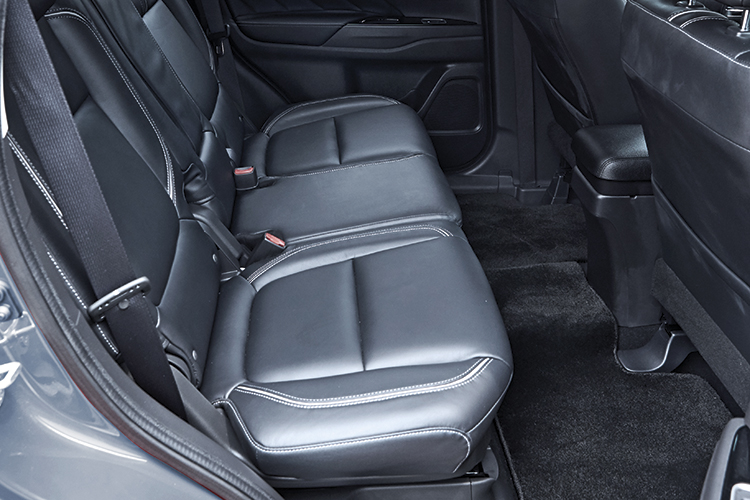 Said drivetrain, a 2.4-litre 4-cylinder that produces 167hp and 222Nm, gives the Outlander a respectable century sprint time of 10.5 seconds. Not bad for an all-wheel-drive SUV weighing more than 1.5 tonnes.
On the go, the Outlander actually feels sprightlier than what its paper figures suggest.
It is responsive enough for stop-and-go traffic, and has enough midrange oomph for overtaking on expressways. Petrolheads may not like its CVT (continuously variable transmission), but the dreaded "rubber band" effect only occurs when you adopt an aggressive driving style.
Although tempting, driving the Outlander PHEV in anger would be a waste of its considerable fuel-saving abilities. The Outlander PHEV has a smaller 2-litre 4-pot that's paired to two electric motors – one for each axle.
Rather than getting bored with this drivetrain's technical data, all you need to know is that when it comes to the drive, the Outlander PHEV is both impressive and eerie.
Presuming you've managed to fully charge the Outlander PHEV's batteries (this takes five to six hours using a normal household socket), this SUV will run on pure electric power until it depletes the battery pack.
Mitsubishi quotes a maximum electric range of 53km. Of course, how close you can come to this figure is down to your driving style and the road conditions.
During rush hour traffic in the mornings and evenings, I managed up to 25km on electric power alone. With both the petrol engine and electric motors working, I averaged 22.2km per litre.
When the Outlander PHEV is being driven by volts alone, the power delivery is instantaneous and the drive is eerily quiet.
But what's really spooky is how on several occasions, the petrol engine still didn't come on, even when all the indicators clearly showed that the battery was flat.
Incredibly, I still covered around 15km under these conditions. If only the same battery maker supplied batteries for smartphones, too.
If the Outlander PHEV has any shortcomings, it would be its 1.8-tonne mass which dulls the handling, and the fact that it's only available here as a five-seater.
If you find the SUV segment too crowded and full of loud partygoers, remember that there are two very talented but shy siblings nursing their drinks in a quiet corner.
They're like a pair of wallflowers that don't enliven the atmosphere. But get to know them and you'll discover that they will bring a lot more to the table than just drinking games and boisterous laughter.
---
Mitsubishi Outlander PHEV 2.0 (A)
ENGINE     1998cc, 16-valves, inline-4, hybrid
MAX POWER     121hp at 4500rpm
MAX TORQUE     190Nm at 4500rpm
POWER TO WEIGHT     66.9hp per tonne
GEARBOX     Single-speed
0-100KM/H     11 seconds
TOP SPEED     170km/h
CONSUMPTION     117.2km/L
CO2 EMISSION     94g/km
PRICE INCL. COE     $179,999
---
Mitsubishi Outlander 2.4 (A)
ENGINE     2360cc, 16-valves, inline-4
MAX POWER     167hp at 6000rpm
MAX TORQUE     222Nm at 4100rpm
POWER TO WEIGHT     108.8hp per tonne
GEARBOX     CVT with 6-speed override
0-100KM/H     10.5 seconds
TOP SPEED     188km/h
CONSUMPTION     12.3km/L
CO2 EMISSION     188g/km
PRICE INCL. COE     $139,999
---
Check out the Mitsubishi Outlander and Outlander PHEV
Group Test: Toyota Harrier 2.0 versus Mitsubishi Outlander 2.4