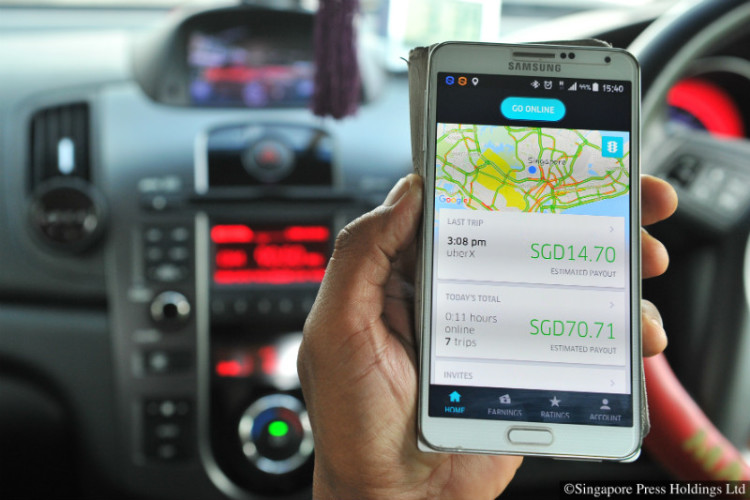 Private-hire car services such as Uber and Grab could soon be taken to task under Singapore's laws, if their drivers are caught operating without appropriate licences and insurance.
A Bill introduced in Parliament on Tuesday is seeking to amend the Road Traffic Act so that the authorities are empowered to impose a suspension order of up to a month on an errant ride-hailing app.
This will be through a blackout period, during which all drivers will be prohibited from driving for the app that is being penalised.
Such a penalty, if it is meted out, will be a blow to any ride-hailing service, as it essentially shuts down operations and revenue.
Under the proposed law, a suspension order can be imposed on a private-hire car service if there are three or more instances of its drivers breaking the rules within a year.
These offences include drivers using unlicensed vehicles to conduct chauffeur services, operating without a valid vocational licence and not having appropriate insurance.
The Land Transport Authority (LTA) said that "frequent infringement of these rules poses potential safety risks for commuters".
With the fear of being suspended, such services will be encouraged to tighten their processes, especially in how they screen drivers and their cars, before they are allowed onto the platforms.
Some errant cases do fall through the cracks. There have been instances, for example, of private-hire drivers getting another person to stand in and ferry passengers under their name and account.
By the first half of this year, new regulations will kick in, requiring private-hire drivers to be vocationally licensed and to undergo background and medical checks. Cars must also be registered with the LTA and marked with decals, identifying them as private-hire vehicles.
The new regulations for drivers, combined with a tough stance on errant ride-hailing services, will hopefully boost the safety and reliability of these commuting options.
---
Related story: Ride-hailing apps drive surge in rental cars
Related story: Uber convenient, but also uber safe?