There's an all-new, Category B electric SUV in town, but this time, it's not German.
Officially unveiled at the Vantage Automotive Centre located along Alexandra Road, the Atto 3 is BYD's first-ever contender in Singapore's compact crossover segment.
Coincidentally, the SUV also marks the third passenger car model by the Chinese brand here, following in the footsteps of the e6 and discontinued, van-turned-MPV M3e.
The Atto 3, however, distinguishes itself from its brethren on multiple fronts.
Firstly, the car is the firm's first SUV built on an entirely new, e-Platform 3.0. BYD says it is designed for high-performance electric vehicles, with both safety and efficiency as priorities.
PERFORMANCE
The Atto 3 is also the most powerful model that BYD has launched locally.
A single permanent magnet synchronous motor, powered by a 60.5 kWh Blade Battery, produces 201hp (150kW) and 310Nm of torque, figures that enable it to manage zero to 100km/h in 7.3 seconds.
With the Blade Battery, the crossover's NEDC-rated range is 480km.
Thanks to its battery architecture, DC fast charging via CCS at up to 80kW is offered on the Atto 3, bringing the battery from 20% to 80% state-of-charge within 42 minutes.
AC charging at up to 6.6kW, on the other hand, will see a full recharge in 9.5 hours. The Atto 3 falls under the A1 band of the VES, allowing it to qualify for the highest ARF rebate of $25,000.
DESIGN ELEMENTS
BYD says the Atto 3 features a "Dragon Face 3.0" design language, with full LED headlights and "one-piece-through" tail-lights. The standard 18-inch wheels contribute to the athletic stance of the crossover.
The marque's full name is emblazoned on the electrically-operated tailgate, which opens to reveal 440 litres of boot space (this can be expanded to 1,340 litres with 60:40 folding seats).
The Atto 3 is available in five different paintwork hues, with names such as Surf Blue and Parkour Red. There are no colour options for the interior, though.
The Atto 3 comes with a dual-tone cabin that mixes blue and beige upholstery. This combination is called "Eclipse Blue + Hazy Grey" by BYD and features red-stitching on the seats.
Shaped contours across the dash, guzheng-inspired strings along the door bins, and disc-like air-con vents give this crossover a truly unique interior.
The driver gets a 5-inch digital display behind the steering wheel, but the real centrepiece is the 12.8-inch Intelligent Rotating Infotainment Display, which can be oriented in either portrait or landscape format.
Another high-tech feature is the fact that the car can be unlocked and locked via an NFC Keycard. However, Apple CarPlay and Android Auto will only be available in Q4 2022, although Bluetooth Phone Connectivity does come as standard.
A BYD OS App will also debut somewhere down the line.
Elsewhere, the Atto 3 is stacked full of safety features, including seven air bags, lane-keeping assist and lane departure warnings, as well as two front and four rear radars. The car also comes with adaptive cruise control, blind spot monitoring, and front and rear collision warnings.
In 2022 thus far, BYD has outstripped Tesla to become the best-selling electric brand locally, with 246 units registered from January to May, compared to the 190 units of its American rival.
Official agent E-Auto is currently retailing the BYD Atto 3 at a special price of $178,888, inclusive of COE.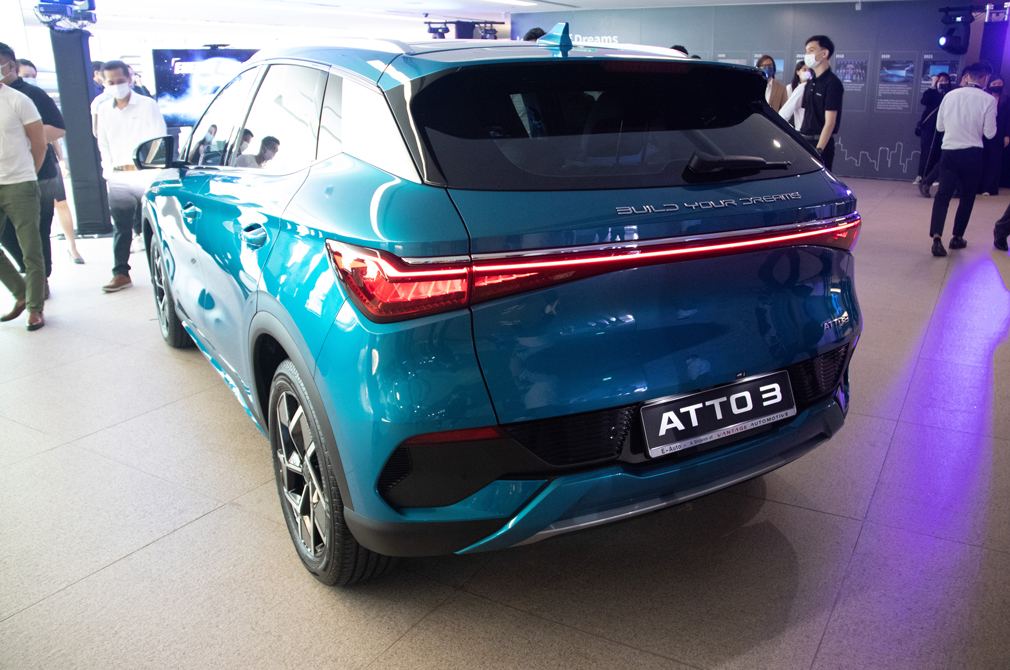 ---