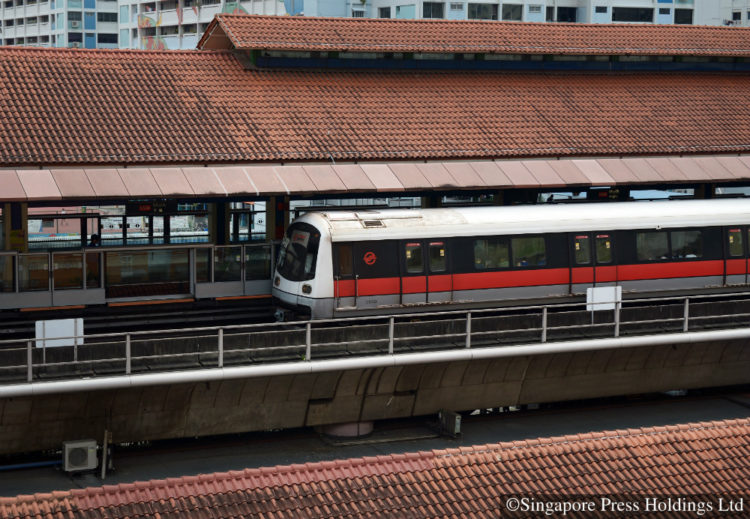 A city-bound MRT train on the East-West Line was struck by lightning around 4pm near Bedok station yesterday. The incident – the second in 18 months – crippled the train and injured the driver.
Travel in both directions was delayed for at least 10 minutes between Tanah Merah and Paya Lebar.
In response to queries from The Straits Times, operator SMRT said the train stalled as it approached Bedok station.
Passengers alighted at the station, and the train was with-drawn for investigation, SMRT spokesman Patrick Nathan said, adding that the driver complained he was unwell afterwards.
Sources said he complained of numbness and chest pains.
The Singapore Civil Defence Force said it was alerted to the incident at Tanah Merah MRT station at 4.20pm, and an ambulance was sent to the scene. The driver was taken to Changi General Hospital, where he has been warded.
Trains on surface lines are occasionally struck by lightning. The last reported case was on May 11 last year, when an SMRT train on the North-South Line was crippled by lightning just before 4pm, disrupting southbound services from Yishun to Yio Chu Kang stations.
Yesterday, Mr Nathan reiterated that occupants are safe from lightning strikes. They are protected by what is known as a Faraday cage, an enclosure formed by conductive material that blocks electric fields from entering the cabin.
Mr Nathan said: "If lightning strikes, the electric current will travel through the outside shell of the train, not through the cabin, and pass through the wheels to the track. The train is grounded to the track."
The East-West Line has seen a spate of incidents since two weeks ago. At 9.40pm on Nov 10, a train travelling eastward broke down near Outram Park station.
Another train was sent to haul it out of service. But as the coupled trains were travelling towards Changi Depot, they stalled near Paya Lebar station. Another train was deployed to move these two trains. SMRT closed the eastern stretch of the line at 11.15pm.
Some commuters said it took them three hours to get home.
On Wednesday last week, a train ran into another at Joo Koon station because of a signalling fault, resulting in injuries to 38 commuters. As a result, the line remains closed between Joo Koon and Gul Circle stations, with SMRT providing free buses between the two stops.
Warehouse officer Terrence Yap, 35, said: "I had to add another 15 minutes to travel. It is very inconvenient to get off just for one stop."
Telco controller Kavitha Supramaniam, 22, said she had to wake up half an hour earlier to compensate for the additional travel time. "The journey took longer than usual because there is traffic on the road when you take the bus," she said.
Some companies continued to arrange for free shuttle buses to get their employees directly to their workplaces. Engineer Wang Hai Long, 38, who works at ICF International, said the company is providing transport for all its employees until regular train services resume.
An hour before yesterday's lightning strike, an alarm went off at Clementi station. When The Straits Times arrived at the station, about a dozen police officers and SMRT employees were seen checking an electrical box near the Emergency Stop Plunger switch. It is not known who tripped the alarm, but police and SMRT are investigating.
•Additional reporting by Lester Hio and Adrian Lim
---
Related story: Lightning found to have struck trackside equipment, not train that stalled
Related story: Number of injured in SMRT train collision rises to 38