When the new Mercedes-SL debuted in November 2021, two models heralded the latest-generation roadster: the SL55 and SL63, both powered by the brand's well-known bi-turbo 4-litre V8.
The SL range is now joined by a "base" model – the SL43. Previously the "43" designation was powered by a turbocharged 3-litre V6. This time around, the motor is the M139 inline-4, currently the most powerful 4-cylinder engine in production.
What makes the SL43 unique isn't just the fact that it has a 2-litre displacement. It's that it can claim to be the first production car with an electrically driven exhaust gas turbocharger. Mercedes says that the system in the roadster is a direct derivative of the one used by its Formula 1 team.
ELECTRIC VS CONVENTIONAL
A conventional turbocharger boosts power by forcing compressed air into the engine. It is driven by exhaust gases from the engine, which spin its turbine. So, when engine speeds are low, there is a chance that turbo lag may occur.
The new electrically driven turbocharger in the SL43 is operated by the car's 48-volt electrical system, which also feeds the belt-driven starter-generator (RSG).
It prevents turbo lag through the use of an electric motor integrated directly on the turbocharger's shaft, located between the turbin wheel on the exhaust side and the compressor wheel on the intake side.
Electric turbocharger developed by Mercedes and Garrett Motion
The electric motor drives the shaft of the turbocharger, accelerating the compressor wheel before the exhaust gas stream starts to drive it conventionally. Mercedes says it significantly improves immediate response from idle speed to across the entire engine speed range.
The electrification of the turbocharger also enables higher torque at low revs, enhancing acceleration from a standstill. Even when the driver removes their foot from the accelerator or applies the brake, the boost pressure is maintained.
PERFROMANCE FIGURES
With this technology, the 2-litre unit in the AMG SL43 delivers 375hp (280kW, 381PS) and 480Nm. The RSG can provide an additional short-term boost of 13hp (10kW) in certain driving situations.
The second-generation RSG also functions as a mild hybrid in the 48-volt on-board electrical system. Apart from providing a temporary power boost, it also enables functions such as gliding mode and energy recovery.
Paired to Mercedes' 9-speed MCT (Multi-Clutch Transmission), the rear-wheel-drive SL43 accelerates from a standstill to 100km/h in 4.9 seconds, and has an electronically limited top speed of 275km/h.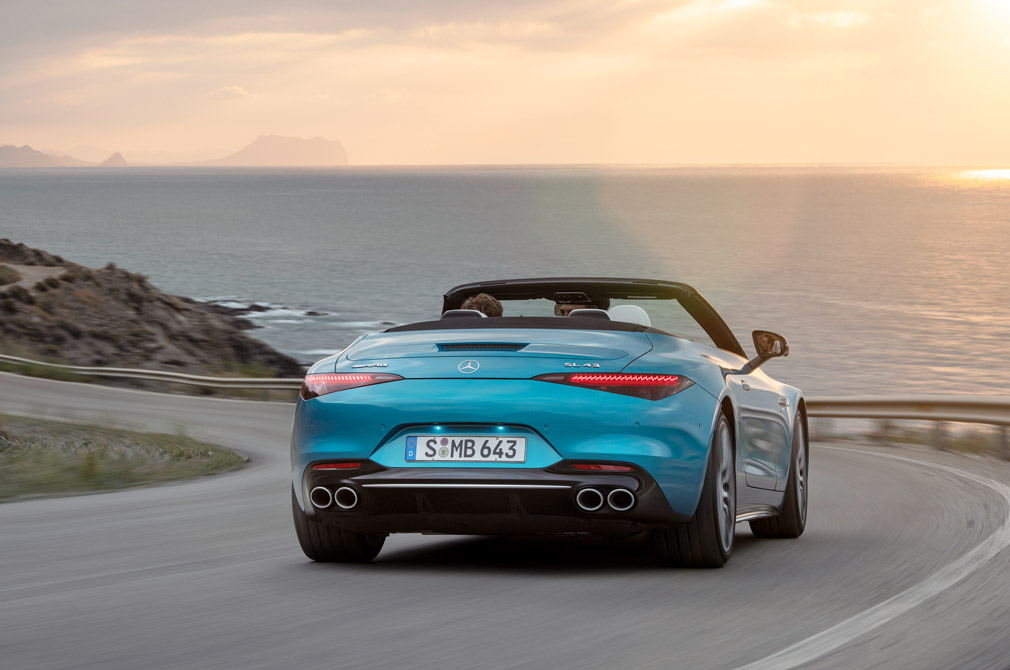 SPECIFICATIONS
Mercedes-AMG SL43 2.0 (A)
ENGINE     1991cc, 16-valves, inline-4, turbocharged
MAX POWER     375hp (280kW, 381PS) at 6750rpm
MAX TORQUE     480Nm at 3250-5000rpm
POWER TO WEIGHT     220.8hp per tonne
GEARBOX     9-speed automatic with manual select
0-100KM/H     4.9 seconds
TOP SPEED     275km/h (governed)
CONSUMPTION     10.6-11.2km/L (WLTP combined)
PRICE INCL. COE     To be announced
AGENT     Cycle & Carriage Industries
---