Eco-minded consumers looking to shop for sustainable home and lifestyle products can consider checking out Green-House 2023, which will take place from 8-9 July in the Castlery Flagship Store in Liat Towers along Orchard Road.
Green-House 2023, claimed to be Singapore's first and largest retail experience for eco-friendly products ranging from skincare to jewellery to beverages. Other goods, including bags, scents and soaps, are also on hand.
Over 70 brands, including Levande from Electrolux, Kelly Snacks, Re-store, Want Skincare, Scent Journer, and Niang Brewery Co are participating in this year's event.
Apart from shopping, visitors can also participate in workshops to learn how to upcycle and build products, create natural deodorants and lip balm, and even make their own edible garden. And, as most of the brands are currently only sold online, the event gives consumers a chance to see and feel the products before purchasing them.
Now, despite the eco-friendly focus, there are a few things for petrolheads to check out as well.
At the store's entrance, you'll find the Tanchen Studio x Mercedes-Benz x Castlery art installation titled 'Reincarnation' that features three furniture pieces combined with waste car parts, such as door handles, seatbelts, door seals and even taillights.
Naturally, the sustainability theme means the cars available for test drives are all pure electric models from Mercedes' EQ line-up. Visitors will be able to choose from the EQS450+ and EQS53 AMG sedans, EQB seven-seater SUV, and EQE350.
Or, if they prefer, visitors can also choose to be chauffeur-driven up and down Orchard Road, giving them another way to experience motoring with zero tailpipe emissions.
Mercedes, too, will be hosting workshops for car owners who are curious or interested in EVs, and what going electric will mean for them.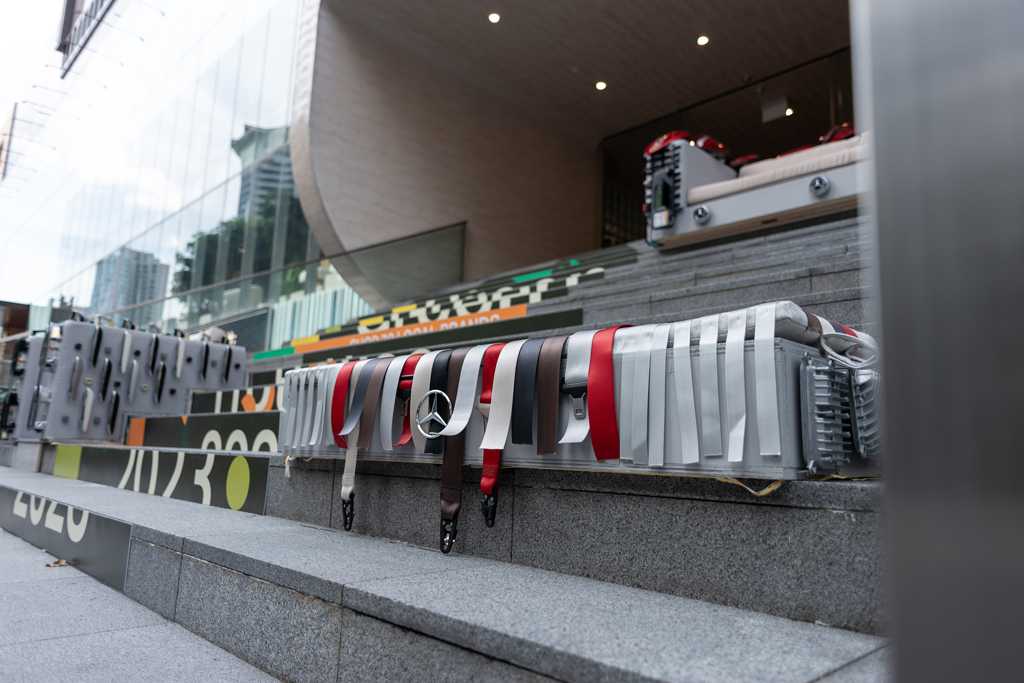 Organised by Pass It On, Green-House aims to encourage consumers to adopt a "holistic sustainable lifestyle".
Michelle Chow, founder of Pass It On, said: "Green-House is conceptualised as a welcoming and inclusive space for conversations that will trigger consumers and businesses to realise the environmental impact we can make with our daily choices, no matter how big or small."
If you're looking to learn more and experience a sustainable lifestyle, check out Green-House 2023 this weekend at the Castlery Flagship Store in Orchard Road.
This article was first published on Sgcarmart.
---