If you thought that the future of (electric) racing was boring, think again.
Welcome to the Porsche Mission R concept car, a very important car for the Stuttgart-based automaker.
MISSION R: FUTURE PORSCHE?
First, let's address the elephant in the room: does it preview a future Porsche?
Yes, and no.
At a private media preview of the Mission R, Porsche was cagey about whether the design of the Mission R is a sneak peek at an upcoming model. Even though they won't say much, we can infer from several things.
The first clue is in the name: readers will remember that the Porsche Taycan was called the Mission E very early on in its life as a concept and did not change much (design-wise) from concept to reality.
We expect the Mission R to follow the same recipe. A few nips, tucks, and tweaks to make it production-ready, and you could be looking at a future 718 Cayman, with a few design features making it into the 911 later down the line.
The second clue is in the Mission R's overall proportions and stance. At 4326 millimetres long, the Porsche Mission R is just a bit shorter than the current 718 Cayman series.
It is, however, far wider at 1990 millimetres and lower with a height of 1190 millimetres.
One thing we want to see in production are those headlights. Look closer: they actually incorporate an air duct between the two light strips, which is all part of Porsche Active Aerodynamics (PAA) with Drag Reduction System (DRS).
WHAT IS MISSION R, EXACTLY?
Glad you asked. First, the Porsche Mission R is fully electric, so you can bid any manner of combustion engine goodbye.
In its press statement, Porsche in fact hints at a one-make race series featuring the Mission R, or rather, cars that closely resemble the Mission R.
As we all know, motorsport is the crucible through which technology is refined, so expect many features on the Mission R to trickle down to the Stuttgart manufacturer's road cars in future.
It's hard to know where to start when the entire car is so futuristic, so we'll start with what kind of power lurks under that bodyshell.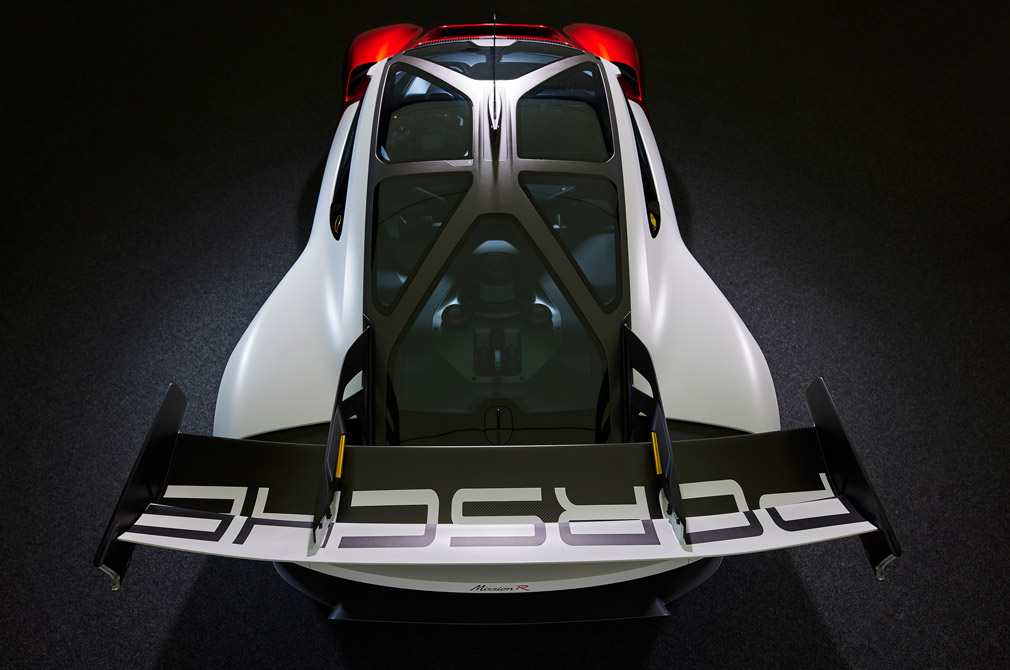 The Mission R has two power modes: it produces around 670hp (680ps) during race conditions, and up to a whopping 1085hp (1100ps) in qualifying.
In the latter mode, the Mission R rockets from rest to 100kmh in under 2.5 seconds and on to a top speed of "over 300km/h". That's faster than it took you to read this sentence.
Porsche claims that on the track, the Mission R achieves the same lap time performance as the current Porsche 911 GT3 Cup. That is some serious power when you consider that with its many batteries, the Mission R is most likely heavier than an equivalent petrol-powered racer.
Speaking of batteries, Porsche says the Mission R is powered by "newly-designed electric motors" and battery cells that are all cooled with innovative direct oil cooling. No exact word on what type of motors they are.
The car is all-wheel-drive, but it's not a 50-50 power split. An electric motor with up to 429hp (435PS) powers the front axle, while a maximum of 644hp (653PS) is punted to the rear.
In racing, even milliseconds count. With that, Porsche has developed the amusingly-named Porsche Turbo Charging system that juices the Mission R up from 5 to 80 per cent SoC (state of charge) through a 900-volt system.
That's 100 volts up from the Porsche Taycan's charging architecture, and shows Porsche hasn't been standing still when it comes to fast charging technology.
Also, that charging from 5 to 80 percent? All you need is 15 minutes. Toilet break?
MISSION R INTERIOR TECH
The Mission R wouldn't be a Porsche if it didn't have a healthy serving of interior tech, and so it has.
Sit in the driver's seat and look up – that cross-bracing you see is in fact part of the roof. Porsche calls it the car's "exoskeleton" and it sure looks every bit the futuristic racer, combining the safety cage and roof skin.
There are built-in cameras to capture the driver from every possible angle, and the steering wheel features a large screen that displays race data.
Mirrors? Where we're going, we don't need mirrors – there are side cameras for mirrors, which feed into a monitor above the steering column.
The real kicker, however, is the monocoque driver's module – you could yank out the whole thing and drop it into a simulator.
Porsche says the burgeoning focus on e-sports across the world was why they built it as such, and it's great to see the online and offline worlds of motor racing taking cues from each other.
SUSTAINABILITY PERSONIFIED
Porsche is going big on sustainable car production. In early 2019, it showcased a 718 Cayman GT4 Clubsport whose doors and rear wing were made from a natural fibre composite that contains plant fibres from flax and hemp.
That environmentally-friendly approach has been taken to new heights here: the Mission R's body is now largely made of the same material, which is what Porsche calls natural fibre reinforced plastic (NFRP).
That plant-based material is also used for the front spoiler lip, the diffuser and side skirts. NFRP is also employed extensively in the interior door panels, the rear bulkhead and the seat.
THE FUTURE OF PORSCHE IS ELECTRIC
Showcasing the sleek Mission R electric concept is a bold, yet natural move for Porsche. Emissions standards are tightening year after year, and what better way to enshrine the performance your brand is known for by going electric?
"In addition to our involvement in the Formula E World Championship, we are now taking the next big step forward in electric mobility. The concept study is our vision of all-electric customer motorsports."
"The Mission R embodies everything that makes Porsche strong: performance, design and sustainability," said Oliver Blume, chairman of the executive board of Porsche AG."
With electric cars looking dangerously (and deliciously) quick, who are we to disagree?
---
Click here for our Porsche Taycan 4S review
Or read our Porsche Taycan review here