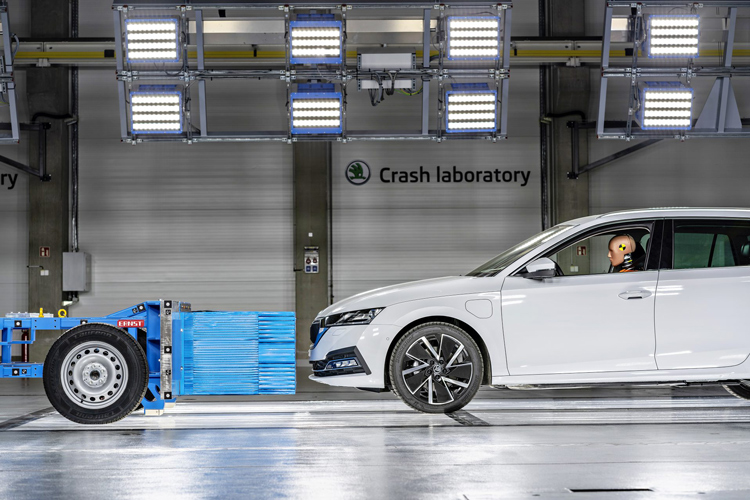 Skoda has put a new crash lab into operation.
The facility is at the test centre at the Polygon site in Úhelnice near Mladá Boleslav.
It is designed for all known crash test scenarios, including the new requirements of the European New Car Assessment Programme (Euro NCAP).
The Skoda crash lab makes use of LED lighting systems producing 100,000 lux for all of the test arrangements.
In addition to higher-quality recordings, this technology also allows for a power saving of 40 percent and a high level of thermal stability.
Skoda has set up a separate area for handling electric cars following a crash test.
The new lab will be able to assess the passive safety both of Skoda models and of other Volkswagen Group brand vehicles.
BIGGER FACILITY
The new crash lab is more than twice the size of the previous one. The crash test hall itself is over 180m long. There is a separate hall specially equipped for disarming electric vehicles.
Crash test capacity is being increased to meet the demand for these vehicles and will be gradually expanded by Skoda.
CRASH TESTING EQUIPMENT
At the heart of the lab is an electric drive system that accelerates two vehicles with a total weight of up to 3.5 tonnes to a top speed of 65km/h.
Alternately, it can accelerate one weighing up to 3.5 tonnes to a top speed of 120km/h over the entire length of the track.
Other testing components include the ultramodern "Flying Floor" test sled, which accelerates the cars attached to it for the all-important side pole-impact test.
Another key piece of equipment is the static rollover simulator. There are barriers for offset frontal impact, what is known as the small overlap test.
There's also a barrier vehicle for the rear-impact and car-to-car tests compliant with the new Euro NCAP requirements.
In the separate hall, Skoda has installed equipment to flood vehicles in the event of unexpected incidents involving damaged batteries following crash tests with electric cars.
Nine adult dummies and four child dummies of various kinds act as the occupants of the test vehicles at the new centre.
The dummies are positioned in the cars using an optical device, which uses static photogrammetry to check that they are seated correctly.
Twenty static and 30 on-board high-speed cameras – all in HD – record the results of the crash tests.
---
There are at least 3 crashes in every car crash
Fewer deaths, but more accidents involving the elderly and motorcyclists