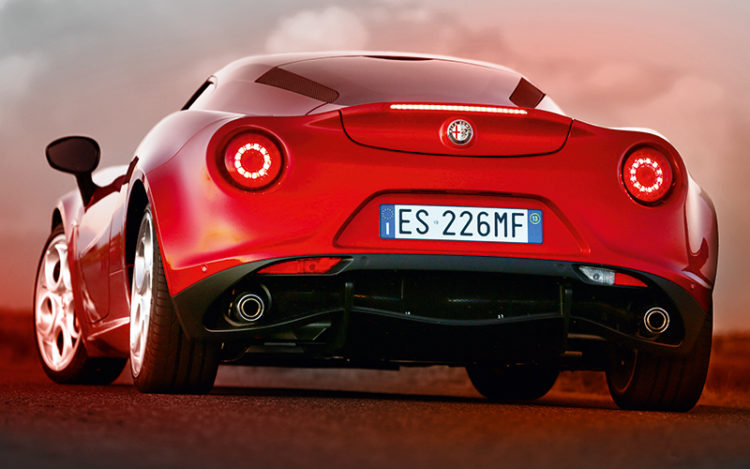 The upshot of the car's lack of weight is delightfully apparent on every single bend – turn-in is immediate, and the whole chassis feels amazingly agile and alert. Grip is ferocious, and even when the 4C feels like it's at the absolute edge of adhesion, it always still has more to give. With the driving mode selector in D (for dynamic), the stability control is dialled back to allow a generous degree of controlled power-oversteer, so that the more lively rear end becomes a useful tool on tight bends.
The 4C's short wheelbase and ultra-quick steering make it just a touch nervous on really fast, flat-out sweepers, but everywhere else, it feels supremely planted and secure. Steering feel is excellent, although the helm is more highly damped (and consequently less talkative and fidgety) than the similarly unassisted rack of an Elise. If there's one complaint, it's the tendency of the 4C to tramline over bumps traversed at very high speeds – it can occasionally get severe enough to pitch the vehicle a metre or two sideways.
The brakes are immensely strong and tireless, hauling the car down from speed time and again on the test circuit. Alfa claims the 4C is capable of up to 1.25g deceleration, and I don't doubt it. There's a tad too much initial brake-pedal travel, but once past that, the pedal feel is reassuringly firm and consistent.
Despite handling like a track car, the 4C also rides remarkably well on the roads "outside". It's slightly fidgety over low-speed imperfections, but skims serenely over bigger bumps and undulations. The damping is also very well judged, resisting roll and keeping a tight rein over body movements, yet allowing enough suspension travel so the ride never feels harsh or crashy.
Alfa describes the 4C as a "unique supercar". While that "supercar" tag may be stretching things a bit for something with a 1.75-litre 4-cylinder, the 4C punches well above its weight, while its carbon fibre construction and show-stopping looks easily rival anything the million-dollar exotic marques can muster.
This isn't cheap for such a small, minimalist car, but then again, there's nothing at the price that will out-handle, out-accelerate or out-pose the 4C. This new Alfa is an absolute masterstroke.
---
Alfa Romeo 4C 1.75 (A)
ENGINE     1750cc, 16-valves, inline-4, turbocharged
MAX POWER     240bhp at 6000rpm
MAX TORQUE     350Nm at 2200-4250rpm
GEARBOX     6-speed dual-clutch with manual select
0-100KM/H     4.5 seconds
TOP SPEED     258km/h
FUEL CONSUMPTION     14.7km/L
CO2 EMISSION     157g/km
---
Click here to read our review of the Alfa Romeo Giulia Quadrifoglio Verde
Alfa Romeo's Stelvio Quadrifoglio is the fastest SUV around the Nurburgring