If you've ever assumed that entry-level variants are bereft of amenities and refinement, then a car like the 1-litre A3 Sportback could change your mind.
This "base" model has the equipment that most drivers seek, and still offers enough performance for your daily commute and errands.
Think of it this way: If the A3 Sportback 1.5 is like a dinner jacket, then the 1.0-litre model is like a blazer. They cater to different needs, but both are cut from Hugo Boss designer cloth.
SIMILAR AESTHETICS
Previously, base models had things like ugly wheels (or steel rims, even) and unpainted exterior components that reflected the car's status in the line-up.
You won't find anything of the sort here. In fact, you won't really notice big differences between the 1.0-litre A3 Sportback and its 1.5-litre sibling.
Neither model has badges that reflect the engine variant (both just have "A3" badges), and although the former has wheels and tyres that are a size smaller, you can't really tell at first glance. The rims look decent as well.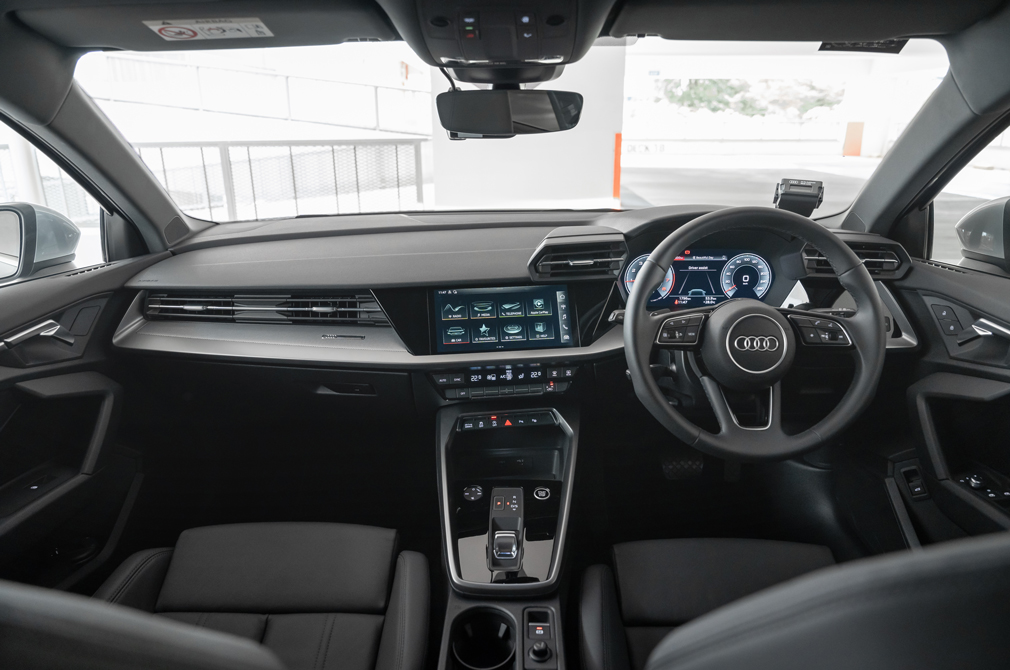 Both hatchbacks also have LED headlights and LED tail-lamps, so lighting and visibility are equally good.
In the cockpit, you still have virtual cockpit plus with three selectable instrument panel layouts, along with the MMI system, which has the convenience of wireless Apple CarPlay.
Other standard goodies include park assist, dual-zone climate control and an electric parking brake. Really, this may be the base model, but it definitely doesn't feel like it.
THERE ARE DIFFERENCES THOUGH
It's only when you delve into the menus that the differences between the A3 1.0 and A3 1.5 become more obvious. There's no "Eco" setting in the Drive Select menu, for one, and the MMI here doesn't include navigation plus.
Of course, the biggest difference is to be found under the bonnet. Powering this A3 is a turbocharged 999cc in-line-three with 109bhp and a relatively stout 200Nm. It gets the five-door hatch from rest to 100km/h in 10.6 seconds.
For comparison, the more powerful A3's turbocharged 1.5-litre four-cylinder makes 148hp and 250Nm, and does the century sprint 2.2 seconds faster.
Now, depending who you ask, a three-cylinder engine can either be a good thing or a bad one. Enthusiasts who love the thrummy and sometimes offbeat soundtrack of a three-pot will like them, while regular drivers who have no such interests will not.
The unit in the A3 caters to the majority of drivers in that it is buttery smooth and quiet. If you've ever doubted a three-cylinder, this could easily change your mind.
Thanks to the plentiful torque, progress from a standstill is seamless and certainly not inadequate. Paired to Audi's 7-speed S tronic (dual-clutch gearbox), the A3 1.0 is nippy enough for daily commutes.
Does the engine thrive on revs? Yes and no. Stretching the powerplant is necessary for quicker progress, for when left in "D", the gearbox will shift up early and stay in the highest gear possible to maximise efficiency. But the motor also starts running out of puff by around 4000rpm.
This hatchback is a lot nicer to drive with the gearbox in "S", so that it doesn't perform so conservatively. There's a manual override function you can play with, but since redlining the engine brings no benefits (or rorty sounds), it's best left alone.
IS IT NICE TO CHUCK AROUND?
The A3 1.0 has torsion beam rear suspension instead of the multi-link setup in its 1.5-litre sibling. Both hatchbacks feel quite similar though, offering neat and predictable handling with an understeer bias.
This is what most drivers need. For those seeking sharper or hairier performance, there's always the S3 and RS3.
Ride quality is good, with the pliant damping and well-insulated cabin helping you enjoy your music or conversation.
For efficiency, the A3 1.0 is equipped with a 48-volt mild hybrid system. It helps smooth out restarts when the stop-start system is active, and under the right conditions, enables the car to coast with the engine switched off to minimise fuel consumption.
Audi quotes a combined economy of 22.7km/L. I netted around 16km/L driving more conservatively with the stop-start system active. But with said system turned off and the gearbox set to 'S' (my preferred settings), that figure fell to 14km/L.
DINNER JACKET OR BLAZER?
At $191,396 with COE, this 1.0-litre model is relatively expensive. But acquiring the A3 1.5, which currently costs $217,635, is an even taller order, especially when you consider that both cars have nearly similar equipment levels.
And though it's slower, the A3 1.0 offers the same handling and refinement as its sibling. You also pay less annual road tax – $392 versus $684.
The A3 Sportback 1.0 is aimed at those looking to buy their first premium hatchback. It may be the "blazer" in this story, but since it's cut from the same designer cloth, you'd look just as smart as the person wearing the "dinner jacket".
---
Audi A3 Sportback 1.0 (A)
ENGINE     999cc, 12-valves, inline-3, turbocharged, 48-volt mild hybrid
MAX POWER     109bhp (81kW, 110PS) at 5500rpm
MAX TORQUE     200Nm at 2000-3000rpm
POWER TO WEIGHT     85.2hp per tonne
GEARBOX     7-speed dual-clutch with manual select
0-100KM/H     10.6 seconds
TOP SPEED     204km/h
CONSUMPTION     22.7km/L (combined)
PRICE INCL. COE     From $191,396 (no VES rebate/surcharge)
AGENT     Premium Automobiles
---