Downsizing is the buzzword in the motoring industry these days, due to greater environmental awareness and a growing desire to reduce the carbon footprint of cars. But downsized engines can still have high levels of energy, thanks to turbocharging – as demonstrated by the 2-litre in the 520i here. Part of an entirely new generation of inline-4s, this turbo unit will also see yeoman service in the latest 3 Series.
The motor is available in two states of tune – 184bhp and 270Nm for the 520i, and 245bhp and 350Nm for the 528i. Their engine capacity is the same 1997cc, but with differences in boost pressure and ECU management.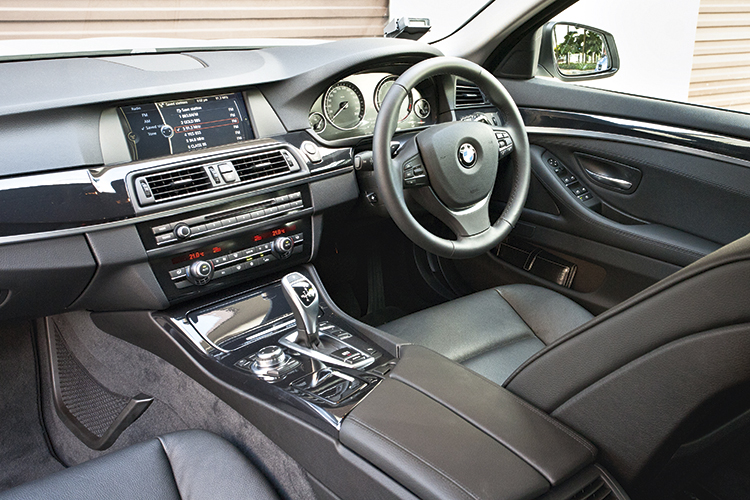 A power output of 184bhp for the 5 Series may not sound like much, but the 2-litre punches above its size. Throttle response is very good, and there is strong pulling power from as low as 1800rpm. It is so strong that the turbocharged BMW 520i is half a second faster from zero to 100km/h than the naturally aspirated 204bhp 2.5-litre BMW 523i, which the BMW 520i has effectively replaced in the showroom. Impressive, too, is the level of refinement. This 4-cylinder, in fact, is nearly as refined as the famed inline-6.
Despite this being the base model in the 5 Series range, the standard equipment is anything but basic. Goodies include bright xenon headlights, excellent infotainment, keyless access, a powered boot lid, Park Distance Control and a multi-function leather steering wheel with paddle-shifters. About the only "deductions" from the 528 specs sheet are a sunroof, rear view camera, soft-close doors, rear roller blinds and fine-wood trim (the BMW 520i gets high-gloss plastic instead).
The 8-speed driveline offers a choice of Comfort, Sport and Sport+ driving modes, which influence the gearchange points, accelerator sensitivity, steering assistance and traction control. The Eco Pro mode is an extreme fuel-saver that even alters the air-con parameters for maximum economy. With Eco Pro activated, the BMW 520i becomes less lively on the road as well as less cool in the cabin.
The new BMW 520i undercuts the 528i by a hefty $26k. You could spend some of that money on an ECU remap to bridge the sizeable 61bhp gap between the two models – in the unlikely event that you find the 2-litre too little.
---
BMW 520i 2.0 (A)
ENGINE     1997cc, 16-valves, inline-4, turbocharged
MAX POWER     184hp at 5000-6250rpm
MAX TORQUE     270Nm at 1250-4500rpm
GEARBOX     8-speed automatic with manual select
0-100KM/H     8 seconds
TOP SPEED     226km/h
CONSUMPTION     15.6km/L (combined)
PRICE INCL. COE     $237,800
---
The "entry-level" BMW 5 Series is now the BMW 530i