Faith will move mountains, but if that is in short supply, try BMW's 3-litre inline-six engine.
Strapped to the new BMW X7, the turbocharged lump moves the mountain of a car with such effortlessness, it almost beggars belief.
The engine is a familiar one found in many BMWs. But in the X7, it proves its mettle in the most dramatic fashion.
Consider a car 5151mm long, 2000mm wide, 1805mm tall and weighing almost 2.4 tonnes. In another universe, it would take a 5-litre V8 to move this monster.
But the 3-litre 6-pot in the X7 xDrive40i gets the beast up to a trot like it is a compact, sending it to the century mark in 6.1 seconds.
That is 0.4 seconds less than what the sizzling Volkswagen Golf GTI takes.
Having 450Nm of creamy torque available from 1500rpm helps. And an 8-speed autobox which knows what is needed of it.
Combine that with BMW's forte in chassis engineering and you get a level of driveability unmatched by any other car its size.
While its formidable firepower impresses, it is the way the X7 handles itself which takes the cake.
The X7 boasts body movements so controlled, it would make a limo blush; and a steering so easy on the wrist and eye that you expend no more effort than if you were at the helm of a vehicle half its size.
The X7 is slightly larger than the X5, but I dare say it is slightly more engaging and enjoyable to drive than its sibling.
In any driving situation – with the exception of old, narrow carpark ramps – the X7's massiveness is not apparent. Excellent visibility contributes on this account.
But from a comfort standpoint, size is clearly a positive attribute.
With a 3.1m wheelbase, the X7 accommodates three rows of seats.
The first two rows offer plenty of space while the last row is still best reserved for younger children if the journey is more than half an hour.
But unlike most three-row cars, the BMW X7 has a decent amount of stowage even when all seats are in use.
All seats are folded and raised with one-touch buttons. The operation is a tad leisurely, but no manicured nail is ever at risk.
With comfort-biased individual air suspension, the cabin is a calm place.
While travel on big sport utility vehicles (SUV) tends to be associated with being in a boat out in open waters, the X7 feels like a yacht on a windless lake.
The multi-seat SUV comes with a five-zone climate control system, with individual controls even for third-row occupants.
A sunroof extending to the last row helps those seated there feel less claustrophobic.
The car is not short on high-end amenities elsewhere, including cupholders in front which come with heating and cooling functions. They are quite effective.
The BMW X7 is luxuriously appointed, with fit and finish almost on a par with the 7 Series limo.
Hands-off driving is possible, even if for short spans at a time.
Automatic parking is also available – a handy feature for a car its size – although the super clear all-round camera system makes manual parking a cinch too.
At close to half a million bucks, the BMW X7 is almost $100,000 costlier than the X5.
But you are getting more sheet metal, more finesse, more space and more presence.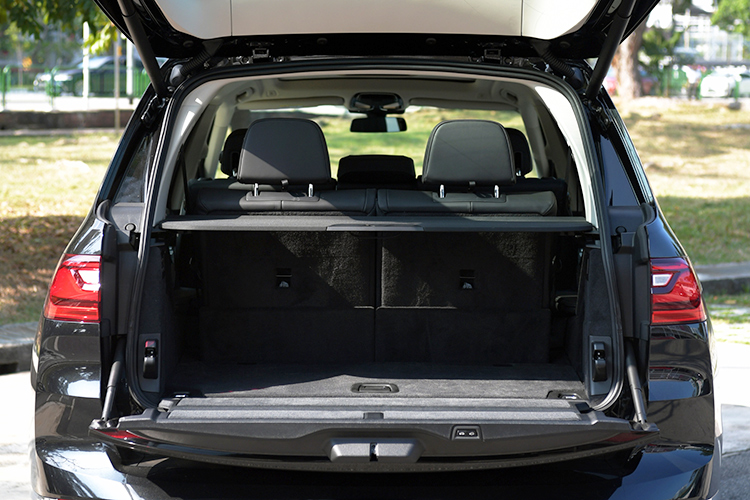 ---
BMW X7 xDrive40i 3.0 (A)
ENGINE     2979cc, 24-valves, inline-6, turbocharged
MAX POWER     340hp at 5500rpm
MAX TORQUE     450Nm at 1500-5200rpm
GEARBOX     8-speed automatic with manual select
0-100KM/H     6.1 seconds
TOP SPEED     245km/h
CONSUMPTION     10.5km/L (combined)
PRICE INCL. COE     $459,888
AGENT     Performance Motors
---
BMW X7 flagship SUV comes to Singapore with 7 seats and lots of grille