Here's an important announcement. Soon, all of Seat's fast cars will be badged under Cupra, which is the Spanish carmaker's performance division. There will be a line of cars developed exclusively by Cupra in the future, like the Formentor performance crossover.
But for now, what should've been called the Seat Ateca Cupra, is just Cupra Ateca. As for the next Seat Leon Cupra, it will be known as the Cupra Leon.
CUPRA… ATECA… CUPRATECA?
That said, the Cupra Ateca isn't that far off in terms of looks when compared to, say, a highly specfied Seat Ateca.
Most will only spot the copper coloured Cupra badge and the Quattro-esque Cupra naming on the bottom grille.
Since Seats aren't that common on our roads, you'll get curious onlookers who don't know what this car really is. Needless to say, the Cupra nomenclature further adds to the mystery.
The Cupra Ateca does have unique components, though. There's additional ducting on the front bumper's lower lip to feed air to the auxiliary coolers for the gearbox and engine. And there are bigger 19-inch wheels to accommodate larger 340mm brake rotors.
These are all topped off by the quad tailpipes at the rear.
FAMILIAR SPACE
The small Cupra touches continue inside, like copper coloured stitching on the steering wheel and additional Cupra badges all around. But overall, the cockpit feels all too familiar, and all too Seat Ateca.
However, this familiarity is also a space that is easy to use and packed with features.
Important buttons and switches are within easy reach, saving you the trouble of diving through menus. The 8-inch infotainment system is fluid and straightforward to use, and comes with connectivity features like Apple CarPlay and Android Auto.
The Cupra Ateca also gets its own 10.2-inch digital instrument cluster. It offers some level of customisation, from how you want your dials to look, to displaying various driving info like oil temperatures and fuel consumption figures.
Rear passengers should have nothing to complain about, thanks to a backseat that offers more than enough head and legroom for tall adults. And despite having a four-wheel-drive system, the boot space is a reasonable 485 litres.
IT'S A CUPRA, SO IT SHOULD BE FAST, RIGHT?
If the small details don't impress you, then the Cupra Ateca's brute force certainly will.
Powering all four wheels is a turbocharged 2-litre 4-cylinder engine making 296hp and 400Nm. The power figures are even higher than Seat's current hot hatch, the Leon Cupra.
But all that power isn't immediately apparent. Driven normally, you'd just assume that the Cupra Ateca was a humble, run-of-the-mill SUV. It doesn't even sound as boisterous as the large quad exhausts might suggest.
Even switching to the most potent Cupra mode doesn't immediately change things either.
Floor the pedal, though, and it will behave like a provoked bull.
The exhaust roars to life, and the Cupra Ateca will reach 100km/h from a standstill in 5.2 seconds. After some spirited runs, it even lets out a deep exhaust overrun.
And the power doesn't seem to taper off either, with the engine delivering all 400Nm from 2000rpm all the way to 5300rpm, with peak horsepower taking over till redline.
For an SUV, it turns well. When cornering hard, you feel the Cupra Ateca's heft on the outer wheels and hear the tyres protesting, but the Cupra never feels out of line, even with all the electronic nannies turned off.
When you've scared yourself enough with its performance abilities, you can make it return to its calm and composed nature – the one that you can live with every day. But when needed, it'll snarl, shout and sprint like a hot hatch. The Cupra Ateca is nothing short of impressive.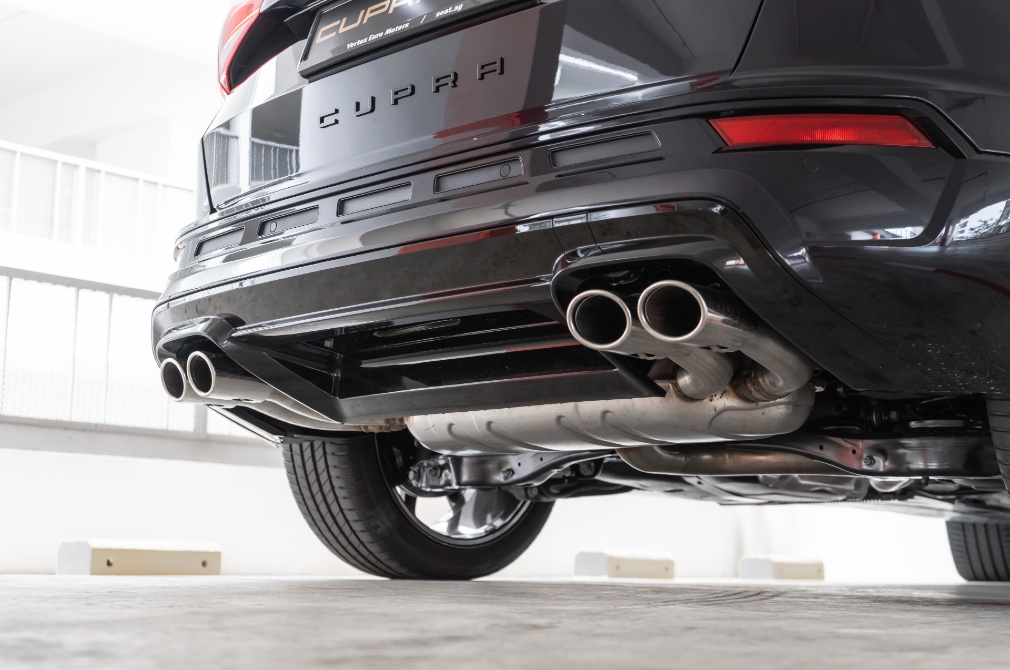 IS THIS THE CUPRA TO GET?
There are a lot of things to like about the Seat.. I mean Cupra Ateca. It is understated, practical, feature-rich and fast enough to shock unsuspecting hot hatch drivers.
What about its rivals then? The MINI John Cooper Works Countryman is a crossover that's flashy, fast and instantly recognisable, but it commands a premium of nearly $40k over the Cupra. That's a lot of money.
Starting from $179,999, the Cupra Ateca isn't chump change. But its impressive breadth of abilities makes this a fast SUV that you can live with every day.
And while curious onlookers at traffic lights are still busy trying to figure out what car this is, you'll be leaving them behind when the lights turn green. Honestly, that's all everyone needs to know about the Cupra.
---
Cupra Ateca 2.0 (A)
ENGINE     1984cc, 16-valves, inline-4, turbocharged
MAX POWER     296hp (221Kw) at 5300-6500rpm
MAX TORQUE     400Nm at 2000-5200rpm
GEARBOX     7-speed dual-clutch with manual select
POWER TO WEIGHT     192.2hp per tonne
0-100KM/H     4.9 seconds
TOP SPEED     247km/h
CONSUMPTION     13.5km/L (combined)
PRICE INCL. COE     From $177,999
AGENT     Vertex Euro Motors
---
Click here to see the Seat Leon Cupra take on the VW Golf GTI!
Read our Seat Leon Cupra review here