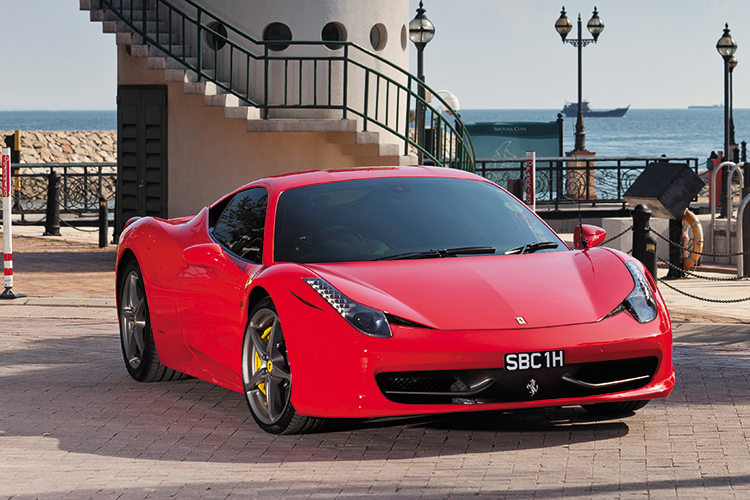 You've drooled over it online, you've seen the magazine pics and YouTube clips.
Yet when you're in the presence of the new Ferrari 458 Italia for the first time, it still looks out of this world.
Indescribably stunning, yes, but with such radical, unfamiliar proportions that you just have to pause, walk around it several times, and drink in its taut yet dramatic form.
There's not a straight line on that body; every inch of it is sculpted, flowing metal.
Aluminium to be precise, because that's what it's made of, from its space-frame chassis to its sleek bodywork.
The Ferrari 458 Italia is slightly longer and wider than its F430 predecessor but looks smaller, an illusion created by the "pinched" waistline, lower tail and narrower glasshouse.
Its cab-forward stance hints at its Enzo stablemate, but where the Enzo's clothes are uncompromisingly severe, the Italia's are sensually draped over its hard points, flowing over its tapered, canopy-like glasshouse and broad haunches into that long, low, scorpion-like tail.
You approach it with reverence. Get in – taking care not to scuff that wide sill or the hand-stitched seat trim – and settle in.
Once adjusted, the driving position is perfect. You sit reclined, the pedals directly ahead (not always the case in mid-engined supercars), the wheel falling comfortably to hand.
Recent Ferrari steering wheels have grown progressively more F1-like with each new model, and this one wouldn't look out of place in Alonso's cockpit.
The engine start button and manettino dial are familiar fixtures, as are the elegantly curved, blade-like gearchange paddles.
But the wheel now carries additional buttons for headlamp flasher, wipers, damper adjustment and even the indicators, which are no longer stalk-activated. And on the back of the wheel rim, unseen but ideally placed, are toggles to control stereo volume and track selection.
The wheel itself is no longer round, but slightly oval, with a flat bottom. It looks and feels fantastic.
And to complete the F1 effect, this particular car has an optional LED upshift indicator strip at the top edge of the wheel, which goes from green to yellow to red as you approach the Ferrari 458 Italia's stratospheric 9000rpm redline.
Speaking of which, this being one of the very first Ferrari 458 Italias to be delivered locally and a mere two days old at the time of this road test, I ask its owner, enthusiast and supercar connoisseur Lung, whether he would like me to keep to any particular rev limit.
"Not at all", he coolly replies, "Drive the car as it's meant to be used." And so I do.
It feels poised, tensed, even as you move off. The steering is light but razor-sharp and absolutely slack-free, and so is the throttle. Flick up through the dual-clutch, 7-speed gearbox (this is the first Ferrari model without a manual version) and changes are instant and almost imperceptibly seamless.
It's an alien experience to be thumbing a button on the wheel to signal, but it's both eminently logical (you no longer need to stretch for the indicator stalk) and necessary (to free up space behind the wheel for longer gearshift paddles).
With some use, you start to wonder why no one else has thought of this before.
And the Ferrari 458 Italia is almost absurdly civilised.
With the manettino in Sport (Ferrari-speak for comfort mode), the engine note is a hard-edged, purposeful but muted purr and the ride is astonishingly compliant, with bumps and ridges traversed without any hint of the tooth-rattling sharpness you'd expect of something with race car dynamics. It actually rides better than many hot hatches.
And even when you switch the adaptive, magnetorheological dampers to the firmer of their two settings (via the steering-mounted button), the ride remains very composed, if noticeably knobblier.
Despite the low seating position, visibility is superb thanks to the drop-away nose and deep windscreen, slim A-pillars, and low waistline.
Over-the-shoulder visibility is limited though, so take care when exiting slip roads. That apart, the car feels wieldy and handily sized, so negotiating city traffic is a cinch.
You can even stab the Auto button on the centre console and leave gearchange decisions entirely up to the 'box, in which case it slips through ratios as unobtrusively as the automatic in any luxury saloon you'd care to name.
There's already plenty of punch at these low revs. Acceleration is very keen, even from idling speeds and on a light throttle, yet so linear is the power delivery that, despite the accelerator being millimetre-sensitive, it's easy to accurately meter out all that urge. It's a delectable combination of potency and useability.
Even at three-figure speeds, the civility remains. The car doesn't bombard your senses, it filters out the unnecessary – road noise, wind noise and mechanical chatter are near absent, so all you hear is the glorious, distinctive voice of the flat-plane V8 behind you.
But while the Ferrari 458 Italia can play the pussycat around town, it's a hell-raiser when unleashed.
Past 4000rpm (or 2000rpm if the manettino is in Race mode), the butterfly valves in the exhaust fling open and the engine note suddenly intensifies a hundredfold in pitch and volume, as the rev needle hurtles around the big yellow tacho.
The noise is a taut, hard-edged wail, deeper-chested than the hollow bark of the F430, and it's spectacularly anti-social in tunnels. If you were on the KPE a few Sundays back and were suddenly rocked by what sounded like a jet fighter taking off in your living room, my apologies.
But the noise, thrilling though it is, can be wearying after a while, so best to leave the car in Sport mode when cruising and give your eardrums a rest.
It's not just the engine note that changes character at high revs – remarkably, the gearchange does too.
The near imperceptible low-speed changes become noticeably more pronounced as the rev needle closes in on the redline, like the ricochet of a rifle – full of purpose and menace, and incredibly intense.
Think Eli "Bear Jew" Roth pumping rounds into the Nazi chain of command in Inglourious Basterds – that's what a 9000rpm gearchange in the Ferrari 458 Italia feels like.
A flat-out acceleration run in the Ferrari 458 Italia, with the engine's stirring war cry interrupted only by the exhaust crackle as you fire through each gearchange, is an unforgettable experience.
9000rpm seems a long time to hold onto a gear, but so inertia-free is the engine and so ferocious is the acceleration it delivers, that you find yourself startled by the speed at which the LED change lights on the wheel turn scarlet.
With 570bhp and 540Nm of torque powering under 1.5 tonnes, the 458 is ridiculously fast, its strong low-rev acceleration morphing within seconds into vicious, relentless high-speed thrust.
Ferrari says that it does 0-100km/h in "less than 3.4 seconds". I would preface that description with the word "much".
And when you need to slow down, the standard carbon-ceramic Brembo brakes offer superb pedal feel and progression. They're immensely strong too – Ferrari claims a 100-0km/h stopping distance of just 32.5 metres.
The Ferrari 458 Italia also corners brilliantly, of course. The steering is very high-geared (just two turns lock to lock), so you just need to roll your wrists to negotiate even the tightest bends.
It's also incredibly sharp and accurate, the car tacking onto the chosen line immediately and so unerringly that you can judge your trajectory almost to the inch.
There isn't a great deal of feedback through the wheel, so you're at times left guessing at how much harder you can push.
But the actual grip available is immense, and is deployed without even a hint of roll – the car just points its nose in, squats ever so slightly at the rear, and adopts a deliciously tail-led (but not tail-out) stance as you power through.
If you do in fact fancy some tail-out action, you can turn off traction control ("CT slashed" on the manettino) or if you're feeling brave, traction control and stability control ("CST slashed"). Best check that your insurance is in order first, though.
In driving ability terms I'm probably right up there with Felipe Massa's grandma, but within just a couple of hundred metres on a twisty road, I was belting through the bends, really leaning on the car in corners and charging from apex to apex, all with utter confidence.
I should add that this was in Race mode, no CST-off madness here, but it nevertheless demonstrates the sheer accessibility of the 458's immense ability.
Accessible, comfortable and incredibly civilised it may be, but be in no doubt, its dynamic abilities propel the 458 squarely into the supercar league.
It's every bit as spectacular to drive as it looks, and given how jaw-droppingly gorgeous it is, that's really saying something.
---
Ferrari 458 Italia 4.5 (A)
ENGINE     4499cc, 32-valves, V8
MAX POWER     570bhp at 9000rpm
MAX TORQUE     540Nm at 6000rpm
GEARBOX     7-speed dual-clutch with manual select
0-100KM/H     3.4 seconds
TOP SPEED     325km/h
CONSUMPTION     7.6km/L
PRICE INCL. COE     $920,000 (as of October 2010)
---
Check out the Ferrari 488 GTB, successor to the Ferrari 458 Italia
Ferrari 488 Pista Spider is 50th drop-top model from Prancing Horse marque