Electrification is the future. Pretty sure you've heard.
Singapore has announced that one of its key transportation goals is to phase out Internal Combustion Engine (ICE) cars by 2040. A slew of new incentives have been announced to get car buyers to switch to electric cars.
However, buyers are understandably still slow on the uptake. That's partially down to cost – till today, many electric cars are still more expensive than their ICE counterparts.
Also, the lack of a comprehensive charging infrastructure makes buyers wary about immediately going electric.
That certainly hasn't stopped manufacturers from aggressively developing and rolling out electric models. And the latest one to arrive in Singapore is the MG ZS EV.
THE WHAT?
MG. ZS. EV. If you haven't heard the first two terms before, we can't really blame you. MG is the brand that was most recently reintroduced to the Singapore market.
MG is an old British carmaker that's now owned by SAIC Motor Corporation Limited. Under Chinese ownership, MG has retooled its lineup to focus on SUVs.
The ZS model is the brand's compact SUV offering, and it is being offered here in two versions: a conventional one (ZS) and the ZS EV. EV stands for electric vehicle, of course.
As a compact SUV, it's fairly typical fare within this particular segment. The styling is generally inoffensive, cabin space adequate, and boot space sufficient for a family of five. Of note, noise insulation within the car is pretty good.
Don't be expecting a whole ton of equipment, though. The car delivers enough modern day necessities, such as smartphone connectivity and a LCD screen on the dash to display various information.
But beyond that it's a fairly straightforward cabin. There's a gigantic panoramic sunroof, though, so that's good.
ELECTRIC BITS
Powering the ZS EV is an electric motor that produces 141hp and 353Nm of instantaneous torque. The water-cooled 44.5kWh battery pack delivers an on-paper range of 335km, but we only managed around 240km.
Mind you, that's with the car operating at less than optimal conditions. We spent a lot of time doing low speed driving and sheltering the video team in between takes on a sweltering day. Realistically, you should expect to achieve a range in the high 200s.
It's not the biggest battery pack in the world, and for that reason the car feels quite light. Power is eagerly fed to the wheels and the car accelerates with easy verve.
And, once you get up to highway speeds, the car cruises along comfortably and in a serene manner.
The ride is agreeable, too. It can be a tad bouncy over the bigger bumps on the road, but it's generally forgivable. There's not much in the way of handling, but no one expected otherwise.
The car offers three regenerative braking settings. In some electric cars, the highest setting is so harsh that you can't reasonably have it on for highway driving.
We found the difference between levels two and three in the ZS EV to be rather small. So, if you need the extra regeneration, you can just leave the car permanently in the highest setting for maximum energy recuperation.
Qualms? The seating position isn't the best (there's not a ton of adjustability both for the seats as well as the steering wheel), and the brakes could be better.
They bite a bit too aggressively at low speeds, and the crossover between not enough braking and too much braking as you depress the pedal is sometimes too stark.
As far as charging goes, the ZS EV will charge to 80% within 40 minutes using a 50kW DC fast charging point. Using a 7kW home charger, it'll take 7.5 hours to fully charge the car, which is par for the course in this regard.
MAKING A CASE FOR BUYERS…
The MG ZS EV makes a simple case to potential buyers – it's the cheapest all electric SUV you can buy right now. It'll cost you $119,888 (as of 25 May 2020) for the car, and an additional $2k more for a wall charger.
Is it the best all electric SUV you can buy? Probably not. We reckon its direct competitors like the Hyundai Kona Electric and the Kia Niro EV deliver better overall build quality and more range.
But, they are also significantly more expensive – the cheapest Kona Electric is about 18% more expensive than the ZS EV.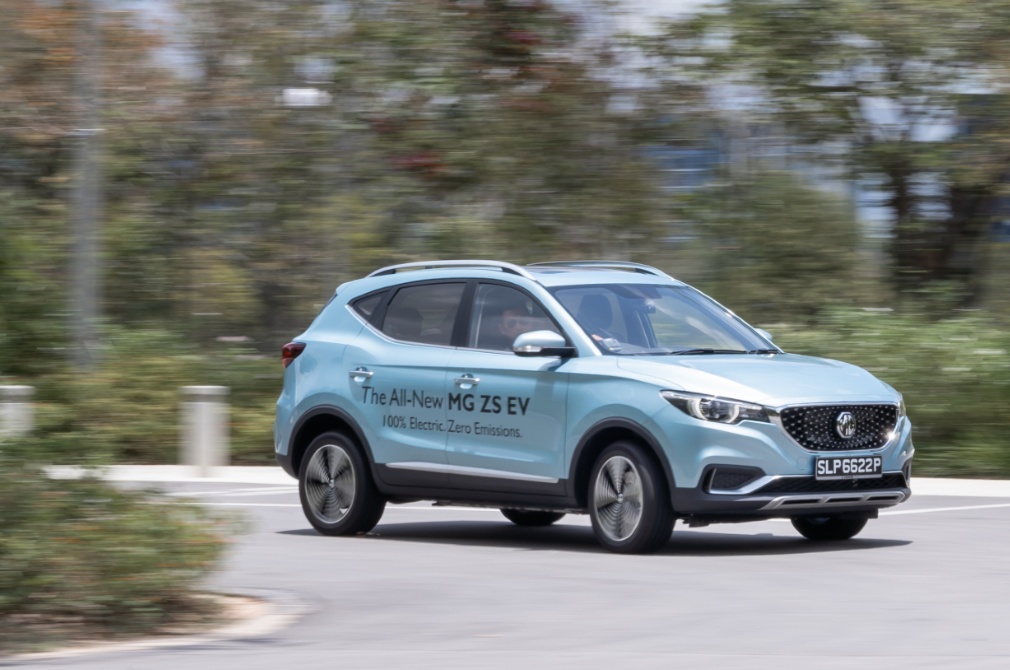 The value proposition of the MG ZS EV is reasonable enough. For its pricepoint, it delivers sensible SUV utility and practicality coupled with usable all electric range and general capability.
It's not the most charming electric SUV available, but it's certainly highly effective.
However, the inherent resistance and existing challenges of electric car ownership mean that the most likely scenario this car will see our roads right now is likely in the hands of private-hire drivers.
Yes, the hurdles to electric car ownership still exist. Our charging infrastructure isn't quite ready, and the existing rate of charging still means that you most likely need to have private access to a charging point to make electric car ownership viable right this moment.
But, those things are changing.
And if you are looking for an affordable and practical way away from ICE cars and into electric car ownership, the MG ZS EV should certainly be considered.
---
MG ZS EV (A)
MOTOR     Permanent magnet synchronous
MAX POWER     141hp
MAX TORQUE     353Nm
GEARBOX     Single-speed
0-100KM/H     8.2 seconds
TOP SPEED     140km/h
CONSUMPTION     14.7kwh per 100km
PRICE INCL. COE     From $119,888 (after $10k VES rebate)
AGENT     MG Motor Singapore
---
Check out our review of the Nissan Leaf here
Or read our review of the Porsche Taycan Turbo S
Click here for our BYD E6 review
Read about why electric cars are better during lockdowns