The evolutionary exterior styling of the new Mercedes-Benz A-Class contrasts starkly with its revolutionary interior interface and extensive driver-assistance.
But let me not get inside just yet, because with the fascinating new technology called MBUX (Mercedes-Benz User Experience), you might lose interest in the rest of the German newcomer.
After the first two generations of mini-MPV-style front-drive cars, Mercedes decided to switch to a more conventional hatchback design to directly rival Audi's A3, BMW's 1 Series and even the ubiquitous VW Golf.
The third-generation Mercedes-Benz A-Class was lower and longer than before, but maintained a front-drive platform designed with the provision for four-wheel-drive, or 4Matic as Mercedes calls it.
Although looking similar, the latest fourth-generation Mercedes-Benz A-Class has noticeably more cohesive styling than its predecessor, whose front end looked oversized for a five-door hatchback.
The compact car now has an element of sleekness, and with the new grille design which is similar to that on the recently launched CLS-Class, along with slimmer headlights, even the base A200 looks sporty.
Even the designers themselves admit that the "optimised dimensions and proportions have led to a new interpretation of the Mercedes-Benz A-Class' design".
Viewed from the side, the more angular rear door-window profile is far more visually pleasing than the previous car's somewhat old-fashioned arc at the trailing edge.
Changes at the back include wide, two-piece tail-lamps that stretch into the tailgate.
Better than before, certainly, but a little nondescript and lacking a unique flair.
Overall, the new Mercedes-Benz A-Class is longer by 120mm and wider by 16mm, and has a wheelbase increased by 30mm.
The most interesting figure, however, is its aerodynamic drag coefficient which, at 0.25, is claimed to be better than any five-door hatchback currently in existence.
Two new petrol engines were introduced at the launch. Both are turbocharged 4-cylinder units mated to a new 7-speed double-clutch transmission.
The entry-level engine that goes into the A200 displaces just 1.33 litres, making it the smallest engine in any Mercedes-Benz model today.
Even so, with 163hp and 250Nm, this engine is more powerful than the 1.6-litre unit in the previous A200.
The A250 continues with a 2-litre engine, but it's more powerful now with 224hp and 350Nm – similar numbers to those produced by the current VW Golf GTI.
Unusually, neither engine is tuned to deliver a constant torque output in any rev range, instead peaking at 1620rpm (A200) and 1800rpm (A250).
No doubt, the A250 is noticeably quicker than the A200 in acceleration, especially at speeds beyond 4000rpm. It is the smaller engine, however, which is sweeter and more refined overall.
In the low- to mid-range, the A200 responds eagerly to the throttle and goes about its business with a cultured, classy manner you would expect from cars that are one or even two categories up.
The transmission deserves some credit for this.
Gearchanges in both cars are uncannily smooth, whether shifting up or down, and the choice of ratios is perfectly matched for each engine.
Not surprising, then, that Mercedes chose the dual-clutch transmission instead of developing a front-drive version of its 9G-Tronic automatic gearbox for the two Mercedes-Benz A-Class models.
For a car to attain a status where it earns accolades for high quality from anyone driving it, there must be a competent combination of all the individual dynamic elements, such that they complement one another.
Well, from my initial drive of the new Mercedes-Benz A-Class, Mercedes-Benz seems to have achieved this goal.
Complementing the smooth powertrain and transmission is a suspension setup that works with more sophistication than its relatively conventional design would have you believe.
In the front is a MacPherson strut arrangement, possibly the most widely used front suspension design ever, with forged aluminium lower arms and cast aluminium steering knuckles instead of steel components in the interest of reducing unsprung mass.
Surprisingly, the A200's torsion-beam rear suspension is just as capable as the multi-link setup in the A250.
There is no noticeable difference in handling, roadholding or ride comfort between the two models.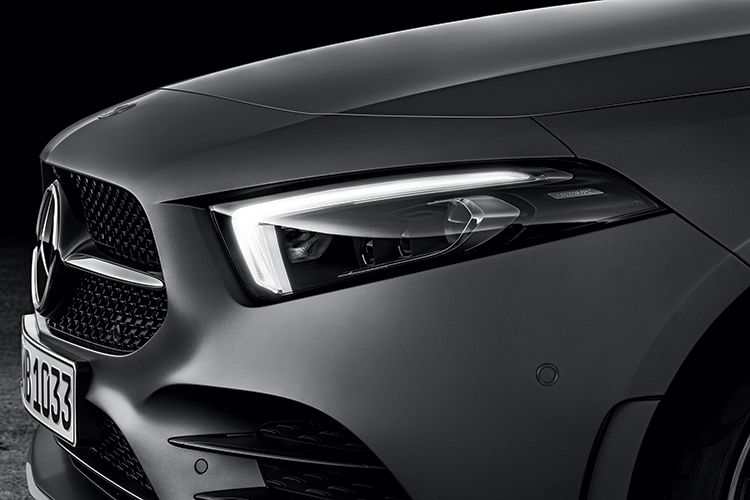 Their rack-and-pinion steering is assisted by an electric motor that also provides plenty of other semi-autonomous functions, which intervene to keep the car in lane, counter-steer when oversteer is detected, and also provide corrective steering in crosswinds and when braking on uneven surfaces.
The Driving Assistance package needs to be specified if these features are to be included.
While the feel and response of the steering are not as sharp as in a typical hot hatch, the variable power-assistance does a commendable job of maintaining road-speed-dependent weighting, so it never feels artificially light.
The A200 and A250 are not hot-hatch models, hence the more comfort-oriented steering.
I'm sure there will be an AMG version, which will turn up the heat, and perhaps be the first 2-litre production hatchback to hit the 200hp-per-litre output.
All Mercedes-Benz A-Class models come with Dynamic Select, which alters the characteristics of steering, engine and transmission.
Our test cars are fitted with active damping control, so their suspension settings are also changed by Dynamic Select.
Even in Sport mode, the A-Class (with active dampers) has a ride quality that comfortably puts it at the top of the supermini segment.
A small increase in ride stiffness is noticeable when in the Sport setting, but the suspension nonetheless copes easily with all sorts of road irregularities and some of the rougher surfaces.
In Comfort mode, the A-Class is hard to beat.
On our test route, I never experienced bump-stop "crash" (when a wheel suddenly moves up over a bump and hits its upper-limit bushing), wallow on fast winding roads or, for that matter, anything other than comfortable and stable progress.
And all this with the optional 19-inch, 40-profile tyres of the test cars.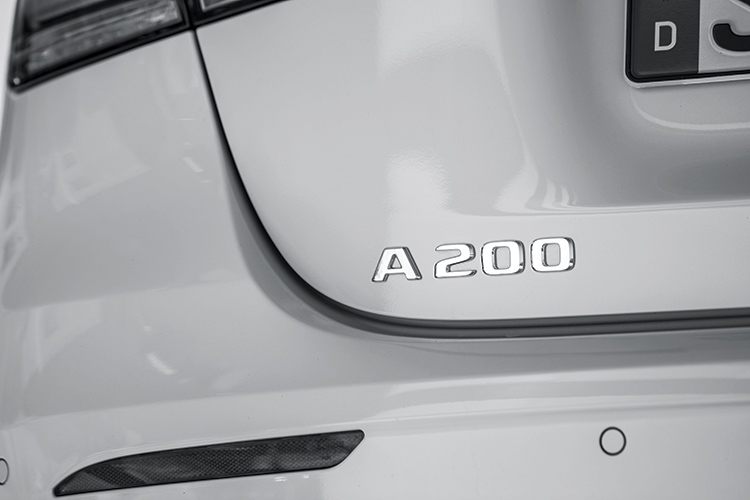 The only disappointment was the wind noise at cruising speeds above 120km/h, which is surprising given the effort that has gone into honing the car's aerodynamics.
A number of driver-assistance features, some optional, are available in the new Mercedes-Benz A-Class.
Active Brake Assist, for instance, is standard and is capable of autonomously applying the brakes if the driver does not heed the first two warnings of an impending collision.
Also standard is Attention Assist, which can detect inattentiveness and warn the driver.
A dose of electric shock to inattentive drivers, and not just an audible alarm, should be a mandatory design element in all cars!
An advanced version of Distronic is available as an extra feature. What this can do, in addition to modulating the cruise-control function during traffic build-up, is recognise speed-limit signs and override the driver's cruise speed setting.
Another assistance system is something called Traffic Sign Assist, which is capable of detecting no-entry signs, zebra-crossings and stop signs.
Time to get inside the German supermini. There is not a single instrument in sight. Not even a clock.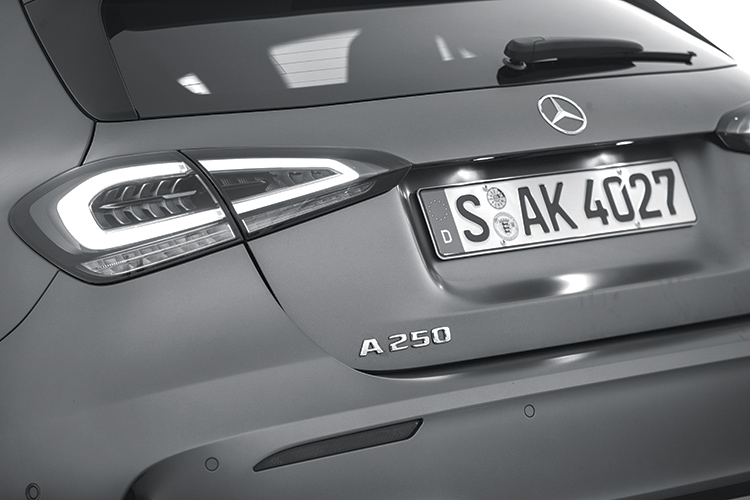 But when you switch on the ignition, it is all there, represented digitally on two large rectangular LCD screens of the type that seems to be superseding the analogue instruments in the automotive world.
Some really cool turbine-look air vents, which are analogue and physically three-dimensional, break any potential monotony of the lit-up flat-screen displays.
While not the first car to possess this kind of sophistication in electronic instrumentation and multimedia interface, there is currently no other five-door hatchback that can rival the Mercedes-Benz A-Class on this.
In fact, even within the Merc family, the new Mercedes-Benz A-Class is the first model to feature MBUX (Mercedes-Benz User Experience) which, besides the high-resolution displays for a range of functions such as navigation and infotainment, also possesses artificial intelligence that adapts to the user.
The voice control feature, activated by the phrase "Hey Mercedes", understands a huge variety of languages and is claimed to comprehend, and adapt to, the driver's speech.
In addition, the system has the intelligence to analyse comments and react accordingly.
For instance, "Hey Mercedes, it's too warm" will receive a reply that says the air-con temperature setting has been reduced. MBUX has interactive capability to converse with the user, so as to establish the essence of a comment and not just react to an instruction.
I did not have sufficient time to fully engage "Hey Mercedes", but in theory at least, the system's intelligence level is high enough to recognise and learn even our Singlish accent and phrases after a period of adaptation.
Fans of the Mercedes brand will certainly love the latest Mercedes-Benz A-Class.
The baby Benz has S-Class build quality, plus much of the interior glitz and many of the high-tech features of the giant Benz. 
Unless horsepower figures mean everything to you, the A200 is a more sensible package than the A250.
Hopefully, both models will come with most of the state-of-the-art technology as standard when they arrive in Singapore.
---
Mercedes-Benz A200 1.3 (A)
ENGINE     1332cc, 16-valves, inline-4, turbocharged
MAX POWER     163hp at 5500rpm
MAX TORQUE     250Nm at 1620rpm
POWER TO WEIGHT     118.5hp per tonne
GEARBOX      7-speed dual-clutch with manual select
0-100KM/H     8 seconds
TOP SPEED     225km/h
CONSUMPTION     17.9km/L (combined)
CO2 EMISSION     128g/km
PRICE INCL. COE     To be announced
---
Mercedes-Benz A250 2.0 (A)
ENGINE     1991cc, 16-valves, inline-4, turbocharged
MAX POWER     224hp at 5500rpm
MAX TORQUE     350Nm at 1800rpm
POWER TO WEIGHT     154hp per tonne
GEARBOX      7-speed dual-clutch with manual select
0-100KM/H     6.2 seconds
TOP SPEED     250km/h
CONSUMPTION     15.4km/L (combined)
CO2 EMISSION     149g/km
PRICE INCL. COE     To be announced
---
Mercedes-Benz A-Class Sedan is a compact notchback based on the new supermini
New Mercedes-Benz A-Class Sedan has the lowest drag of any production car worldwide