It has taken five years, but the latest Suzuki Ignis has officially made it to Singapore.
The current generation made its global debut in 2016, but it wasn't unveiled here till a few months ago. Singapore is probably one of Suzuki's smallest (if not the smallest) markets, which places us low on its priority list.
But as they say, better late than never.
The last-generation Ignis was a hatchback and it offered a compelling, three-door Ignis Sport variant for enthusiasts. This time around, the Ignis only comes as a crossover – the most popular type of vehicle today.
The "right" body style isn't all that the Ignis offers, though. It also has cute, mini off-roader looks. Big headlights (for its size), U-shaped daytime running lamps and chunky wheel arches make the Ignis seem as tough as its Jimny sibling.
The roof rails are functional, though, and can hold up to 50kg of gear if needed.
But the pert rear end could polarise opinions. Its upright angle makes it seem like it was prematurely lopped off, which I find odd.
Less unconventional, on the other hand, are the paintwork options. Colours such as Rush Yellow Metallic and Flame Orange Pearl Metallic can really lend the Ignis a funky vibe. If you're feeling adventurous, there are also seven two-tone colour combinations to choose from.
FOCUS ON FUNCTION
Open those lightweight doors and you'll find a cabin that's unabashedly plasticky. Fortunately, the components seem hardy enough to withstand years of use.
The Ignis' climate controls have toggle switches, which might be the design highlight of an otherwise utilitarian cockpit. This isn't unusual for this segment. At any rate, driver-friendliness is the objective here, which Suzuki has achieved.
The mostly analogue, part-digital dashboard is easy to get the hang of – you only need press the "Info" button to scroll through the various screens. You don't have to search in a menu to turn off the stop-start feature either – there's a button for that.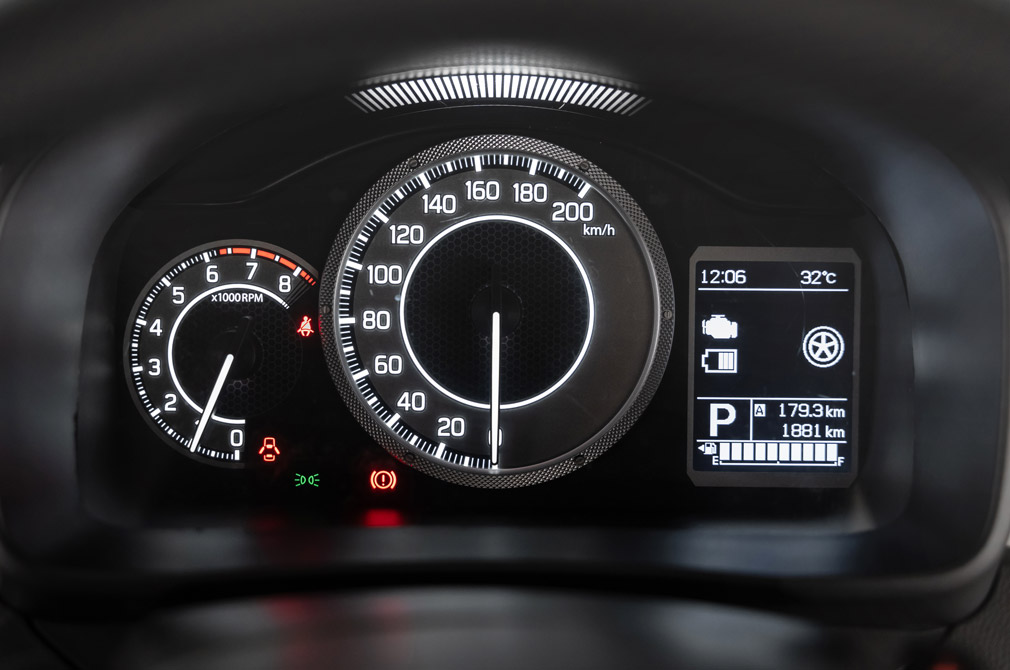 Despite its simple layout, the Ignis' cabin is home to numerous safety features. These include Lane-Departure Warning, six airbags and Dual Camera Brake Support (DCBS).
DCBS uses stereo cameras to detect vehicles and pedestrians, and helps prevent accidents with warnings and automatic braking.
Rear passengers will find surprisingly generous legroom, headroom and foot space, although the narrow bench is better for two instead of three adults.
The actual downside is that the squabs and seat backs are relatively short. This means less thigh support, and the need to raise the rear headrests, which ends up obstructing the driver's rearward visibility.
The boot offers 260 litres of space with the seat backs upright, and the capacity doubles to 521 litres when they're folded. Thanks to 50:50 split-folding, the Ignis is flexible.
SOFTLY, GENTLY
It may have rugged styling, but the Ignis is really a softie meant for suburbanites who want a perfectly sized runabout whose running costs won't burn a hole in their wallet.
The Ignis' 1.2-litre mild hybrid drivetrain produces a modest 82hp and 107Nm. Paired to a CVT, Suzuki says it can average 18.5km per litre.
It doesn't take much to come close to this figure either. Driven normally, 15km/L is easily achieved. Besides, with a 0-100km/h time of 12.7 seconds, you're in for a leisurely drive.
In fact, despite its short wheelbase, the Ignis doesn't fare too badly over rough tarmac. It's supremely easy to manoeuvre and parallel parking will be a cinch.
That said, the car tends to "hop" over speed bumps, and hard cornering is not advised – unless you find lean and understeer appealing. The Ignis appreciates a gentle approach, which goes well with its relaxed persona.
CAN LOOKS CONVINCE?
Buyers who prefer crossovers to hatchbacks will find the Ignis to be a more interesting proposition to the Swift. This crossover's unique design gives it character. If you like it, you cannot help but feel a twinge of delight each time you walk towards it.
Thing is, the Ignis has arrived at the wrong time. Had it reached our shores even two years ago, its proposition as an affordable and fun runabout for first-time car owners would have been a lot more compelling.
---
Suzuki Ignis Mild Hybrid 1.2 (A)
ENGINE     1197cc, 16-valves, inline-4, mild hybrid
MAX POWER     82hp (61kW) at 6000rpm
MAX TORQUE     107Nm at 2800rpm
POWER TO WEIGHT     92.1hp per tonne
GEARBOX     CVT with 7-speed override
0-100KM/H     12.7 seconds
TOP SPEED     155km/h
CONSUMPTION     18.5km/L (combined)
PRICE INCL. COE     From $115,900 (no VES rebate/surcharge)
AGENT     Champion Motors
---
Check out our Suzuki Swift Mild Hybrid review here
Or click here for our Suzuki Swift Sport review