Cars like the Suzuki Swift Sport are to be celebrated – and not just because they are becoming rarer.
The Swift Sport has always offered reliable performance to enthusiasts. And since it is relatively affordable, it also proves that you do not need to fork out Golf GTI or Megane RS money for a hot hatch.
In addition, the Swift Sport is still available with a manual gearbox – a transmission that most supercars have ceased to use. For purists, this component can make or break a buying decision.
But this third-generation Swift Sport will have its target buyers mulling over the surprising fact that it is slower than its predecessor.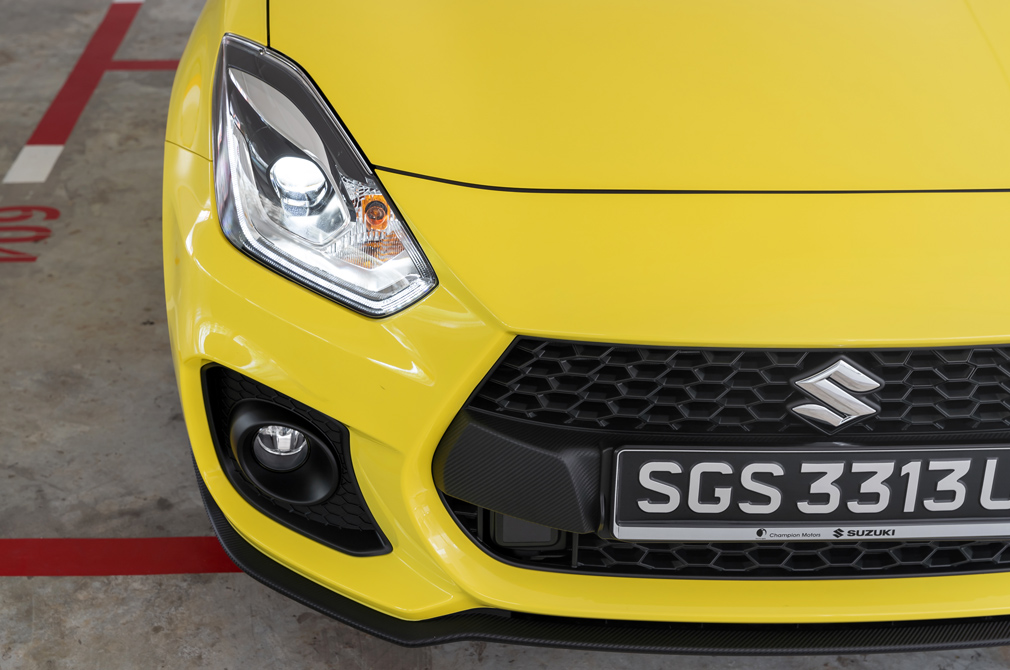 A NEW DIRECTION
When word got out that the latest Suzuki Swift Sport would have a turbocharged motor, it got enthusiasts excited.
But these boosted expectations were not met when the power and performance figures were released.
The new Swift Sport's turbocharged 1.4-litre produces 127hp and a century sprint time of 9.1 seconds, whereas the older model's naturally aspirated 1.6-litre delivers 134hp and does zero to 100km/h in 8.7 seconds.
But to be fair, torque and fuel economy gains were made. The latest Swift Sport produces 235Nm and manages 21.3km/L, compared to the previous model's 160Nm and 15.4km/L.
Helping the Swift Sport achieve these figures is a 48-volt mild hybrid system. Capable of 13hp and 53Nm, it helps fill "torque gaps" and smoothen the drivetrain's power delivery.
This is particularly obvious when moving off from the lights, as the low-end output is both meatier and more palpable than before. Send the tachometer needle to the right and you'll find acceleration to be smooth and linear.
Purists may not like this, but you do not have to keep the engine constantly boiling to extract its performance. This makes the Swift Sport much easier to live with, especially if your commutes take you through town.
SUZUKI SWIFT SPORT: ATTENTION REQUIRED
The Swift Sport isn't as quick as before, but its 6-speed manual helps ensure that it remains engaging and fun to drive.
With a manual gearbox, you will need to concentrate more on driving and less on other tasks like scrolling through your playlists (or worse, your smartphone).
First and second gears won't get you to 100km/h – you'll need the longer third ratio for that.
But if you want to be lazy, you can stick the gearbox in third and leave it there. There is enough torque at low to moderate speeds to keep pulling the hatchback along.
The Swift Sport's clutch pedal does not require strength to operate, which is great for traffic jams. But the biting point could be more distinct, for it's almost at the pedal's release point.
Now, while the clutch is easy to live with, the shape of the gearshift knob is not. In fact, it is annoying, for it seems like the designers couldn't decide whether to keep it round (like in the previous model) or make it more wedge-shaped. They should have kept it round.
Palming the knob to slot the gearbox in second, fourth and sixth is uncomfortable, and I felt awkward wrapping my fingers around the bottom of the knob to execute these shifts.
Speaking of shifts, the throws themselves feel relatively long. Although it would be unreasonable to expect gearchanges to feel like cocking a bolt-action rifle, shorter throws and a less notchy feel would have been appreciated.
TURN, TURN, TURN
Now, the gearbox might not be endearing, but the handling certainly still is. The Suzuki Swift Sport still loves being chucked into corners and impressing drivers with its ability to hold a chosen line.
Like a hound on the trail of an interesting scent, the Swift Sport's nose keenly follows the driver's instructions. Directional changes are also quick, thanks to the car's stiff body and 1020kg kerb weight.
You'd expect this supermini's ride quality to be on the firm side, but it is surprisingly pliant and deals with speed bumps and rough tarmac with ease. Of course, if you plan to drive the car on track, it will need stiffer dampers.
So, is the Suzuki Swift Sport still worth an enthusiast's consideration?
It is if you hanker after the driving experience that a manual gearbox offers, and if you want to relive the days before you had to trade in your hatchback or coupe for something "sensible" as your family grew.
If this sounds like you, then this supermini would probably serve you well as a second car. Something fun and rewarding to drive whenever the kids and in-laws do not need to tag along.
That makes the Swift Sport a very niche model. But hey, it also shows that although times have changed, what this model offers has not.
---
Suzuki Swift Sport Mild Hybrid 1.4
ENGINE     1373cc, 16-valves, inline-4, turbocharged
MAX POWER     127hp at 5500rpm
MAX TORQUE     235Nm at 2000-3000rpm
POWER TO WEIGHT     124.5hp per tonne
GEARBOX     6-speed manual
0-100KM/H     9.1 seconds
TOP SPEED     210km/h
CONSUMPTION     21.3km/L (combined)
PRICE INCL. COE     From $103,900 after ($15k VES rebate)
AGENT     Champion Motors
---
Click here to learn more about about the Suzuki Swift Sport
Read our Suzuki Swift Hybrid review here