Toyota's most iconic hybrid is the Prius. But its edgy exterior design, space-age dashboard and cool eco vibes might be a petrol-electric shock to the system for the Camry fuddy-duddy trying to hug a tree. The solution is, of course, a hybrid version of the Camry.
This second-generation model looks similar to the regular Camry reviewed two pages ago, but "enthusiast uncles" should be able to pick out the hybrid's more avant-garde front end (complete with high-tech LED headlamps) and signature blue badges. It looks sharp in the test car's Attitude Black paintwork, but maybe some form of "Grass Green" would have been more appropriate.
The green tech in this car that helps grass to grow (in theory at least) centres around a 2.5-litre iteration of Toyota's proven Hybrid Synergy Drive. The 4-cylinder petrol engine is coupled with a small, high-torque electric motor and a sizeable battery pack in the boot.
Compared to the previous 2.4-litre Camry Hybrid, the current edition offers more power (205bhp versus 190bhp) and stronger performance (century sprint in 8.6 seconds instead of 9 seconds plus a 10km/h higher top speed). Needless to say, the fuel efficiency has been made even better – the newcomer is able to travel 800m further on every litre of precious unleaded.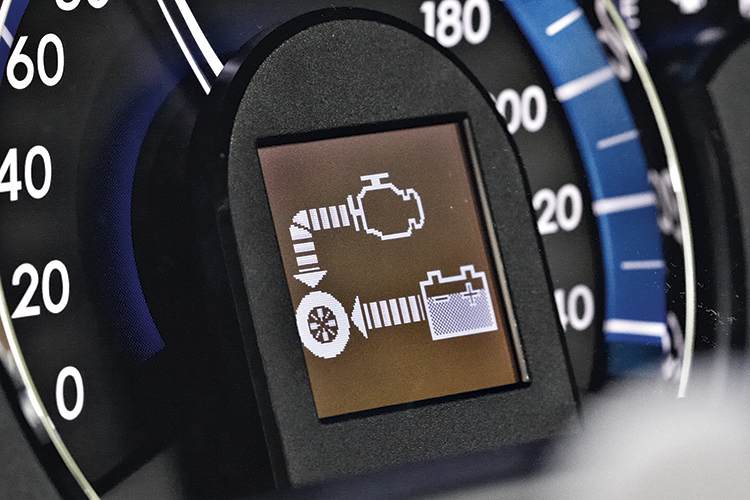 Another advantage is the newly added EV (electric vehicle) capability. In ideal conditions (i.e. low speed, minimal throttle and enough battery juice), this car can be driven on electricity alone for up to two kilometres – with zero exhaust emission and a strange silence.
Less unusual is the "petroleum" part of the Camry Hybrid driving equation. Acceleration is seamless and clearly livelier than in the standard 2.5-litre, accompanied by surprising front wheelspin at times, while the energetic mid-range facilitates overtaking on the expressway. At every opportunity, the engine plays dead to conserve fuel, with only a slight vibration signalling each automatic restart.
More obvious is the "reverse whine" of the electric motor when the car is coming to a stop. Also noticeable is the shorter, stiffer brake pedal action compared to that in the "ordinary" Camry – this quirk might be related to the regenerative braking system.
Distracting the driver from these hybrid characteristics are luxury features such as ventilated front seats, soft leather upholstery, Bluetooth connectivity and a powered sunshade. "Uncles" and "aunties" seated in the rear will also appreciate the assist grips on the front seat-backs.
"Uncles" in general will like the Camry Hybrid, but they need to top up $16k over the Camry 2.5 to go greener in the lesser "Lexus".
This story was first published in the July 2012 issue of Torque.
---
Toyota Camry Hybrid 2.5 (A)
ENGINE     2494cc, 16-valves, inline-4, hybrid
MAX POWER     160bhp at 5700rpm (total system output 205bhp)
MAX TORQUE     213Nm 4500rpm (total system output 270Nm)
GEARBOX     CVT
0-100KM/H     8.6 seconds
TOP SPEED     180km/h
CONSUMPTION     17.2km/L (combined)
---