Four years ago, Toyota president Akio Toyoda once declared, "No more boring cars!"
The statement is an exciting one, especially from the man at the top. And these are not mere words. The Camry and Prius are spearheading this change.
Another model that's jazzing up the range is the new Toyota Yaris Cross Hybrid. Despite being the brand's entry-level crossover, the Yaris Cross is probably the funkiest-looking model in Toyota's local lineup.
The Yaris Cross resembles a wasp – and an angry one at that. Its angled LED headlights and vertical daytime running lights add to its futuristic character.
There are no flat or "clean" lines either, for the rest of the car looks rather chunky. The wheel arches – especially the rear ones – are so swollen than they even seem exaggerated. Unpainted lower trim elements give the Yaris Cross and outdoorsy feel.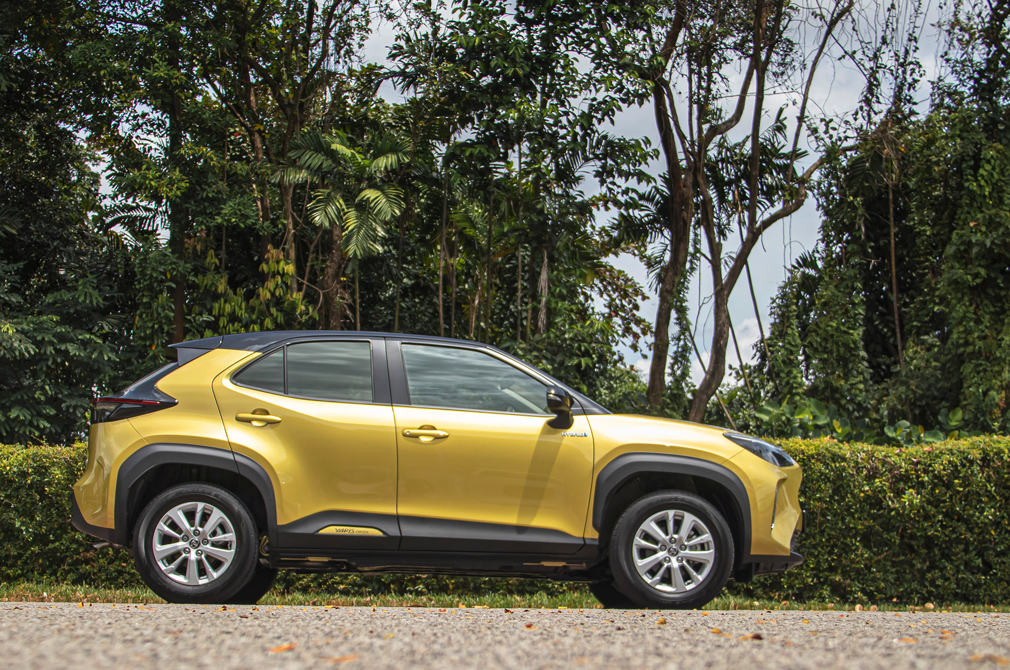 The crossover's rear looks conventional at first. But even here, designers have been given free reign to execute a "pinched" tail-light, which seems to wrap around the tailgate.
At this point, to say that the Toyota Yaris Cross will stand out in any carpark is a bit of an understatement.
NIGHT AND DAY
Given the striking exterior, it is reasonable to expect that the designers would have their way in the cabin, too. However, this is not the case – the difference between the exterior and interior is quite stark.
The Yaris Cross' cockpit is neat and ergonomic, but it is hard to be enamoured with the substantial amounts of dark and hard plastic. Perhaps designers were going for a rugged feel.
A D-shaped steering wheel would have been nice, but it is not present. The gearshift lever also looks old. But if there was one component that could really have been better executed, it is the instrument panel.
Having a digital display has become standard these days, so this is great. Not so great, on the other hand, is how the meters are still in "binnacles". I get the sporty intentions, but having a fully seamless display is just better. Anyway, the meters can still be separated using graphics.
Helping make up for this is the 10.1-inch head-up display (only in the Excite variant). It is rare for a model in this segment to have such a feature, and it makes keeping your eyes on the road easier.
With a wheelbase of 2560mm, backseat space in the Toyota Yaris Cross is relatively tight. It feels more compact than the Volkswagen T-Cross, whose wheelbase is 9mm shorter.
At 390 litres, boot space is relatively generous, though. And thanks to the 40:20:40 split-folding seats, the Yaris Cross is quite flexible, too.
TOYOTA YARIS CROSS: STRONGEST POINT
The Toyota Yaris Cross' claim to fame is its fabulous efficiency. Its 1.5-litre petrol-electric drivetrain has a combined consumption of 26.3km per litre.
On paper, this figure sounds unbelievable. But with a bit of effort – a light touch on the throttle and anticipating traffic conditions – you can come very close to it.
Indeed, I averaged 21.2km/L over three days, with 40% of the time spent in urban areas. Even after resetting the computer, I saw the same results.
Naturally, speed is not a strong suit. With 110hp, the Yaris Cross takes 11.4 seconds to go from rest to 100km/h.
There is another catch to achieving excellent fuel economy. You will have to put up with some noise, for this drivetrain is not the quietest or most refined. At times, the engine's volume can be surprising, especially when you suddenly demand more power.
It is not too bad if you consider that the Toyota Yaris Cross Hybrid is the brand's entry-level crossover.
EASYGOING CHARACTER
Apart from its efficiency, the Toyota Yaris Cross is also very easy to drive. With compact dimensions and an upright seating position, even newer drivers will find this crossover to be quite nimble.
And despite the short wheelbase, the ride quality is relatively good – the Yaris Cross easily deals with bumps and undulations.
Bumps – or worse – are mishaps that no driver ever wants to experience. But the Toyota Yaris Cross also has this covered, for it is well-equipped.
Both Active and Excite variants have Toyota Safety Sense as standard. This suite of safety features includes Pre-collision with Intersection Turning Assist and Emergency Steering Assist, as well as Dynamic Radar Cruise Control and Lane Departure Assist.
A blind spot monitor and eight airbags further help secure occupants.
The Toyota Yaris Cross Hybrid is not a boring car, but it is not exciting either. It is, however, a step in the right direction for the carmaker. Five years ago, this model would probably have looked quite ordinary.
If you're a first-time car owner who's okay with limited space and a sombre interior, the funky-looking, frugal and easy-going Yaris Cross is surely one contender to consider.
---
Toyota Yaris Cross Hybrid Excite 1.5 (A)
ENGINE     1490cc, 12-valves, inline-3, hybrid
ENGINE POWER     91hp at 5500rpm
ENGINE TORQUE     120Nm at 3600-4800rpm
ELECTRIC MOTOR POWER     79hp
ELECTRIC MOTOR TORQUE     141Nm
TOTAL SYSTEM POWER     110hp
POWER TO WEIGHT     92.4hp per tonne
GEARBOX     CVT
0-100KM/H     11.4 seconds
TOP SPEED     170km/h
CONSUMPTION     26.3km/L (combined)
PRICE INCL. COE     From $109,888 (after $15k VES rebate)
AGENT     Borneo Motors
---
Click here to learn more about the Toyota Yaris Cross
Check out our Volkswagen T-Cross review here
Or head here for our Nissan Kicks e-POWER review