Volvo can mess up a lot of things, but when it comes to station wagons, they're gonna nail it.
Because when you think of super-safe cars and estates, it's always the Swedish carmaker that comes to mind.
A decade ago, if someone told you they saw a taut, muscular-looking station wagon with a wide, hunkered-down stance, would you have imagined it to be a Volvo?
Today, that is an apt description for the Volvo V60.
This made me try to remember what the older V60 looks like. So, I dug up some photos of it.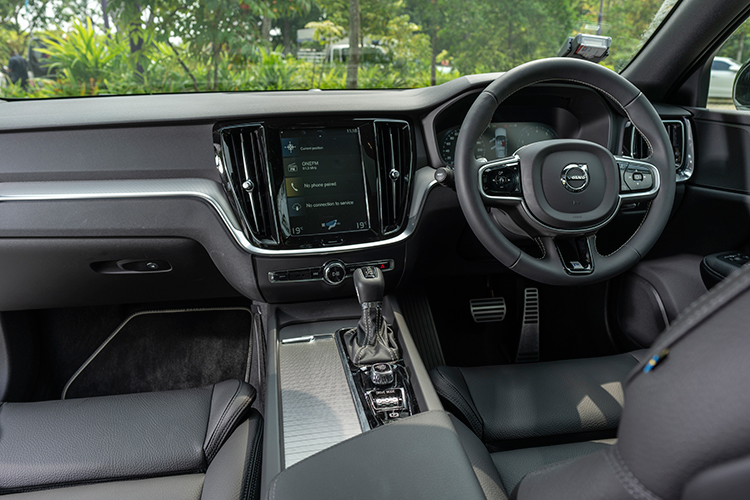 Volvo V60 VA-VA-VOOM
Now, while by no means ugly, it seems like the older Volvo V60's design potential was unrealised.
It could have been larger. It could have had longer lines. It could have had a more graceful presence.
The new Volvo V60 is all this. It looks a helluva lot better than the previous one.
The Volvo V60's interior doesn't disappoint either. It has the same minimalist cabin seen in all new Volvos. That means very few buttons to press. And even fewer things to figure out.
TIDYING UP INSIDE
Most of the V60's functions and options are located within the Sensus infotainment system. The entire system loads much faster than before – the moment the car is started, you can swipe left and immediately access options such as the start-stop function.
Build quality is relatively good, despite the presence of some hard plastics, especially on the lower door and dashboard panels.
That said, there are very refined touches, too, such as the jewel-like ignition knob, "dimpled" drive mode roller and slick air-con vents – just to name a few.
The V60's driving position is comfortable and spot on. The front seats come with electrically extendable thigh-rests, making them even more adaptable to various body types.
Speaking of which, there's lots of room in the backseat now, thanks to the wheelbase, which has been lengthened by 96mm to 2872mm.
SWEDE, THERE'S MORE SPACE
While the previous Volvo V60 didn't seem too concerned about passenger comfort, the latest one offers lots of space to stretch out. The centre occupant, however, is still in for an awkward time. The floor protrusion is not only high, but relatively wide as well.
Passengers here are kept cool by the air-con vents, which are mounted on the B-pillars. But for some reason, I found the rear seats less comfy than the front ones.
This is actually much better than having them behind the centre console, as the air can be directed towards upper bodies, instead of knees.
Apart from cabin space, the carrying capacity has been vastly improved as well. While the older Volvo V60 has 430 litres with the rear seats up, the new model offers 529 litres.
With the rear seats folded, total volume increases to 1441 litres, a massive 200 litres more than the previous V60 with the rear seats folded.
For enhanced flexibility, the V60 still retains 40:20:40 split-folding rear seats.
DOES THE V60 GO "VROOM"?
Thus far, the V60 has ticked all the right boxes. It has designer looks and a more spacious and well put-together interior. But how does it drive?
The V60 T5 R-Design we tested has a turbocharged 2-litre 4-cylinder that pumps out 251hp and 350Nm of torque. The motor sends its output to all four wheels via an 8-speed automatic gearbox.
The output figures are certainly healthy, but the V60 does not feel as quick as its 6.5-second 0-100km/h time.
This might be down the the wagon's refinement though. It goes about its business of ferrying five and their luggage comfortably and quietly.
I do wish Volvo still offered an inline-6 option. The smoothness of such an engine would complement the estate's upmarket appeal.
Can you push the Volvo V60? Yes. When it's bereft of other occupants and their belongings, the V60 is more eager to play. But you can't escape its mass.
At 1782kg, the Volvo V60 T5 is 132kg heavier than the older Volvo V60 T5. It is also 45kg heavier than the new S60 T5. And since a lot of the V60's weight is concentrated towards its rear end, there are limits to what it can do.
The more agile S60 saloon is a lot more engaging in terms of driving dynamics.
That said, the V60 remains nice to drive. Most owners will find its performance more than adequate for local roads and traffic conditions.
The V60's handling is not the most nimble, but it does get around corners neatly, with all-wheel-drive improving surefootedness. The strong brakes will give the driver plenty of confidence as well.
WHO IS THE VOLVO V60 FOR?
Station wagons are very flexible and they can successfully cater to a variety of needs.
A dual-income couple with no kids? Yes, it would be great for their shopping trips or workout routines that require equipment such as tennis racquets, wakeboards and bicycles.
A family with two kids? Sure, why not? The boot offers plenty of space for diaper bags, prams and other accoutrements. Besides, having a child (or two) doesn't automatically mean you have to buy an MPV.
An estate deserves consideration. Especially one from a carmaker that can really nail them.
---
Volvo V60 T5 R-Design 2.0 (A)
ENGINE     1969cc, 16-valves, inline-4, turbocharged
MAX POWER     251hp at 5500rpm
MAX TORQUE     350Nm at 1500-4800rpm
GEARBOX     8-speed automatic with manual select
0-100KM/H     6.5 seconds
TOP SPEED     235km/h
CONSUMPTION     13.7km/L
CO2 EMISSION     167g/km
PRICE INCL. COE     $210,000 (after $10k VES surcharge)
AGENT     Wearnes Automotive
---
New Volvo V60 Cross Country takes Swedish family wagon off beaten path