Lynn Tan: Human live by association. It's a fact. That's how our mind's eye influences what we see, feel and think. When it comes to car names, word association plays a big part in influencing our opinion of a car model.
Names inspired by legendary characters never fail to conjure up equally heroic, almost mythical associations for the car. Like the Murcielago, named after a bull that survived 24 stabs in 1879 and fought with such passion that the matador actually spared its life. Or the Miura, a name synonymous with a breeder of famous fighting bulls.
The Murcielago and Miura both live up to their namesakes. But beware of appellations that set such high aspirations that cars will have difficulty living up to them. Like the Kalos, which in Greek means "beautiful". Or the Avenger, which is but a modest family sedan from Chrysler.
Cars like the Fairlady, Shelby and Elise have feminine names that seem to lend a mysterious air to these sporty numbers. But on everyday cars like the Sylphy or Dion, the effect is lost.
Subtle associations can reinforce the projected image of a certain type of vehicle. The Tuareg, for example, is actually a nomadic tribe. And although the name is spelt a little differently on the Volkswagen off-roader, it does emphasise the adventurous nature of the German sports utility vehicle.
Using foreign words can give the same car an instant makeover. Imagine if the Maserati Quattroporte was called the Maserati Four-Door, or the Fiat Tipo, Strada and Uno were simply known as the Fiat Type, Road and One – their respective Italian to English translations. How boring.
Citing names of foreign places work, too, like the Tuscani or Ibiza, which convey qualities associated with the exotic European towns that inspired the Hyundai and Seat monikers respectively.
David Ting: Who cares what the darn thing is called? At the end of the day, it's a car that I paid X dollars for, and I expect it to provide me with X amount of driving pleasure. No more, no less. The name of the vehicle doesn't make it a better or worse mode of transport for me. Not at all.
If Lynn's argument is to be believed, then some of Singapore's most popular cars shouldn't be that popular, because their names are somewhere between stupid and insipid. Take the Fit, for example. Is this hatchback in good health or prone to epilepsy? We also have the Lancer. What relevance does a cavalryman armed with a lance have with a car? And then there's the Latio. Is it some obscure Latin word referring to the gear ratios of a Roman horse-drawn carriage?
Last but not least, we have the Toyota Corolla. The petals of a flower are nice and all, but I find it hard to visualise them within the context of Toyota's perennial best-seller. The car is capable, but it's hardly pretty. And a vehicle that sprouts flowers is just a bit bizarre.
We all know Ferraris are the finest supercars on earth. Would they be any less desirable if they were christened after the characters in Gladiator? No, they would still rock – on the road and in the hearts and minds of enthusiasts everywhere – even if Ferrari Maximus, Ferrari Commodus and Ferrari Marcus Aurelius don't sound quite as exciting as Scuderia, Fiorano and Scaglietti.
I remember when the Alfa Romeo 164 was rebadged as the 168 for Singapore, Malaysia and Hong Kong because the original name sounded like "die all the way" in Cantonese. But a deft name change turned it into "prosper all the way", for the mere cost of a chromed number "8" and some super glue. Either way, the big Alfa sold in very small numbers in Asia, so it didn't matter even if they had called it the 188. This is further evidence that the name of a car doesn't matter one iota in the scheme of things.
Names also mean nothing in the real world, away from the wheels and whatnot that drive my profession. Imagine the most beautiful, most wonderful girl in the office is dying to be your girlfriend. Would you reject her just because her first name is Frangipani?
---
The Japanese are good at creating premium nameplates out of thin air.
Toyota has Lexus, Nissan has Infiniti and Honda has Acura. In the English language, these subsidiaries make about as much sense as Atoyot, Nassin and Adnoh (the three automakers' names spelt backwards).
"Infiniti" is quite clever, admittedly, even though the model line-up is actually as finite as every other carmaker's.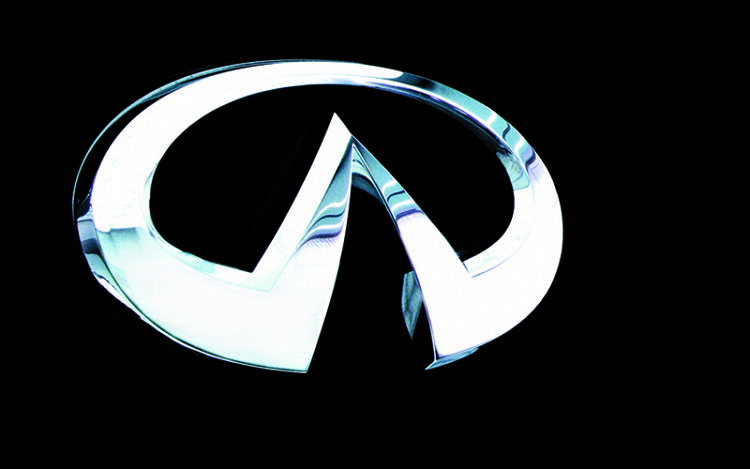 In case you're wondering, Infiniti has no connection to Buzz Lightyear's memorable catchphrase in Toy Story. As for "Lexus", it might refer to a luxurious nexus of some sort conjured up by a Toshiba supercomputer.
"Acura", the oldest of the three Japanese upmarket nameplates for the US, is probably the biggest mystery, vocabulary-wise. It might have something to do with precision engineering ("acuracy", so to speak), but nobody really knows for sure. Probably not even Honda.
At least Acura, Lexus and Infiniti continue to be committed to the automotive business for the long haul. Mazda's attempt in the late 1980s to diversify its offerings in its home market by selling them under newly created marques was a flop.
The higher-ups in those heady days of Japan's bubble economy thought it was a good idea to have three separate sub-brands sell Mazdas – Autozam for small cars, Eunos for luxury numbers and Efini for sporty rides.
This branding exercise proved too much for the company to bear and the novelty for car buyers soon wore off. Mazda eventually reverted to the original badging and reused the fancy names for its different domestic sales channels.
Mazda's marketing madness didn't end there. Once, it seriously considered introducing a premium make called Amati (an anagram of Miata, the iconic roadster) to challenge Lexus, Acura and Infiniti in the US market, with the planned flagship being a V12 saloon spun off the 929!
---
Related story: A car's name is important
Related story: Dead end for cars named desire