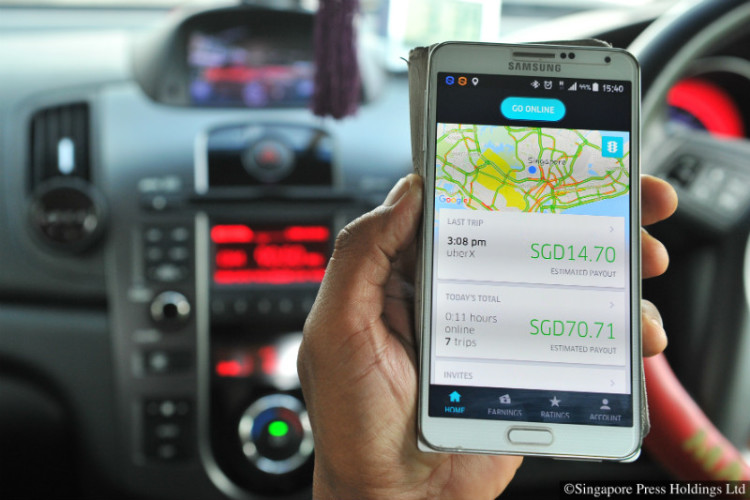 Policymakers can determine whether disruption occurs and how it will affect existing businesses. Their response is often motivated by the need to help existing businesses deal with disruption.
A second consideration is the need to encourage innovation and competition, and all the more so when Singapore is positioning itself to be a smart nation and runway economy.
The dilemma of policymakers is whether to curtail development of disruptive technologies to help incumbents adapt to change or to allow disruptive technologies to proliferate and promote entrepreneurship and innovation.
The reactions of regulators around the world to Uber's entry into their countries demonstrate how regulators can be "reactive" when it comes to enacting new rules. Some regulators have even attempted to enforce existing rules designed for taxi companies on the disruptors.
While policymakers may be well-meaning in seeking to protect consumers or workers in disrupted industries, such interventions may have a chilling effect on disruptive innovations. There is no need for the "all or nothing" approach of some countries. Instead, regulators should consider options such as delaying intervention or tailoring interventions to the situation.
At a recent conference at St Gallen University, my co-author and I presented a paper exploring the virtues of the "regulatory sandbox" as an alternative to the regulatory "no-fly" zone. The regulatory sandbox is gaining ground as a means to explore innovations in financial technology (FinTech).
The concept of a "sandbox" is an extension of the spaces in incubators and organisations for experimentation and innovation outside of normal business activities. A regulatory sandbox is a relaxed regulatory zone that allows entrepreneurs to develop and test new products, services and processes with minimal intervention.
For example, the Monetary Authority of Singapore proposed in June a regulatory sandbox approach for FinTech experiments.
With these sandboxes, entrepreneurs are able to maximise value creation from their ventures since they are not preoccupied with adhering to existing rules. This approach helps both the regulator and disruptor determine the need for regulations, as well as the appropriateness and effectiveness of regulations should the disruptive innovation be introduced to the market. It also provides an avenue for regulators to review the existing regulations for incumbents who may themselves be disruptors.
The sandbox concept could be extended to other industries where innovative entrants possess the potential to cause upheaval to existing businesses. Similarly, an innovator entering Singapore with an established business model could join the innovators working with new ideas inception in a sandbox while it plans for market entry.
The incumbents and stakeholders will also benefit from the opportunity to evaluate the impact of the innovations without resorting to the proverbial panic button. That could in turn spur incumbents to innovate.
Partnership with the disruptors is also a possibility. These sandboxes help disruptors explore the innovations, and provide incumbents, regulators and other stakeholders with the opportunity to observe and evaluate their impact.
In our paper, we not only advocated for more extensive use of sandboxes, but also explored the relevance of the sandbox to phases of the innovators' development. The disruptors' stay in the regulatory sandbox is not permanent. At some point, the disruptors will seek to implement the innovations in the marketplace.
The regulatory sandbox is suitable for the incubation or entry phase of an innovation into an economy. After the incubation phase, regulations may be necessary to safeguard the interests of consumers and other businesses, or to align the new entrants to government policies. That is when the regulatory process should kick in.
Regulations for disruptive technologies should not be thought of as a static, one-off determination. Regulators need to remain close to the market and undertake timely and ongoing review to determine if existing regulations are consistent with market dynamics and technological progress.
Ongoing reviews also allow regulators to reconsider the appropriateness of regulations as they were made with imperfect information. Conventional wisdom suggests that principle-based regulations should be favoured over rules-based regulations in the context of regulatory design for disruptive innovation/technology.
The former relies on broad-based, high-level standards to regulate the manner in which firms must conduct their business – for example, under competition law, not fixing prices with competitors – while the latter relies on prescriptive and narrowly construed standards to achieve the same.
Furthermore, a principle-based approach would afford disruptors more room to innovate on their offerings, while keeping within the regulatory boundaries.
Singapore's experience with third-party taxi booking applications is a good model for other countries to refer to. The Competition Commission of Singapore worked with the Land Transport Authority to facilitate the entry of third-party taxi booking applications, while ensuring that taxi commuters' interests are safeguarded.
In the same vein, the competition authorities should work in tandem with regulators to formulate regulatory approaches towards disruptive technologies. Their role is significant as the economic impact of any disruptive entrepreneurship on competition needs to be weighed.
However, no regulatory mechanism is foolproof. There needs to be flexibility, and regulations may need to be reviewed and changed. As much as disruptive technologies are disrupting the way business is done, they should – and are – proving to also disrupt how policymakers ought to think about regulations.
The writer is Associate Professor of Strategic Management, Singapore Management University.
---
Related story: Why leave change to Uber and gang?
Related story: Ride-hailing apps drive surge in rental cars