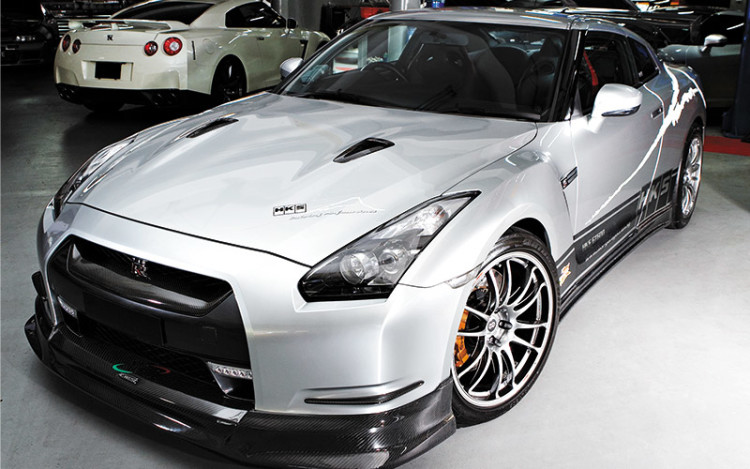 To the hardcore mod enthusiasts, there is no such thing as too much power and torque, and every car can be made better. Even the latest "Godzilla" – the Nissan GT-R – is fair game in the quest for more "horses".
In case you have been hiding under a rock in the past year, let me recap the numbers of this "super Nissan". It has a 3.8-litre V6 engine with two turbochargers and it puts out 480bhp and 588Nm of torque. Top speed is 310km/h. But still, there's a call for more.
Garage R understands this and they have in their extensive catalogue a HKS Stage 3 package specially for the GT-R, which boosts (pun intended) power and torque by 230bhp and 162Nm respectively. Best of all, the entire package consists largely of bolted-on components, leaving the turbos and engine internals untouched. Since all the parts have been developed solely by one company, you can expect minimal headaches and hiccups.
On the electronics front, the standard ECU gets tuned by Garage R, with a HKS EVC V boost controller added to adjust the turbos' boost pressure, which is set at a healthy 1.4 bar.
Then comes the other key components that make up the Stage 3 package. The downpipe plays an important role in a turbocharged car and the HKS GT extension kit, which is made of SUS304 stainless steel, sports a larger-diameter piping of 75mm and a larger turbine outlet to help the turbine spool up faster.
Also made of SUS304 is the centre pipe. Compared to the original 68mm unit, it's bigger by 8mm yet weighs 7kg less. Together with the LTA-compliant HKS Legamax premium exhaust system, this combo not only lets out the most delicious noises at mid to high revs, it also improves engine response by ensuring an efficient discharge of exhaust gases.
ARC intercoolers, one of the few non-HKS mods in this car, are supported by the HKS intercooler which includes 61mm-thick aluminium piping and heat-resistant silicon hoses, making the system strong enough to withstand the rigours of high boost pressures.
The turbos draw in fresh air through the iconic HKS intake system affectionately referred to as the "mushroom" by mod fans. The large-diameter (53mm) intake pipe improves air flow by 12 percent, while the suction kit reloaded, which is specially designed to accommodate the GT-R's air flow meter, comes with custom air ducts and dual-layer, wet-type filter elements to improve airflow by 30 percent.
The performance mods done to this particular car took just a week to complete. This includes the time to fit in "necessary" peripherals like the actuator upgrade kit, Super Racing SQV blow-off valves, platinum/iridium spark plugs and a set of Hipermax II coilovers.
Looks-wise, this car separates itself from the GT-R crowd with its C-West carbon fibre front lip, side skirts and rear panel, rounding up with the 747-size Voltex GT wing. More visually arresting, though, are the 20-inch Enkei GTC01 alloy wheels with their mirror-like finish and slim, curved spokes. They had to be specially imported from Japan since the shops here only stock the 19-inch items.
If you restrict the job to just the performance upgrade, the Stage 3 will set you back around $30,000, or one-tenth of the cost of a new GT-R. Considering that you'll end up with a car that's virtually uncatchable, it's quite a good deal.
(Click here to read about the upcoming 2017 GT-R.)
---
+ EXTERIOR
C-West Carbon fibre front lip
C-West Carbon fibre side skirts
C-West Carbon fibre rear panel
Voltex GT wing
+ ELECTRONICS
HKS EVC V boost controller
HKS Garage R Stage 3 custom ECU tuning
+ ENGINE
HKS Racing SSQV blow-off valves
HKS Upgraded actuator kit
HKS Fuel regulator kit
HKS Premium suction kit
HKS Racing suction kit reloaded
HKS Super Fire platinum/iridium spark plugs
HKS Legamax premium exhaust system
HKS Full stainless steel centre Y-pipe
ARC Full aluminium intercooler kit
HKS Full aluminium intercooler piping kit
Billion Coolant
+ TRANSMISSION
South Side Performance Transmission cooler kit
+ SUSPENSION/HANDLING
HKS Hipermax II Sports coilovers
Tanabe Aluminium front under-brace
PROTUNE Racing Anti-roll stabiliser bars  (front and rear)
+ WHEELS
Enkei GTC01 20-inch forged alloy wheels (custom-made)
---