The Haas Formula One team – now known as Rich Energy Haas F1 Team – has unveiled its 2019 title contender, the VF-19.
Replete in black and gold, it evokes memories of the Lotus 76 and 77 John Player Special Formula One cars from the 1970s.
Drivers Romain Grosjean and Kevin Magnussen, with team principal Guenther Steiner and Rich Energy chief executive officer William Storey, peeled back the covers on the VF-19 at the Royal Automobile Club (RAC) on Pall Mall in London.
Haas Automation, a CNC machine tool builder, keeps its prominent placement on the VF-19's flanks in light grey.
Other brands on the VF-19 consists of team partners JACK & JONES, PEAK, BlueDEF, Richard Mille, Alpinestars and Pirelli.
"This is the time of the season when you hope you've got designs right and you can be competitive straight away," said founder of Haas Automation and chairman of Rich Energy Haas F1 Team Gene Haas.
"The new car looks distinctive, not only in terms of its colour scheme, but also with the new regulations in play.
"Hopefully those design changes brought in for 2019 will improve the racing on-track, and more importantly give us a shot at making more of an impact at each Grand Prix," Mr Haas added.
The team finished a respectable 5th in the 2018 Formula One constructors' standings, and they are hoping the new car can give them a shot at the title.
The VF-19's front wing is now 200mm wider and 20mm higher, designed to allow drivers to follow each other more closely and increase the possibility of overtaking.
The rear wing has also been made simpler, as well as 20mm higher and 100mm wider to aid slipstreaming and promote closer racing.
Smaller, repositioned barge boards are also visible, reduced by 150mm in height and moved forward by 100mm.
They have been designed to improve airflow from the front wing, making them less aerodynamically disruptive.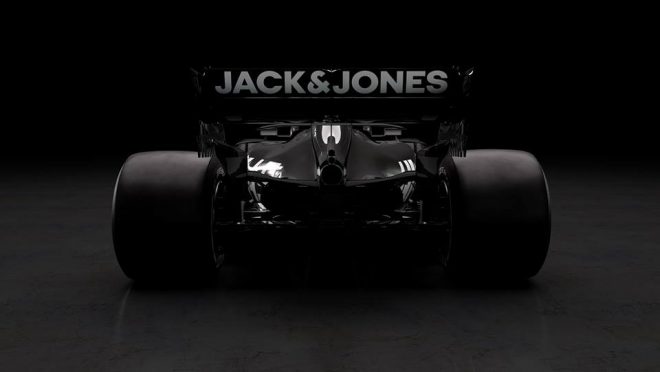 Founded by industrialist Mr Haas, Rich Energy Haas F1 Team is based in the United States on the same Kannapolis, North Carolina, campus as his Nascar team, Stewart-Haas Racing.
In the 2018 Formula One season, Romain Grosjean finished in 14th with 37 points and zero wins, while Kevin Magnussen finished 9th overall with 56 points and no wins.
Rich Energy, a British energy drink company, was first announced as title partner in October 2018, and is Haas's first title sponsor since the team joined Formula One in 2016.
---
First Formula E art car is designed by British street artist