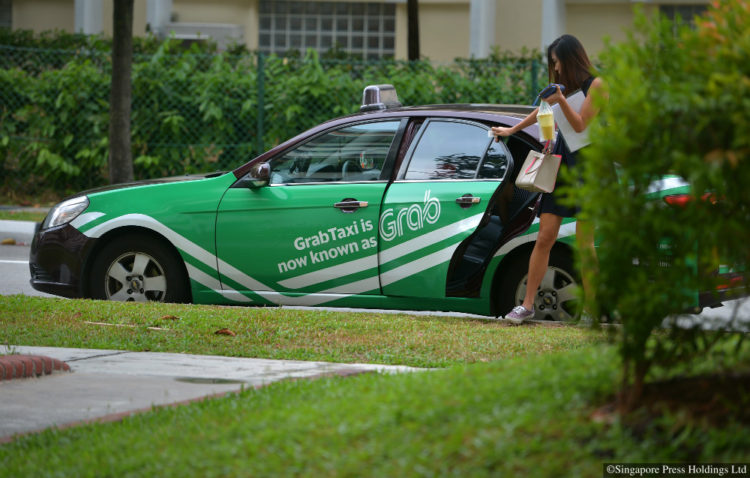 Some taxi drivers are up in arms after ride-hailing app Grab temporarily suspended them from receiving passenger bookings through its platform.
While Grab said this was because they had rejected the bulk of booking jobs, resulting in longer waiting times for passengers, the drivers claimed that the fares for the given trips were too low, or the pick-up points were too far away.
The ongoing exercise, which started two weeks ago, involved at least 780 cabbies who were hit with a two-week suspension.
Those affected failed to accept at least 15 percent of the booking jobs assigned to them after being reminded a few times to do so. They were also given a week to improve before the suspension.
It is believed to be the first time Grab has suspended drivers. While Grab did not penalise drivers previously, those who did not maintain a good acceptance rate were not entitled to bonuses.
Taxi driver Elliot Lin, 32, who was barred from July 31, said about half of his earnings come from Grab bookings, and he used to accept 60 to 70 percent of the jobs. He has been using Grab for about a year.
But they have become "impractical" in recent weeks, Mr Lin said. For instance, he was directed to go to Bedok to pick up a passenger during the morning rush hour while he was in Loyang.
Fares determined by the app were too low at times, he added. An example was a $5 job in the evening that required him to travel into the Central Business District to pick up a passenger, incurring a $3 Electronic Road Pricing fee, and leaving him with just $2.
A 45-year-old cabby, who asked to be identified only as Mr Ong, blamed Grab's JustGrab service, which it launched in March.
JustGrab pools taxis and private-hire cars, and sends the nearest one to passengers. The fares can rise according to demand, but are based on the GrabCar private-hire service's rate, which has a base amount of $2.50 and a per kilometre rate of 50 cents – cheaper than taxi rates. Grab also takes a 10 percent cut.
"I am doing more jobs and working more hours for less money, so I started choosing the bookings," said Mr Ong.
GrabTaxi Singapore head Melvin Vu said fewer than 3 percent of cabbies on its platform fail to meet the 15 percent acceptance rate.
There are about 26,000 taxis on the roads here.
Mr Vu said the Grab app finds passengers the nearest driver, and cabbies have 15 seconds to accept the job, after which it gets passed on to the next closest available driver.
"This prolongs the wait time for passengers, causing a terrible experience, and hinders the chances of another driver getting the booking – and earning an income from it," he said.
Cabby Michael Ng, 52, accepts most of Grab's jobs and can earn bonuses of between $100 to $300. For example, he said that for fulfilling 90 bookings during the peak hours in a week, he gets $270.
"There are hardly people standing on the street (flagging down taxis). Would you rather ply the streets or take $5 rides, which are sometimes back to back?" he said.
National Taxi Association executive adviser Ang Hin Kee said cabbies should turn off their Grab app if they are not willing to take up jobs offered to them, instead of keeping passengers waiting. "But I will speak with Grab to enhance their engagement with cabbies so such cases will be addressed," he said.
---
Related story: SMRT looking to sell taxi business to Grab
Related story: GrabNow service available in Singapore next month