Infants under one year old made up the highest proportion of children who were not wearing restraints when they were injured in a motor accident, a study based on data from two hospitals here has found.
Two-thirds of infants under one year old, and six out of 10 children aged between one and two years old were not secured in infant seats when they were hurt, according to the study by KK Women's and Children's Hospital (KKH).
It examined data on 2468 infants and children seen at emergency facilities in KKH and the National University Hospital between January 2012 and April last year.
The children included those involved in a motor vehicle crash, those on bicycles and motorbikes, and pedestrians who were involved in an accident with a motor vehicle.
Many parents still do not use child seats although they have been shown to reduce the incidence of infant deaths by more than 70 percent in road accidents, and by up to half in older children, said Dr Chong Shu-Ling, the study's lead researcher and a staff physician at KKH's department of emergency medicine.
Not using a child restraint is also illegal, as motor vehicle passengers under 1.35m must be secured with an appropriate restraint, booster seat or adjustable seat belt.
Overall, the study, which was published in Elsevier's Accident Analysis And Prevention journal in March, found that 51.1 percent of children riding in a car were not buckled up, while 70 percent of those on a bicycle or motorcycle did not wear helmets or were not seated in bicycle seats meant for children.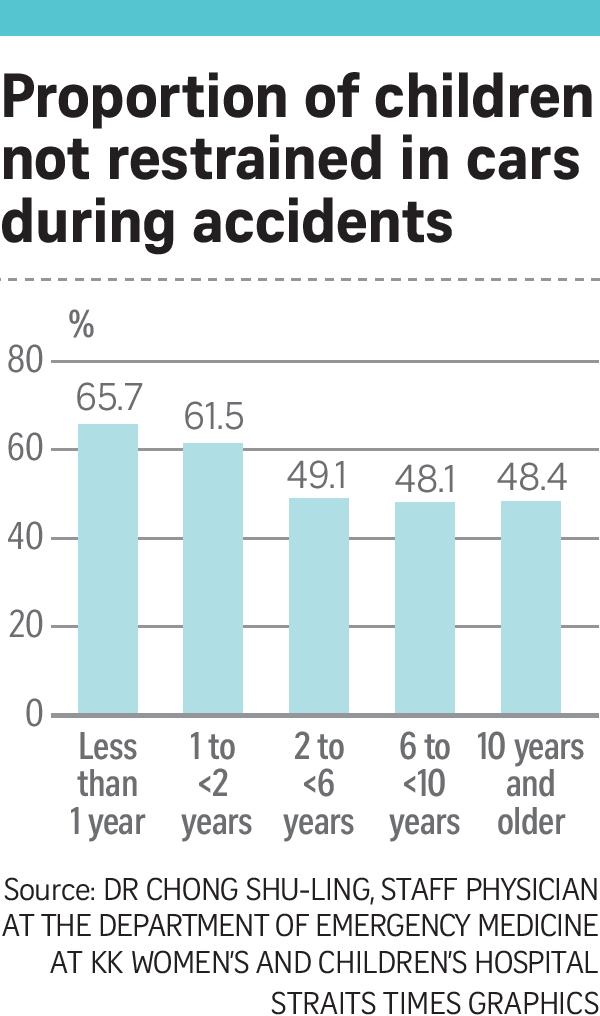 A total of 590 children had to be hospitalised. Of these, 5.4 percent were in critical condition and required cardio-pulmonary resuscitation or surgery. Six died.
One father who believes in safety first is Mr Chong Chin Heng, 46, whose three-year-old son rides in a car seat. His eight-year-old daughter uses a booster seat. "My wife and I don't mind spending a bit more (to ensure their safety)," said Mr Chong, the chief information officer at a language centre.
Safety experts emphasised the need for parents to be responsible for their children's safety, but also said car manufacturers should play a bigger role in promoting it.
"It's very important to educate parents who must be the first example (of wearing restraints)," said Singapore Road Safety Council president Bernard Tay.
Mr Gerard Pereira, a training manager at the Singapore Safety Driving Centre, suggested that car manufacturers put a sticker in cars to remind drivers that it is an offence not to use proper child restraints.
Another recent study jointly conducted by KKH and the National University Health System found that three-quarters of children with head injuries who were vehicle or bicycle passengers did not use child restraints or helmets.
---
Related story: Singapore needs to catch-up when it comes to child safety in cars
Related story: Parents urged to do more to prevent child head injuries in accidents